My grandparents were in Havana on New Year's Eve in 1958 when Fidel Castro and his comrades' Revolution officially triumphed. My grandfather still recalls hearing gunshots and shouts in the streets that night. This recollection, however, doesn't quite add up to the fact that he and my grandmother were on a cruise ship and likely wouldn't have heard the ruckus. Nor does it add up since Fidel and his troops didn't actually arrive in Havana until a week later.
But I can forgive these discrepancies, because symbolically, they are vital to my understanding of Cuba. As the geopolitics of the second half of the 20th century unfurled, the U.S. and Cuba would become Cold War nemeses. The U.S. would go on to place a trade embargo and travel ban on the Island. Indeed, my grandparents' visit to Havana would be one of the last opportunities for Americans to travel freely and trade with Cuba.
Now, over a half century later, U.S.-Cuba relations are thawing. On December 17, 2014, Presidents Obama and Castro publicly vowed to improve ties between our nations. Nevertheless, in the 50-plus-years that have passed without direct engagement between our nations, U.S. businesses have sprouted without permission to trade with a neighbor just 90 miles off our shores. One such business is Commonwealth Packaging Co., a specialty packaging business that my grandfather started in the basement of his home just minutes from Hershey, PA. Although Commonwealth has grown into an international provider of packaging, Cuba remains a country where the company cannot conduct normalized business.
Here's the ultimate irony: There's a town in Cuba called "Hershey" that Milton Hershey built to support his booming chocolate business back in 1916, yet my family-owned business is prevented, by the embargo, from supporting the local economy of a town whose namesake is next to our headquarters in Pennsylvania.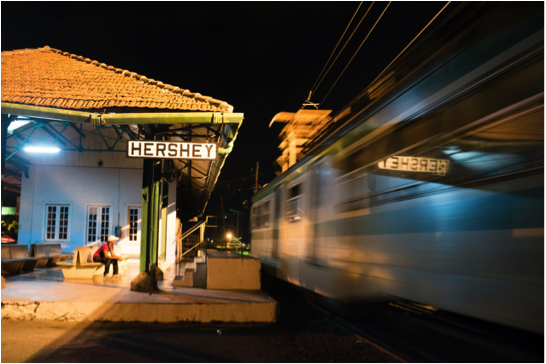 A train station in Hershey, Cuba. (Sarah L. Voisin/The Washington Post)
Perhaps somewhere deep down, I knew there was a tie between Hershey, PA and Hershey, Cuba. Despite lacking any familial links to Cuba, I have had a fascination with U.S.-Cuba relations from a very young age. I've harbored a resentment toward the restrictions placed on everyday Americans from trading with and traveling to Cuba. That's why I wrote my senior thesis on Cuba; why I worked on a HuffPost op-ed series on U.S.-Cuba relations, and why I currently work for Engage Cuba, a coalition working to end these burdensome policies toward Cuba. So, when the opportunity arose to marry my work on Cuba with my family business, I jumped at the opportunity.
During the Cuba Study Group's exchange program last May, I met Ruben Valladares, a member of the burgeoning community of entrepreneurs in Cuba. I was thrilled to learn about Ruben's business, "Adorgraf," which is astonishingly similar to Commonwealth. Moreover, Ruben's wife urged him to start the business, just as my grandmother nudged my grandfather to establish his own business.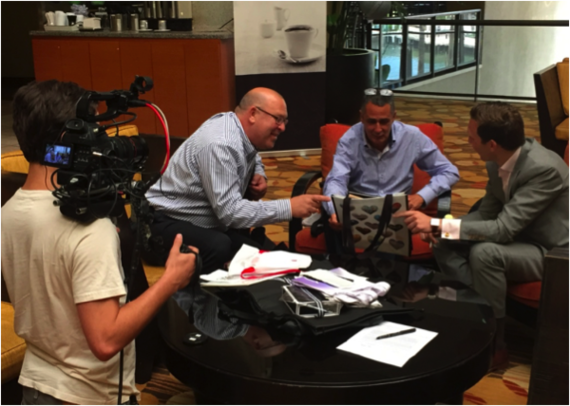 A documentary filmmaker captures Steven Maisel (left), President of Commonwealth Packaging, meeting with a Ruben Valladares (center), President of Adorgraf and Michael Maisel (right).
Last week, Adorgraf and Commonwealth took their working relationship a step further when they presented a joint stand at the Havana International Trade Fair to showcase packaging products from both companies. More American businesses than ever before participated in the Fair, a sure sign of the rapprochement between the countries. However, Commonwealth was the only American company to partner with a Cuban entrepreneur. The companies proudly took this historic partnership in stride, choosing to use the following motto and metaphor for the Fair: "Los primeros empacando una nueva relación," or "The first to package a new relationship."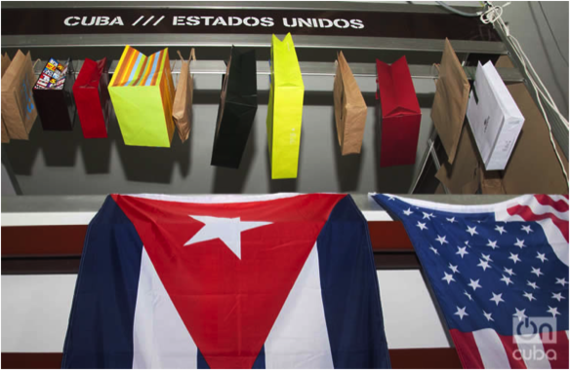 The joint stand between Commonwealth and Adorgraf at the Havana International Trade Fair (FIHAV)
The joint participation received coverage in both Cuban media and American press. In the latter, I was quoted as calling on our politicians to take legislative action so that Commonwealth can form a robust trading relationship with Adorgraf, thereby supporting the entrepreneurial community in Cuba. Although eased regulations allow American companies to develop a degree of trade with Cuban entrepreneurs, the embargo still remains a burdensome obstacle to normalizing trade relations. Furthermore, U.S. law still does not allow Americans to travel as tourists throughout Cuba.
The governors' letter is symbolic of the courage needed for the kind of progress that will benefit both political and business relations between the U.S. and Cuba. It is my strong hope that Members of Congress will take action so I can travel freely to Hershey, Cuba where I will witness the packaging of new relations.