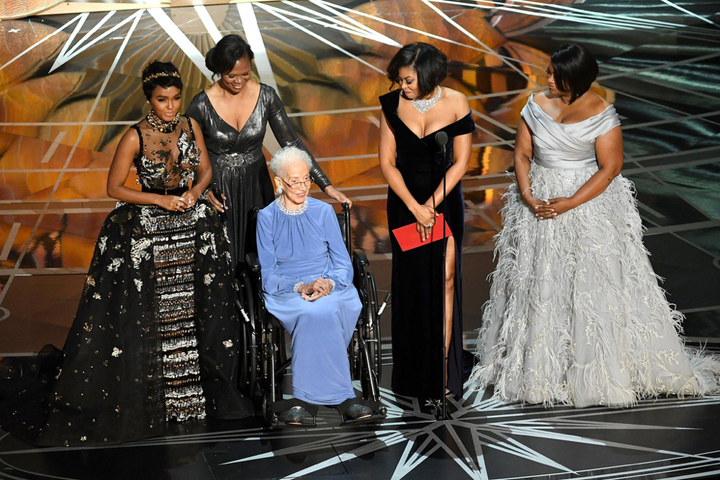 Over the past decade, we've seen a shift in the media aimed at deepening the representation of women in media and pop culture. There have been great steps taken in democratizing the images we see and the stories we absorb.
Wonder Woman just made box office history and will likely be the standout of the summer, even though it took 75 years for her to make it to the big screen. Mad Max: Fury Road saw Furiosa saving her people from a crazed tyrant and proved that leading ladies can be the heroes of their own stories. Characters like Christina Yang on Grey's Anatomy, Alicia Florrick on The Good Wife, Issa Dee on Insecure, and Selina Meyer on Veep all show we can have leading ladies who are complex, flawed, confusing, and (gasp) at times, unlikeable.
Yet, we still have plenty of work to do.
Hidden Figures and Hidden Stories
It helps when we put women in charge. After Disney named Kathleen Kennedy the new President of Lucasfilm in 2012, the consequent Star Wars films, Star Wars: The Force Awakens and Rogue One: A Star Wars Story, both followed complex, interesting, and capable women. Patty Jenkins' Wonder Woman finally gave DC's most iconic female superhero the film she deserved, allowing Diana Prince to be the center of her own story.
However, despite these massive successes, it's important to note the lack of women of color with major speaking roles in popular blockbuster films. In the past few years, almost every top-grossing female-led film has starred a white woman. One exception was 2016's Hidden Figures. Directed by Theodore Melfi, the film tells the true story of three African American women who were integral to NASA's space program, all while fighting racism in the late 1950s. These women are an integral reason for NASA's success, and yet it took almost sixty years for their story to be told.
Hollywood studios are still hesitant to put female stars front and center, even though box office numbers prove that women can carry a film and further a franchise. Rogue One: A Star Wars Story has made more than one billion dollars in the six months since its release; Star Wars: The Force Awakens has grossed more than double that. Wonder Woman has only been out for a few weeks and has already taken in $435 million at the box office. Hidden Figures was nominated for three Oscars and made $230 million. We don't need to wring our hands over whether a movie about women will sell or not. Audiences want to see great stories -- period.
Female directors are so rare that Wonder Woman director Patty Jenkins was only the second to direct a film with a budget over $100 million. For female directors of color, it's even harder; Ava DuVernay became the only black woman to direct a film with a budget over $100 million this year when she directed Disney's upcoming A Wrinkle in Time. DuVernay used the opportunity to create an even more diverse world by featuring stars like Mindy Kaling, Gugu Mbatha-Raw, and newcomer Skye Reid.
Ava DuVernay embodies a feminine leadership that challenges Hollywood directorial expectations; she directs with compassion and kindness and she uses her success to lift up others. DuVernay and frequent collaborator Oprah Winfrey hired all female directors for their OWN series Queen Sugar and they make sure that every episode produced features a scene that passes the Bechdel test. She is the shining example of what can come from putting a woman at the helm: more stories about women, more ethnicities on camera, and more women in key production roles.
Since 2014, Jill Soloway has made their name making television that showcases women who are typically invisible in mainstream media. Their first series, the Emmy & Golden Globe award-winning Transparent, examines the ripple effects that come with a parent coming out as trans to her adult children. Soloway's new series, I Love Dick, explores female desire and sexual orientation when a married couple both find themselves infatuated with the same man.
Soloway's work gives voice and opportunity to women who are often marginalized; Transparent employed more than twenty trans crew members and sixty trans extras in its first season and I Love Dick features women and gender queer people of color in leading and supporting roles. Soloway takes people who have lived most of their lives outside of the spotlight and brings them into the narrative and to the creative process through her work. She directs her cast and crew from a place of collaboration, respect and honesty.
Why does this matter? Because when people don't see themselves reflected in the media, it sends a message that their lived experiences aren't real or worthy of being shared. When we take those experiences and make them visible, we legitimize them, and we create a world where people feel included and seen.
Shonda Rhimes has long been an advocate for ordinary diversity. The stories told in her network dramas are reflective of the way that the real world looks: different genders, different races, different sexual orientations. We live in a time when 71% of women and 67% of girls wish that the media did a better job of portraying women with diverse physical appearances. Shonda speaks to that desire by refusing to limit her stories to fit into society's lazy and outdated stereotypes.
In her latest venture, Real Beauty Productions, Shonda partnered with Dove to create short films committed to telling the stories of real women who are underrepresented in the beauty narrative. Their first short film, Meet Cathleen, centers on Cathleen Meredith, creator of Fat Girls Dance. The piece follows Cathleen's journey of learning to love her body and her talent through choreographing and releasing one dance video per week for an entire year. It's a powerful narrative from a woman who might not been featured otherwise. By seeking out real women whose real experiences have not yet been seen, Shonda and Dove are seeking to expand the definition of beauty so that everyone fits.
Hollywood may be the driving force behind what stories are made visible but don't forget that we, too, hold the power as storytellers. As consumers, we have the ability to utilize our own platforms to bring to light the stories that deserve to be told. Many of us now sit on social media platforms with more followers than major brands. Whether you speak to 20 people or 2 million, you can use your social channels as a way to honor the journey of being a woman in the world.
And in real life, we can use mentorship as a way to share wisdom and experience with those around us. Most of us keep our stories hidden because we may not feel they deserve to be told. It is when we fill screens big and small with the real stories of women; messy, broken, brilliant, and brave, that we teach the world to tell different stories about women and we teach women to tell different stories about themselves.
And most of all, we need to continue to vote with our voice and our dollar when media we consume actually challenges these tired tropes and replaces them with interesting and inclusive stories.
Calling all HuffPost superfans!
Sign up for membership to become a founding member and help shape HuffPost's next chapter