My son was diagnosed with cancer when he was 13 months old.
He had just gotten a clean bill of health at his one-year pediatrician checkup. He learned to walk about halfway into the next month. I'd weaned him by 13 months. And just a couple weeks later, on the afternoon of February 15, I discovered a lump.
After a Sunday afternoon in the emergency room, it was not longer just a weird lump. People were calling it a "mass" by that evening.
Which was cancer by the next day.
After being admitted, they began running a battery of tests which also included Jackson's first surgery for a biopsy and placement of a central line. Then on my husband's 28th birthday, we were escorted to a small, official room with Jackson's oncologist, nurse and social worker, where they closed the door and took a deep breath.
It was then that we discovered the full details of his diagnosis: he had Stage III, n-myc amplified, high-risk Neuroblastoma.
What did that mean back in 2009? Our one-year-old had 30-40% chance of overall survival.
We were told if we wanted the best odds, he needed to complete treatment lasting around a year in length. And do it all: chemo, surgery, stem cell transplant, radiation and Accutane. (A couple months in, they also tacked on another 5 months with a new treatment called Immunotherapy).
I'm not sure how I was supposed to feel getting all that news, but in that meeting, I just felt myself getting madder and madder at what the doctor had to say. MY CHILD was not a statistic...they could take those numbers and shove them. The fire was lit and we were ready to fight.
First thing up: six rounds of chemotherapy. We were admitted immediately following that meeting to get Jackson hydrated with IV fluids and begin the chemo the next day.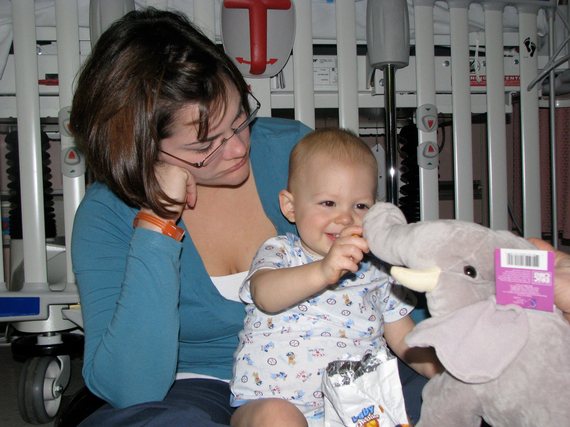 This picture was taken during Jackson's first round of Cyclophosphomide and Topetecan. Nasty stuff. We were sitting on the floor with my mom and a couple other people, feeding goldfish to an elephant as the chemo went through Jackson's CVL.
I've always looked at his face in this picture...having a blast eating goldfish and playing. Powering through chemo like a pro.
Now, years later, I look and see my own face. I look at that young, 26-year-old mother with her first baby sitting in her lap and see I'm trying very hard not to cry. There's a quiet turmoil, an immense heaviness, of supporting your child as they go through the toughest thing of their life, while simultaneously going through the toughest thing of your life.
But...switch back and look at that brave boy again.
Mighty Jackson proved he could power through anything. And it's from his strength that I discovered mine.