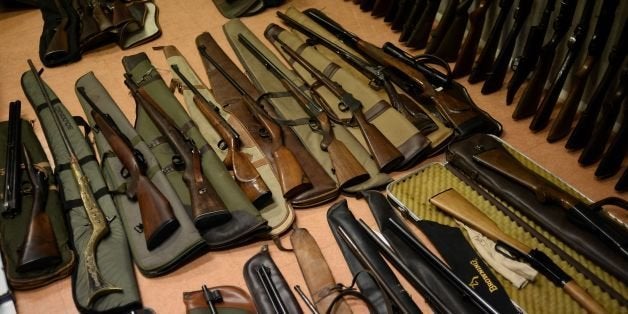 As I have written recently, the $70 billion-per year global arms trade doesn't get nearly enough coverage given its size, scope and devastating consequences. But a new report by the London-based charity Action on Armed Violence (AOAV) offers an important exception to that rule.
The AOAV report, followed by an excellent recent piece on the subject by the New York Times, underscores the dangers of runaway arms trafficking, much of which has been facilitated and financed by the U.S. government with little attention to where these weapons end up. As a result, U.S.-supplied weapons are now in the hands of groups like ISIS and the Taliban, as well as with jihadist groups in Libya and Syria. It is a disgraceful record that reveals the troubling underside of the U.S. role as the world's leading arms supplier.
AOAV found that the Pentagon had issued contracts worth $40 billion for arms, ammunition, and related equipment since 2001. The contracts included at least $2.6 billion in assistance to Iraq and Afghanistan, resulting in the transfer of over 1.45 million guns. Neither the public nor the press had been aware of the scale of the transfers to Iraq and Afghanistan before AOAV's study, since only 3% of them were reported in the Pentagon's daily contract listings.
AOAV's executive director Iain Overton was taken aback by the sheer size of the contracts his group uncovered:
"We did not anticipate . . . finding so much money having been spent by the Department of Defence on small arms, ammunition and attachments. We are not talking aircraft carriers here; $40 billion is a huge amount of issued contracts just for guns, attachments and ammo, even over 14 years of warfare."
As Overton further noted, even more troubling than the size of the transfers is the lack of transparency and accountability by the Pentagon in reporting such contracts, and the fact that the U.S. government is not sure where many of the guns sent into war zones have ended up.
C.J. Chivers has elaborated on the issues raised by AOVA's report in a recent piece in the New York Times magazine. In recent years, Chivers has written some of the best pieces on the twisted path taken by U.S. arms transfers supplied to Iraq and Afghanistan. He has also done a book on the history of the ubiquitous AK-47 rifle. So his take on this issue carries particular weight.
Chivers estimates that the Pentagon has lost track of hundreds of thousands of guns in Iraq and Afghanistan. As noted above, many of these weapons have ended up with U.S. adversaries like ISIS and the Taliban. One GAO report found that the Pentagon could not say where 110,000 AK-47 rifles and 80,000 pistols it had supplied to Iraqi security forces had ended up. And the GAO report was issued in 2007, years before Iraqi forces abandoned untold quantities of arms, ammunition and military vehicles in their fight against ISIS. Chivers has pointed out the stunning fact that the potential diversions documented by the GAO alone added up to "more than one firearm for every member of the entire American military force in Iraq at any time during the war."

U.S.-supplied rifles are now a staple of arms bazaars in Iraq, and have even been offered up for sale on Facebook. In response to Chivers' reporting on the issue, Facebook has shut down some of the arms trafficking sites that are offering U.S. guns for sale in Libya, Iraq, Syria, and Yemen, but closing them all has proven difficult.
How did this happen? Part of the answer appears to be that the Pentagon just didn't care. As Pentagon spokesman Mark Wright told Chivers, with considerable understatement, "speed was essential in getting those nations' security forces armed, equipped and trained to meet these extreme challenges. As a result, lapses in accountability of some of the weapons transferred occurred." Wright claims that DoD has since cleaned up its act, but it is not clear whether these purported efforts have made a difference.
The other, and perhaps more intractable reason for the weapons losses is that the U.S. has supplied these guns to allies who are too often corrupt and unreliable. Members of U.S.-supplied Syrian opposition groups and soldiers in the Iraqi and Afghan security forces have either sold their U.S.-supplied weapons or, in the case of Syria in particular, switched sides, to the benefit of ISIS and the Taliban. And poor morale driven in part by the sectarianism and corruption that have characterized Iraqi security forces has led to the abandonment of U.S.-purchased weapons on the field of battle.
Unfortunately, the cases of Iraq and Afghanistan are not unique. A recent GAO report on U.S. efforts to track equipment it has provided to Egypt as part of its annual $1.3 billion military aid package uncovered serious flaws. Among the report's findings were that the State Department conducted only a dozen end-use checks designed to verify the locations of U.S.-supplied weapons in Egypt between 2011 and 2015, and that "the Egyptian government's incomplete and slow responses to some inquiries limited U.S. efforts to verify the use and security of certain equipment, including NVD's [night vision devices] and riot-control items." The GAO also noted that the State Department has yet to establish specific procedures for vetting the location and use of equipment provided to Egyptian security forces, in part due to "the lower priority assigned to Egypt than to other countries." To add insult to injury, Egyptian officials refused to even meet with U.S. officials to discuss whether the government in Cairo understands and is committed to abiding by the Leahy Law, U.S. legislation that prohibits assistance to military or police units that commit gross violations of human rights The lax oversight of military aid to Egypt is inexcusable given the volume of U.S. weaponry supplied to Egyptian security forces, the abysmal human rights record of the current Egyptian government, and the risk of theft or diversion of equipment to terrorist organizations operating in the country.
On the human rights front, independent organizations like the Project on Middle East Democracy (POMED) have asserted that the repression under President Sisi is worse even than what occurred in the Mubarak era or during the brief rule of the Muslim Brotherhood. The organization has called for the withholding of a portion of U.S. aid to Egypt until the current government's record on human rights and the monitoring of the end-use of U.S.-supplied equipment improves.
Most troubling of all are the cases where the U.S. government knows that its weaponry is being used to devastating effect and is continuing to facilitate those actions. This is the case with respect to the current Saudi-led bombing campaign in Yemen, which has killed thousands of civilians while targeting hospitals, schools, marketplaces, and critical civilian infrastructure. Amnesty International and Human Rights Watch have asserted that the Saudi actions may constitute war crimes. Key members of Congress like Senator Chris Murphy (D-CT) and Rep. Ted Lieu (D-CA) are seeking to stop or delay a recently announced tank deal with Saudi Arabia that will help replace U.S.-supplied tanks destroyed in the Yemen war. Rep. Lieu and Rep. Ted Yoho (R-FL) are circulating a letter citing the devastating consequences of Saudi Arabia's U.S.-backed war and calling for a delay in the tank deal to allow Congress to have a full debate on the sale; as of this writing the letter had garnered 46 signatories. In the wake of a recent Saudi bombing of a Doctors Without Borders hospital in Yemen, Sen. Murphy has noted that the steady U.S. supply of bombs and other military equipment means that "there is a U.S. imprint on every civilian death in Yemen." Stopping the latest U.S. arms deal to Saudi Arabia would be an important first step in bringing runaway U.S. arms trading under control.
In the wake of the diversion of U.S.-supplied weapons to U.S. adversaries in Iraq, Libya, and Syria and U.S. support for the Saudi bombing campaign in Yemen, the U.S. government's assertion that its arms trafficking in the Middle East and beyond supports "stability" increasingly rings hollow. It's time for a new approach that stops using arms sales as a tool of first resort in dealing with complex conflicts that would be better addressed through vigorous diplomacy. A diplomatic resolution of the region's overlapping conflicts won't be easy, but the current policy of runaway arms sales is clearly making matters worse.
Popular in the Community