"I'm coming for you, you gonna die tonight."
"Alabama as a team played awful, but Cade Foster, if you don't kill yourself, I will."
"Cade Foster, I'm gonna kill you and your family, just FYI."
Alabama senior kicker Cade Foster's life was threatened by Tide "fans" via Twitter because of three missed field goals in Saturday's Iron Bowl loss to Auburn. It was a game that featured the most outrageous final play in a contest of such magnitude in my time following college football.
Did anyone reply that day suggesting that he stop focusing on the 5,000+ dead, over 20,000 missing and countless desperate survivors in hopes that he'd put his wallet in his pocket and race out to the field to set up on the left hash?
Since September 11, 2001, we've all seen the posters and heard the announcements: "See something, say something." So here's something. Arrest these people. I see danger, so I say read them their rights. If there are no consequences for such abhorrent behavior, what's stopping more losers from doing the same thing forcing athletes, both college and pro, to live in fear? It's easy to say 'just block it out and move on', but it's not the right thing to say in these cases. Many athletes battle internal demons and admittedly don't know how to deal with disorders like depression around their teammates. Well, keep telling kickers, quarterbacks and business majors to "drink bleach" and this locker room problem will become a crisis.
It shouldn't be lost that there are fans supporting their kicker as evidenced by the bamafans4cade Facebook page that has over 84,000 Likes. It should be noted and applauded that Foster's teammates tweeted their support.



Just as Bill Russell and Roger Maris didn't deserve death threats, Cade Foster doesn't deserve them either. So, if you sent the them or clicked 'favorite', you deserve to be thinking about your next 140 characters locked behind 40 bars.
A career in sports has given me the opportunity to travel the country to do play-by-play for games in Reading, PA to Olean, NY and report from Super Bowls, Final Fours, World Series, NBA Finals and Stanley Cups. In order to make the most of those experiences, I enjoy getting to taste the local flavors, so I end each post with a food recommendation and please pass yours along to me as well.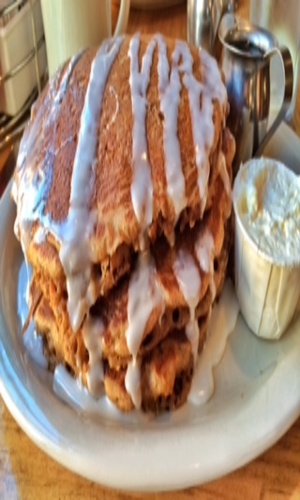 Breakdown: If you like carrot cake, or if you just have taste buds, this is right in your wheelhouse. The batter is spiced then whisked together with shredded carrots, coconut, raisins, walnuts, honey and brown sugar topped with enough sweet cream cheese making syrup unnecessary, but not irrelevant. What really stood out was the texture. Each bite had a fresh crisp to it from the carrots and the occasional crunch of walnuts. The ingredients were well proportioned, as I didn't have a bite that was too sweet. Considering how dense these could have come out, the pancakes were surprisingly fluffy and most importantly, I never thought I was eating cake.
I cleared my plate at 10:30 am, had no room for lunch, worked through dinner and then finally ate breakfast the next morning back in New York at 4:30 before catching a train to Baltimore.
Calling all HuffPost superfans!
Sign up for membership to become a founding member and help shape HuffPost's next chapter