Last June in Cairo, President Barack Obama called for an online network connecting youth from Kansas to Cairo.
On 11/9 in New York City, an international non-profit organization called Soliya unveiled its plans to answer that call.
Soliya introduced Terana, a new online community, with an event entitled "11-9: From Hate to Hope" held at the Soho House in New York City in partnership with the United Nations Alliance of Civilizations.
H.M. Queen Noor served as the keynote speaker. I was delighted to be a part of the evening and witness this historic announcement.
In her speech, H.M. Queen Noor of Jordan reminded the assembled crowd that we must pursue more constructive paths to narrow the divide between Western and predominantly Muslim societies.

"Today we can see clearly that we have the tools at our disposal to neutralize the damage of negative stereotypes over the last centuries," the Queen told a standing room-only crowd of New Yorkers. "These tools help us to address our collective, fundamental humanity."
"Today, 11-9, the inverse of 9-11, is the anniversary of the fall of the Berlin Wall. Today," Her Majesty said, "we are trying to tear down other walls around the world - the walls of fear, suspicion, and misunderstanding."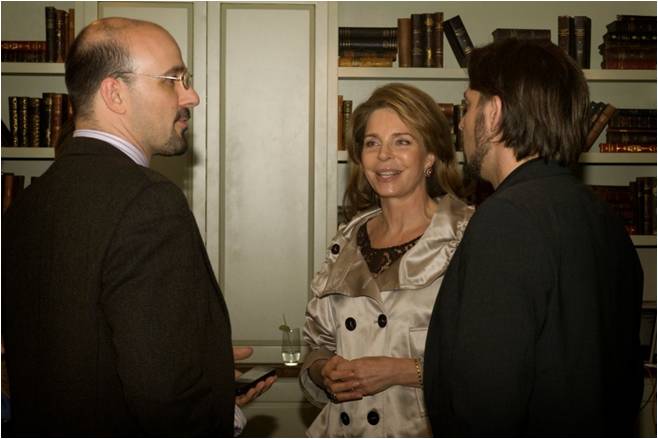 From left: Shamil Idriss, CEO of Soliya; H.M. Queen Noor of Jordan;
Lucas Welch, Founder and Chief Innovation Officer of Soliya.
Terana is the next generation of Soliya's work. Over the past six years, Soliya has reached over 2,000 young people through the Connect Program, a unique cross-cultural dialogue program that is combined with a rigorous academic curriculum and conducted through Soliya's customized videoconferencing application.
Terana will inspire and empower Soliya's extensive alumni community and other young adults to take the next step in promoting cross-cultural understanding in their societies.
The participants will share perspectives from the world around them, amplify the most authentic and respectful voices through mainstream and social media, and engage their societies in constructive conversations about the issues that divide us.
I am particularly impressed with Soliya's inspirational video about Terana.

After hearing Soliya's leadership speak about Terana, I am convinced it will empower young people around the world to find cooperative solutions to our most pressing global issues, while at the same time respecting our differences and honoring our common human dignity.
Soliya's mission is to develop a diverse and global community of young adults who individually and collectively use new media and communication technologies to promote understanding and empathy within and between their societies.
The organization is led by the talented thought leaders and global citizens Shamil Idriss, CEO, and Lucas Welch, Founder and Chief Innovation Officer. Liza Chambers is Co-Founder and Chief Program Officer.
REAL LIFE. REAL NEWS. REAL VOICES.
Help us tell more of the stories that matter from voices that too often remain unheard.