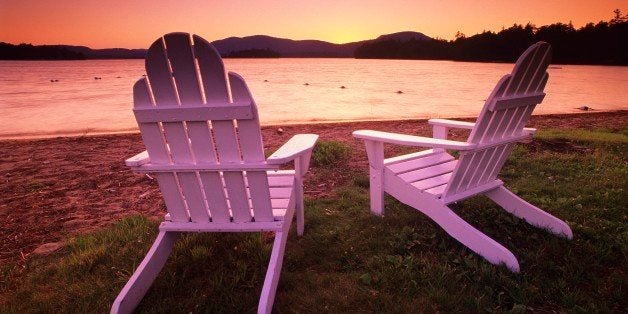 Twenty survivors of the 1994 Genocide Against the Tutsi in Rwanda descended upon The Hayden Creek Inn in Cooperstown, NY on September 5-7. It was a typical September weekend in Cooperstown, the weather was becoming cool and the landscape was rustic and calm. The story, however, was anything but typical. In Cooperstown began the first ever meeting of advocates, lawyers, researchers and other community leaders -- all survivors of the 1994 Genocide Against the Tutsi. Owners of the Hayden Creek Inn, Joe and Glynis Macaluso, donated the space and opened their doors to host the first retreat of Rwandan genocide survivors living in in the United States. The retreat was organized and sponsored by the Genocide Survivors Support Network (GSSN), founded by Eugenie Mukeshimana who herself is a genocide survivor and an advocate based in Newark, NJ.
Each day served as a serious event. The survivors engaged in sessions dedicated to reteaching the history of the genocide, health and psychosocial healing of survivors, preservation of testimonies, U.S. education about the Rwandan genocide, and legal issues surrounding reparations in Rwanda.
Speakers included experts from the United States Holocaust Memorial Museum, Bellevue/ NYU Program for Survivors of Torture, Voices of Rwanda, Survivors Fund-SURF based in Kigali, and The Dialogue Institute - Temple University. Participants varied in age, gender, and life experience. Some were over 20 years old during the genocide and remember it well, others were under six-years-old, simply children who witnessed the brutal killing of their families and were orphaned after the liberation. Some have been in the United States for nearly 10 years, others for just a few months. Some are naturalized American citizens, while others are either permanent residents or are still in various stages of adjusting their immigration status.
The survivors who attended traveled from near and far to take part in this historic retreat, including survivors from Salt Lake City, Atlanta, New York, New Jersey, Maine, New Hampshire, Boston, and Rwanda. Each participant has been active in genocide awareness and prevention activities in the U.S. or in advocacy work to address pressing needs for survivors both in the U.S. and in Rwanda. It is the goal of this group of survivors to revive survivors' voices, helping them get a seat at the table for decision-making that affects the welfare of survivors and their ongoing journey to recover from the tragedy of genocide.
Issues that were discussed and highlighted included education, preserving memory, providing a strong and organized voice for survivors in the U.S., setting up a speaker's bureau for giving testimony, and working to provide legal aid to survivors in Rwanda who are unable to navigate traditional legal system on their own due to severe trauma and the complexity of their legal cases.
While most of the sessions included serious discussions and reflections, on Saturday night, the mood changed. I listened to the familiar singing and storytelling in Kinyarwanda, the local Rwandan language, much of which I recognized from my own fieldwork in Rwanda and with Rwandan survivors. Songs and traditional dance filled the backyard of the Hayden Creek Inn. During one story, I turned to ask Mukeshimana exactly what the survivors were laughing about. She said, "It's amazing, isn't it? Some of these people were so quiet today, and now they are laughing and rejoicing in the songs of the old country, before our world was changed forever by the genocide. We are here, emotionally safe to express ourselves. This man, he is telling his testimony and we are all laughing, not at the story -- because it's a very sad one -- but because of the humor he is using in his storytelling style. Sometimes that's how such stories can be told, and it keeps us going."
At the closing session, Mukeshimana spoke about the transition from victim to survivor, and suggested that something must come next for this community. Remaining a survivor forever, she said, would not allow for the genocide survivors community in the U.S. to move forward as positive contributing members of the society, nor will it lead them to reach for greater and bigger dreams for themselves and their families.
The emphasis on survivor's voices was one of the most important issues highlighted at the retreat. Many processes claim to focus on survivors, yet in reality they do not. The ICTR (International Criminal Tribunal for Rwanda) used survivor testimonies, but provided little in terms of follow-up psychological and trauma assistance for those who testified. These reparations, which could have prevented survivors who lost everything from sinking deeper into abject poverty, were left out by ICTR. Only recently the International Organization for Migration (IOM) has finally partnered with the Rwandan Government to provide a needs assessment and recommendations for reparations for survivors in Rwanda. Retreat participants had the opportunity to hear from an advocate who has been leading this initiative in Rwanda. It is the goal of this retreat for processes to become "survivor-centric" and put survivor voices at the forefront of policy discussions of matters affecting the livelihood of survivors.
Survivors of genocide have specific needs that are different than others who experienced conflict and war, especially in Rwanda. The genocide in Rwanda was intimate which makes the scars deeper and the recovery much harder, and it is time that the world recognizes this fact. This retreat, the first ever, shows that the time has come for Rwandan survivors in the U.S. to strengthen their collective voice to address the challenges they still face as a community such as having access to specialized trauma treatment, affordable higher education, and immigration services. Like other new immigrants, they also face language and cultural barriers. This is the beginning of something big; survivors taking the first step to address their own needs -- and the United States should watch and support these advocates as the process unfolds.
Popular in the Community