What do stray cats and the ocean have to do with each other?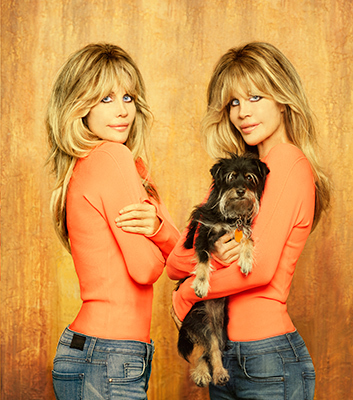 Quite a bit in the current work of Shane and Sia Barbi, better known as the Barbi Twins. The blockbuster Playboy cover models and vegan book authors who are now highly respected - and unabashedly outspoken -- animal activists have long used their celebrity as a highly effective platform to incite change, awareness, and action. Since I first wrote about them in 2012, their activism has ramped-up to a new level: To be a unifying force for animal rights issues and organizations, finding common ground and establishing a stronger base of nonpartisan power to address all the causes related to human treatment of animals.
Of Shane and Sia, who worked with Keith on her movie Skin Trade, Keith says "What I love about [these] awesome gorgeous ladies is they are so brave, so educated, and just do it... they are commendable and people to look up to." In his LA Talk Radio appearance, Chris DeRose credits them with being the first celebrities to make the media realize that there is a huge public interest in animal rights stories; in fact, although he'd been a leading animal activist for years, he says his work didn't get mainstream press coverage until after the Barbis brought his work to light -- and insisted he appear in -- their "E! True Hollywood Story" episode (2001).
By combining interest in all causes, they aim to encourage a general "pro-live" movement, "live" meaning that if it is living, "we have no right to kill. Killing is not saving," says Shane.
A special focus for them is to address those animals who are particularly victimized, yet often overlooked as victims. "Cats make up the vast majority of animals killed in pounds, and are the most frequently abused," says Shane. So the Barbis have now teamed up with one of their favorite organizations, Stray Cat Alliance, on a campaign called "The Crazy Cat Lady gets an Extreme Makeover" (it's "T&A for TNR," jokes Sia), to promote "Trap, Neuter, Return" (TNR) programs, which offer "the only ethical way" of controlling the stray cat population. "We want to make it sexy to be involved and proactive in the TNR movement, " says Sia.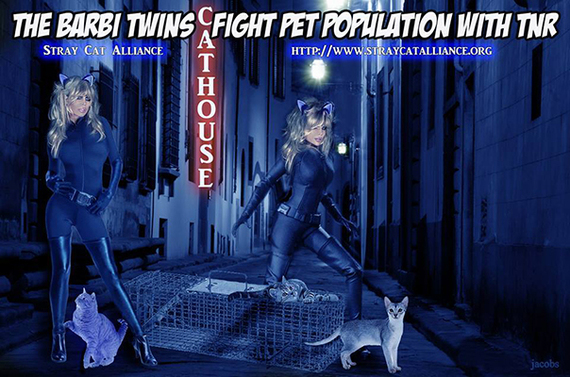 The goal is to stop taking stray cats to the pounds (they reject the term "shelter, as misleading people into thinking they are a haven), where the vast majority are simply killed with no attempt to adopt out, they relate. "The tax dollars now spent on housing, killing, and disposing of them would be saved," says Shane, adding "Cats are not bad for the environment, as many conservationists claim. Every time in history when they've been demonized and killed, the worst plagues hit us," due to the population of rats, which carry deadly diseases, getting out of control.
"As taxpayers we have the right to demand our taxes be put into TNR programs" instead of pound killings. As for dogs? They say money would be better spent on training programs, "since most dogs are surrendered due to behavior problems."
"Pounds will never have the benefit of the pet in mind because they are run by health departments, and their only responsibility is the health of people by killing animals, not adopting them out. That is too much effort for them. But pounds feel their job is to hide the fact that the chance of an animal dumped there getting adopted out are very slim, plus there is no such thing as 'humane euthanasia' in the pounds. Because of the volume [of killing], they use no sedation. If people knew these facts, they would think twice about dumping an animal, and better yet, they would think twice about getting an animal that they aren't equipped to care for."
In fact, instead of hiding the proportion of killing and bragging about adoptions, pounds should be admitting they need help and asking the public to assist. Shane says. "I saw in Katrina and during the Malibu fires that people love to rescue and help animals." The idea is that if people realize the horror and urgency of the kill 'shelter' problem, they will step in... We could get rid of pounds."
Closing the pounds could have another benefit, they say: "Killing [in pounds] has always opened up doors to breeders," says Shane, "They know they can they overbreed because people have a place to dump unwanted animals. " They believe if we take away the demand for their "product," operators of puppy mills will lose any financial incentive to operate.
This kind of focus on unraveling core motives, interests, or incentives -- getting to the bottom of issues to expose the special interests behind legislation and policies that endanger animals -- is a special passion, especially for Shane, who says there is rarely a single "greedy" individual or group behind systematic animal cruelty. "Behind any mass destruction of land or animals there is a government-funded business or subsidy," she says. Whether it's Taiji dolphin slaughter, badger culls in the U.K., seal hunts in Canada, or the roundup and slaughter of wild horses in the United States, "government protects business over bodies."
But, she continues, "the good news is that as long as the government is involved, we have more power to say no, especially during the election year." And the best way for citizens to wield real influence? "Forget petitions, politicians just throw them out." Instead, they say, directly voice your opinion to elected officials; politicians need votes, and what they listen to are direct appeals and lobbying from voters, whether it's speaking up at a town hall meeting or simply making a phone call. "Petitions can sometimes have their place in social media awareness," according to Shane, "but they certainly don't pass laws."

One of the Barbis' most notable lobbying victories came in 2010 when they worked with Chris Heyde and AWI to help campaign for passage of the Anti-Crush Bill (HR5566), which outlawed horrible animal cruelty fetish videos that had previously been protected by the first amendment. Then, shortly after passage of that bill in December, and the ensuing media attention, they received a video of kittens being horrifically tortured. Sia spearheaded an investigation into the case and was the first to identify the kitten killer and give his name to the press. It was the now-notorious Luka Magnotta, who is currently behind bars after allegedly carrying out a gruesome, cannibalistic murder (his trial is set to begin this September).
On the heels of the Magnotta case, Shane and Sia, along with Nevada state senator Mark Menudo, are now working again with AWI's Chris Heyde who, armed with expert psychological testimony, is introducing an animal abuser registry bill. If implemented, it could stop the next Luka Magnotta from adopting animals or escalating to crimes against humans. As tragic as the Magnotta case is, the awareness it raised made it possible for Shane and Sia to rally support for such a bill.
"Every living being counts, and we have the responsibility to take politics and debate out of animal issues, and replace it with accountability."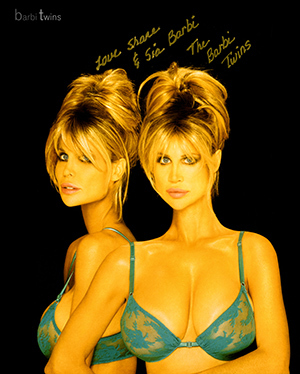 Shane and Sia have another platform for change, as "Animal Editors" of ORIGIN Magazine, where they have interviewed a wide variety of celebrity animal activists, such as Willie Nelson, Beth Stern, Alicia Silverstone, Bo Derek, Sam Simon of The Simpsons fame, and Shane's husband, actor Ken Wahl, who is now an activist for animals and military veterans.
What would be an ideal goal for their work? "We want to work towards a time when animal and planet issues are so mainstream and bipartisan that animal advocacy will be like apple pie and baseball, a natural part of our life."
"Every living being counts, and we have the responsibility to take politics and debate out of animal issues, and replace it with accountability."
Images courtesy The Barbi Twins. Reproduced with permission.
Related
Popular in the Community