Kristin Davis and Nicholas Kristof were two of the eight extraordinary leaders honored as Global Generation Award Winners this year. The Awards, presented at the sixth annual Millennium Campus Conference at Lynn University, recognized influencers who use their global platforms for good. The Award winners inspired an audience of student leaders from over 50 nations, sharing advice with some of the most dedicated young agents of change on the planet.
We spent hours watching their speeches in full (we watched many of them on a loop- yes, they are that good!) to find these eight quotes for you. We trust these will provide an equal dose of wisdom, reflection, introspection, and motivation to fuel your efforts to make a difference in the new year:
Kristin Davis
@kristindavis
Global Ambassador to Oxfam International
Patron, The David Sheldrick Wildlife Trust
Davis on the urgency of the moment:
"We need the young people, we need you desperately to step up and take action because the world is at a turning point. There are so many bad things and the good people have to stand up and we have to fight and we have to fight really hard."
Nicholas D. Kristof
@nickkristof
Columnist, The New York Times
Two-Time Pulitzer Prize Winner
Co-Author, Half the Sky and A Path Appears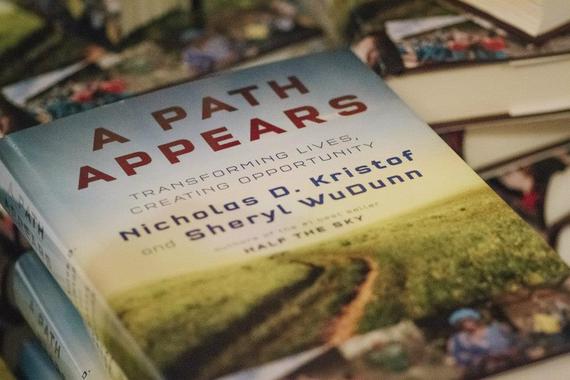 Kristof shared his newest NYT bestseller A Path Appears at MCC 2014.
"Sometimes I hear young people say that the first third of one's life should be spent studying, the next third making money, the final third giving back. If you do that you are robbing yourself of one of the great sources of fulfillment in life for two-thirds of your life."

Carrie Hessler-Radelet
@peacecorps
Director, The Peace Corps
Hessler-Radelet on the power of a single act:
"Sometimes it may feel that despite our very best efforts, for example speaking up against ignorance or bigotry, when we lead a campaign for a good cause or raise awareness about a global issue it is just a drop in the bucket, no bigger than a single raindrop...but raindrops become rivers, rivers swell into the seas and the rise and the fall of the tides literally transform the landscape."
Barton on how to build strong nations:
"How do you empower a woman, by giving her a gun or cash? It doesn't last. You empower a woman by giving her education, a career, and a tolerant attitude that she passes onto her children. A nation that does that has a strong future."
Stern on saving children's lives:
"It is not okay that 17,000 children die every single day, all under the age of 5, all of causes we could prevent but we're just not getting the job done; 17,000 yesterday, 17,000 today, 17,000 tomorrow. When you look into the eyes of a mom who has just lost a baby from something as senseless as tetanus, you know that you can't stop until that number is zero."
Julie Lewis
@juliealewis
Co-Founder, The 30/30 Project
Co-Director, Global Partnership Development, Construction for Change
Lewis on persistence and taking action:
"Go and tell your stories, share your vision, and share them over, and over, and over again until someone gets it. Then do something, go write that 26-page proposal, make that YouTube video, advocate for someone whose voice needs to be heard. Finally, take that big idea of yours and times it by 30."

Netia McCray
@netiamccray
Executive Director & Founder, Mbadika
Millennium Fellow
MIT '14
McCray on building an inclusive social movement:
"When we aspire to make the world a better place, we must realize that it is not only our actions which make an impact on the world, it is us. We can change the face of global poverty however we cannot change the face of global poverty if we don't change the faces leading the charge against global poverty."
Dr. Louise Ivers
@drlouiseivers
Senior Health and Policy Advisor, Partners in Health
Associate Professor of Global Health and Social Medicine, Harvard Medical School
Dr. Ivers on how to respond to criticism:
"Don't get discouraged by people that tell you your idea will never work. Listen to those people; listen to their concerns, dissect their critique and figure out how you can use it to make your project better and come back and change their minds the next time."
Inspired? Leave a comment on which quote(s) motivates you.
The annual Global Generation Awards are presented by The Millennium Campus Network. Previous Award Winners include Secretary John Kerry, 2011 Nobel Peace Prize Winner Leymah Gbowee, and fashion designer and humanitarian Kenneth Cole.
About the editors: Nicole Hehn and Sam Vaghar work for The Millennium Campus Network.
Popular in the Community