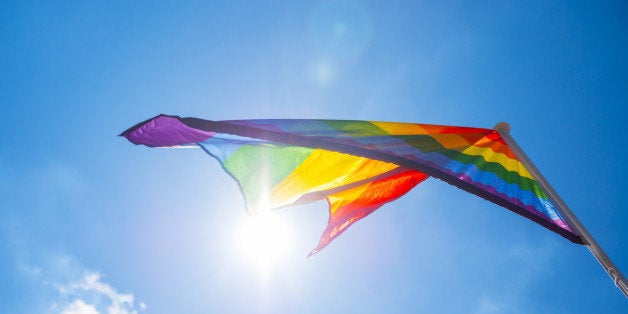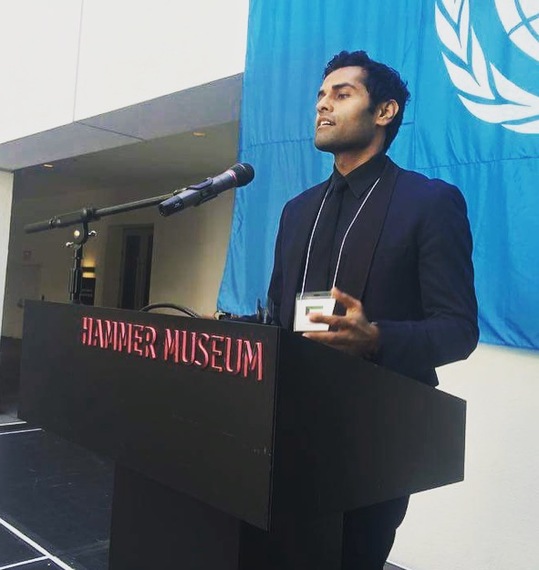 Alex and I are kissing while we wait for the bus to take him to work. His lips taste like mangoes and his beautiful green eyes are sparkling. It's a busy Saturday night. A car passes by and a guy pops out from the passenger window and yells, 'Faggots!'
It's been such a great day with a lot of highs and hearing that word has taken me by surprise. I look at Alex and ask, 'Did that just happen?' Yes it did. I'm saddened and a little shaken that it's happened in West Hollywood, a predominantly gay neighborhood. Alex boards the bus and I can't help but think of the everyday lives of gay men and women around the world where being gay is still criminalized. I mean, I know about the history and political plight of LGBT people around the world but in that moment all I can feel is empathy and heartbreak for our journey. I have known that decriminalizing homosexuality and legalizing gay marriage can't really end LGBT-phobia.. but now it's in my face. It's almost like I'm that adolescent boy again, living in Kuwait, feeling alone, hurt and isolated.
I'm a spiritual counselor-in-training at Inspire, an LGBT spiritual center in West Hollywood. I also work as an ESL (English as a Second Language) teacher. I've been in the US for more than half my life. My students, aged 18 to 40, are from all over the world. In a way it feels like working at the United Nations.
The United Nations actually has played a big part in my life. As someone who grew up in Kuwait I was accustomed to seeing the white UN jeeps. Also, years after the first Gulf War my parents had finally gotten some money from the UN because of everything we lost in that war. And after the war, there was always UN literature being distributed in school -- little booklets that listed the UN agencies and their functions, and important dates. Most people don't know this but in 2004 the UN declared May 17th as the International Day Against Homophobia, Transphobia and Biphobia. May 17 because it marks the day in 1990 when homosexuality was taken out from the International Classification of Diseases by the WHO (World Health Organization). Had I known that there was a day celebrated by an organization like the UN to combat LGBT-phobia, I might have felt more hopeful, secure and confident about my sexuality.
I was teaching a class a few terms ago and the topic of the week was 'LGBT issues and AIDS.' I'm out to all my friends, family, co-workers, and when two of my students privately came out to me I shared with them that I was also gay. So, obviously I was excited to hear about my students' experiences with LGBT people in their respective countries. In a class of 13 students, aged 25-30, only one student shared a positive experience. The other responses were that they hadn't ever met a gay person in their country. Some were indifferent and a few didn't think homosexuality was right. As a teacher I created a safe space for all opinions to be shared. One of the questions was, 'Would it be okay if your child was being taught by a gay teacher?' A few said yes and some said that it definitely wouldn't be. In that moment I said, 'Guys, I don't know if you realize but I'm gay.' I told them about my struggle of coming to terms with my sexuality. They asked a lot of questions including, 'Is it okay to ask someone if they are gay?' At the end of the class a bunch of them, including the ones that thought being gay wasn't right, thanked me for sharing openly.
I am grateful I could return home from the bus stop that Saturday night safely. I'm sure in some countries just the suspicion of me being gay could have led to potential violence or my death. Being gay is criminalized in 76 different countries. So to ask the question -- 'Are you gay?' -- in one of those countries could lead to imprisonment or death. Some of my students are from those countries.
While there are days like National Coming Out Day, gay pride parades and even a Gay Pride Month in the US, May 17th might be the only connection that some LGBT people have in knowing that a large majority of the world believe they matter.
When you finish reading this essay, think about how many thousands of slurs will have been thrown out at LGBT men and women and how many lives will have been lost to hate crimes and suicide around the world.
The goal of International Day Against Homophobia, Transphobia and Biphobia is to bring attention to violence, discrimination and repression of LGBT communities around the world and engage in a conversation with the media, policymakers and society. I realize that the UN does come under a lot of scrutiny, especially the Security Council. I recently heard the UN Secretary General Ban Ki Moon speak at the Los Angeles World Affairs Council. He quoted his predecessor Kofi Annan saying, 'While the UN is not perfect, it is precious.' I hope you will join me and this organization in spreading awareness as to why May 17 matters, and have a moment of silence for all the LGBT lives lost to violence.
REAL LIFE. REAL NEWS. REAL VOICES.
Help us tell more of the stories that matter from voices that too often remain unheard.