After my evening routine of administering my husband's medications, checking his blood pressure, parking the wheelchair, setting up the walker, and getting my better half into his hospital bed, followed by dog duty (herding two chihuahuas around the block), I finally have the house to myself.
I like to dance around the living room with Leela James in my ear buds. Leela's velvet voice stimulates the brain's opiate receptors thus compelling the listener (me) to dance and undulate. It's science. It's biology. It's primal urges awakened. It's a great way to get myself to exercise -- which I am required to do as part of my weight loss program at Cedars-Sinai Medical Center.

Last Tuesday as I rushed to my 6:00 o'clock diet class, I overheard a conversation in the hospital elevator about Leela James being in town to perform at 8:00 that night. Right then and there I decided that even with all my domestic chores waiting, I was going to that show. After ten years of caregiving, I deserved a night out. Luckily my son was available to take care of his father until I returned.
When class concluded (I had gained another pound, but what else is new?) I made a beeline for the hospital's gift shop where I found a mint green scarf to dress up my black T-shirt and jeans. Thank goodness I was not wearing my usual floral nursing scrubs.

Leela James was performing at an African-American owned jazz supper club in Beverly Hills called H.O.M.E. All the concertgoers at H.O.M.E. wore gorgeous clothes and bling, as though they were walking the red carpet at the Oscars. Television cameramen from R&B Divas: Los Angeles were filming everyone and here I was with my brassiere sagging under my stretched-out tee. I gripped my purse against my oversize breasts and braved the walk of shame so glad I had had the foresight to pick out that beautiful scarf for my unplanned evening on the town.
The hostess told me no tables were available on the main floor. At that precise moment, Dennis Anthony, the nightclub's owner, came over and introduced himself. I told him I don't see so well and he said, "Me too." I told him that in my case it's old age and cataracts. That made him laugh. Dennis looked at the hostess and said, "Let's put Betty at the Lena Horne."
The Lena Horne table is inches from the stage at the extreme right. A large photograph of Miss Horne hangs on the wall alongside her table - which was now my table, the most conspicuous table in the whole classy joint. My spine had never sat so straight, but with my head in the clouds and my heart leading me forward, I took advantage of the best seat in the house. Moments later, the musicians took their positions on stage. When Leela made her entrance, the placed jumped to it's feet gyrating to the groove. It was intoxicating. No one in the house at H.O.M.E. could resist the power of the music -- myself included.
Ms. James flashed her pussycat eyes and shook her huge hair -- the biggest Afro in the biz -- delivering each song with smooth aplomb and gusto. Halfway through the show she kicked off her rhinestone platforms and performed 20 men's pushups in perfect form, then bounced up and continued dancing and singing without losing a breath.
Fans threw linen dinner napkins at Leela, which she used to dab her forehead, as she roused the audience into a frenzy of dancing. A man at the next table who was celebrating his birthday got up and hugged me and we swayed together for a while. Leela said, "I want all you people to get up on stage and dance with me." The birthday boy leapt up onto the stage as if he was on springs, and then Leela pointed at me. Her intense brown eyes looked directly at mine, commanding. You! I pointed to myself and shook my head no, and she pointed again and shook her head yes. I had no choice. I crossed in front of the whole stage and took the stairs at the far left because I am, after all, an old lady with vision problems.
Even though I knew the audience and all those cameras would see a senior citizen in sneakers up there, the unbridled joy I felt made me remember that this old lady can shake that thing like she did when she was 20.
I imagined that I was one of Leela's backup singers. I harmonized with Alycia Myles and Kila Jones as if we'd been on the road throughout the entire tour. Our outfits even matched, Leela and I in all black and Alycia and Kila in white and black. The only thing that made me stand out was my green scarf.

When the song was over Leela said, "Thank you. We're gonna slow it down a bit now." We all left the stage and she began a bluesy number. As I walked back to my table I noticed every head in the room bobbing to the music. Each person in that nightclub was transported back to a primordial state riding on the sultry strains of Ms. Leela James.
When the show concluded, Dennis Anthony stopped by my table and asked, "Did you enjoy yourself?"
"Yes, thank you! Might it be possible to meet the artist? I'd love to do an interview."

"Wait right here, I'll see what I can do."
Dennis returned with Leela's manager, Daniel Kellner who told me that Leela doesn't give interviews immediately after performance, but he'd be happy to introduce me.
I followed Daniel into the Green Room. Leela James graciously extended her hand to shake and I asked if I could have a photo with her. We turned our twin bosoms to the camera and Daniel said, "Say cheese".
"May I also have a picture with Alycia and Kila?"

These beautiful talented ladies and I had bonded onstage. We'd had a gas letting loose together. They put their arms around me for the shot.
As much fun as I was having, I honored Daniel's request for no interview and waved good night to my soul sisters.
I dance-walked to my car, still grooving to the music. I didn't care that I was going home to dirty dishes and late night dog walking. I didn't care. I smiled for the rest of the night. I couldn't stop smiling into the next day, and the next. Dancing on stage with Leela had been like a much needed blood transfusion. I, too, had been transported.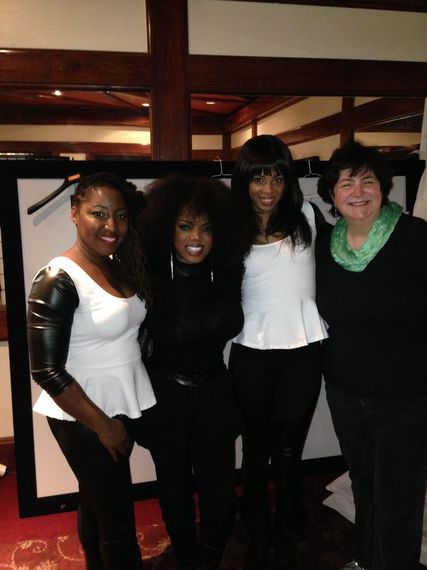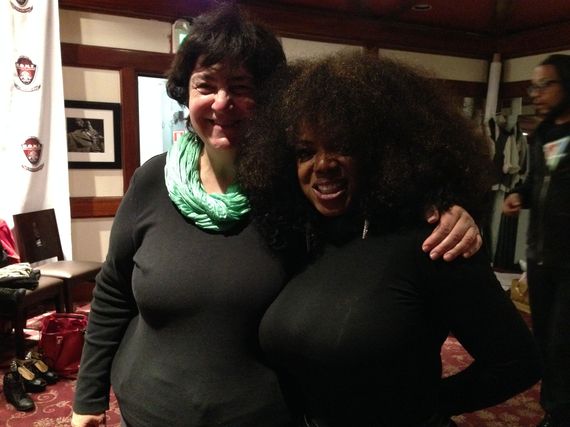 REAL LIFE. REAL NEWS. REAL VOICES.
Help us tell more of the stories that matter from voices that too often remain unheard.