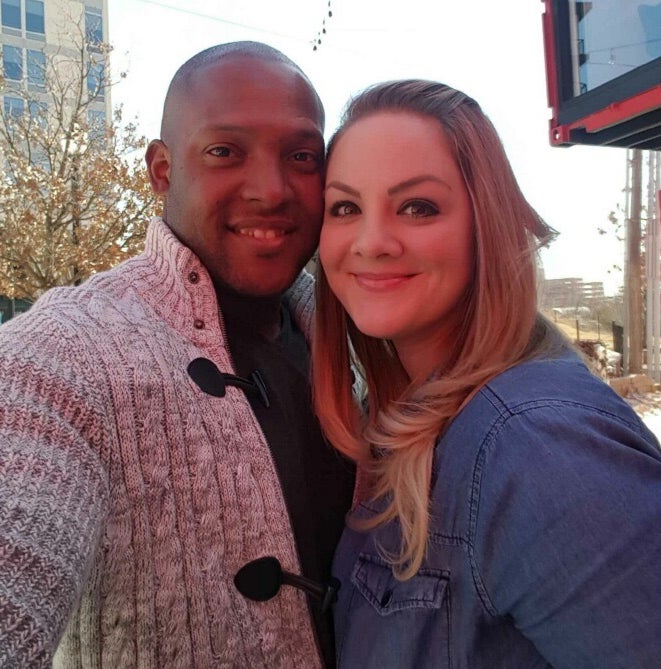 At the age of 31 I became something many fear they will be, a widow. After a lengthy battle with Ewing's Sarcoma cancer, my husband Joel passed away at only 35 years old. In an instant every plan and dream we had made together was gone. I was now a single mother to a toddler (and another baby to come). I was also the sole provider, the sole supporter, the sole…well, everything. My life was in ruins but I was determined to find a way to move forward, for both my children and myself.
If year one and two were simply about survival, year three became the finding of our new direction. I had gone from the throws of grief, not caring what was next, to being mildly interested in what was to come. Gone were the days of indifference. I began to take care of myself, get into a normal daily rhythm, find healthy stress relievers, and look towards the future with anticipation. I was figuring out my new normal and getting acquainted with the girl I had become in the process.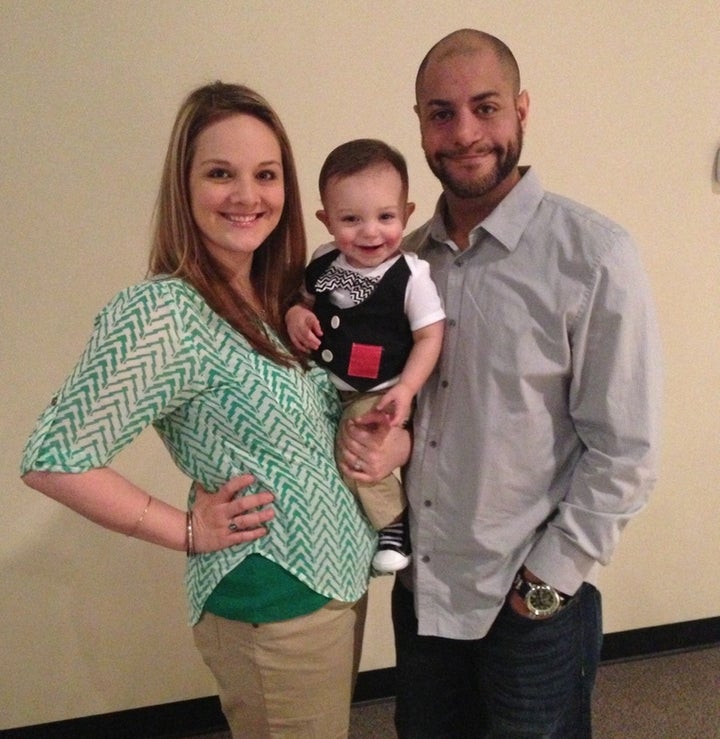 Despite the ever-changing landscape of my life, there was one constant, one certainty, never would I love again. There were a million reasons for my "whys" and I could rattle them off one-by-one if need be. Yet it mostly came down to a heart that was bruised, battered and longing for the path of least resistance. Love was risky. I was unwilling.
In spite of my protests, and at a time when I least expected, it blind-sided me. Love. And everything changed on a dime. Yet this love wasn't a new road, it was one I'd traveled once before.
Before I ever met my husband there was a first love. My high-school sweetheart, a boy named DeAngelo. This was the boy I met when I was 14 and went on to date exclusively for three years (which in high-school, is an eternity). He was the boy my heart would never let me forget, the boy every boy since was compared to. The boy I fell for so deeply the love never left me, even when at times I desperately wished it would.
He graduated a year ahead of me and after he did I broke things off, knowing we needed time to do our own things, walk our own path. If it were meant to be we would eventually return to one another, I told myself. For many years it looked as if we wouldn't; our lives took us in separate directions, relationships, sides of the United States and so on. Yet even as life did its thing the invisible string connecting our hearts stayed as strong as ever.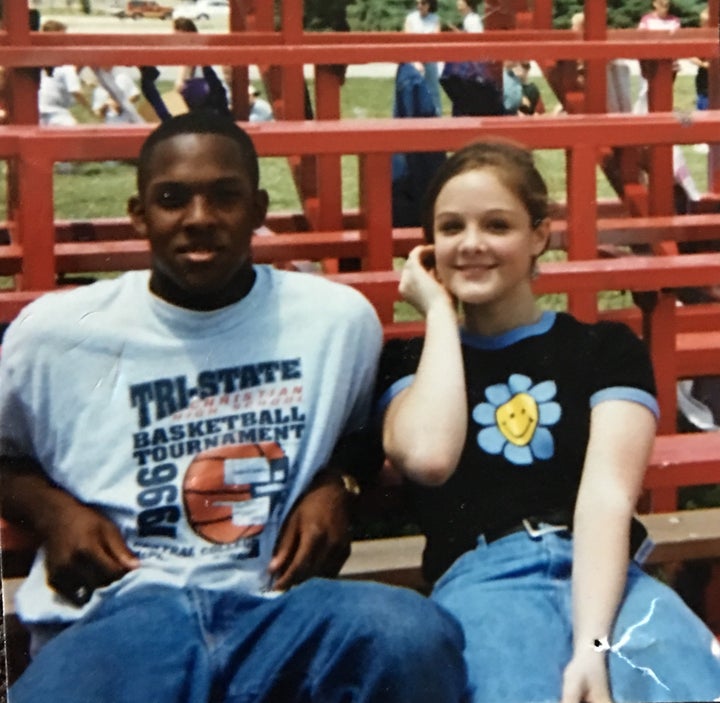 It was in my third year of widowhood, once life circumstances changed for us both, that DeAngelo tracked me down on social media. He shared the things his heart had been feeling for the last 22 years yet was unable to say. Then he fearlessly pursued my heart with abandon. And I...even though I felt the same as he, was scared. I put up the highest wall I could manage, acting like I didn't care when I did; even turning down his dinner invitation time after time. There was no way I could go there, especially not with this guy.
The truth was, deep down I knew, if I chose to say "yes" to anything with this one, it wasn't going to be casual. We had over two decades of history, this wasn't just some guy. First loves leave their mark and he had in innumerable ways. This wouldn't be the path of least resistance. It would be far from easy in just about every way. Still, I couldn't shake the feeling that it would be worth it.
I stepped off the ledge. At no point was it easy. I had to wade through feelings of betraying Joel, even though he was no longer here. Feeling like a terrible Mom for leaving my children for a couple hours to simply go to dinner. Feeling like a terrible person for moving forward, towards happiness. In all honesty, not everyone in my own circle was happy for me. Some felt as if the best tribute I could give Joel was to stay as I always was. I humbly disagreed. I believed the best tribute I could give Joel was living my best life as fully and presently as I was able. Make every moment count, treasuring each as the gift they are, the gift he didn't get to experience nearly enough of.
Then there are the people who tell me how glad they are that I'm finally "happy" again. I have to politely tell them, yes I am happy, of course. But my true happiness came from within. It came from year three of widowhood, emerging from the trenches, finding my joy once again and choosing it continually. It came from choosing to do dance parties with my kids in the living room and belly laughing at their crazy moves. It came from holding continually onto hope that our greatest days were yet to be. It was only when I came to that place my heart was able to openly accept what love had brought my way again and appreciate it for the gift it was, joy upon joy.
Who I am now in no way erases who I once was. In fact, I would even say who I once was gave me the very strength that pushed me forward to who I am today. One who is willing to release in order to receive. I cherish what I have in love, even more so, because of where I have been. And I can now believe fully, there is so much still to come. The darkened skies have given way to brighter days. My heart is so grateful.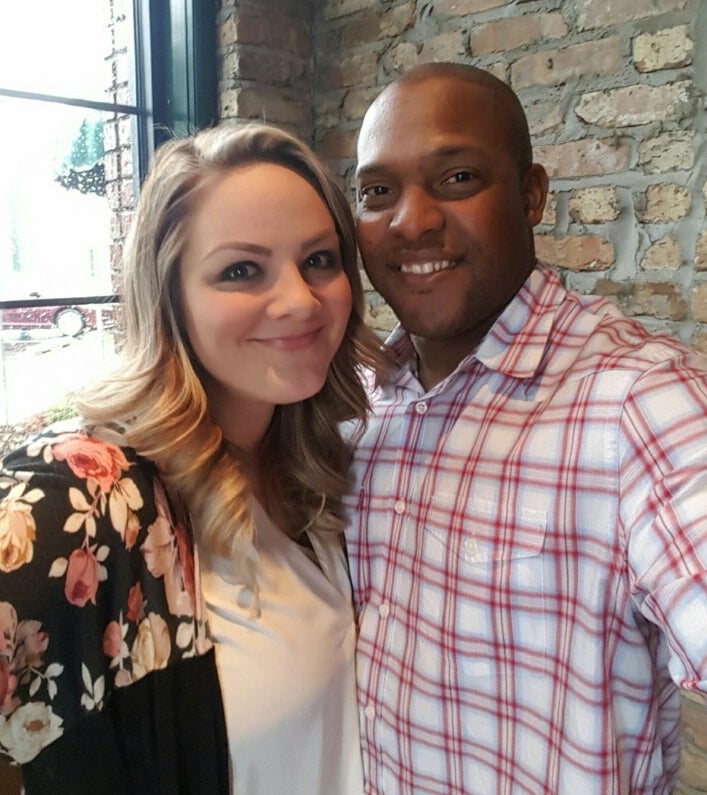 It's been a long journey to reach this place. From loss to love. From ashes to beauty. From sorrow to joy. Ultimately no pain has been wasted in our story. And this road we've traveled, be it ever so broken, has lead us all to this place, where we were always meant to be.
*To hear more from Sarah, and follow along on her journey, visit HERE.
To see her life in action click HERE to view her Vlog.
Sarah's Memoir "From Depths We Rise" is available in stores now.