In 1999, when I was a war correspondent in Colombia, I was in Medellin covering the famous Flower Festival for RCN Networks. During the day the news focused on positive culture, associating the city with flowers, folklore, and music. But at night the theme changed to urban warfare waged by the paramilitaries and the guerrillas on the dangerous hills of Medellin.
On several occasions I unsuccessfully went in search of exclusive interviews with the guerrillas and paramilitaries. It was hard to penetrate the dreaded areas to which neither the police nor the army entered. The hills surrounding Medellin are home to thousands of innocent families, and back then the area had become a blood zone.
I allude to that experience because in 2007 I had the opportunity to return to Medellin, not as a reporter but as a tourist; and was surprised to see that from a cable car I could see the same houses and hills that were once used as trenches. The place had become vibrant and colorful, but the poverty still showed through the rusty metal ceilings and the clothes hanging to dry on wires. No longer were rifles or gunshots heard in the streets. I saw a community that was proud of its poverty and limitations.
In that same cable car I crossed an old combat zone that then led to a beautiful natural park. This means of transportation is part of a larger urban development plan, which was embedded in the areas of Medellin where the poorest live. There are now libraries, museums, parks, schools and botanical gardens. All this was built with the intention of returning dignity to a community that had lost everything.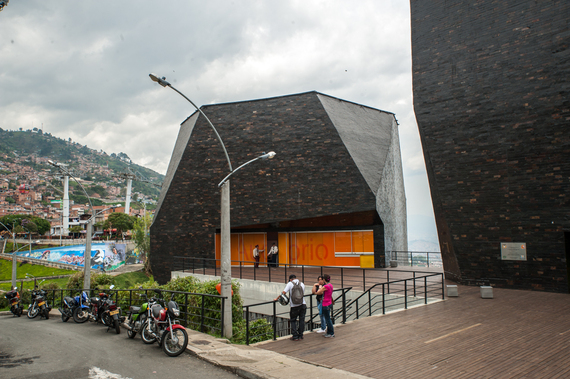 I recently had the pleasure to meet the man in charge of the social revolution in Medellin, Sergio Fajardo, at New York's Colombian Education Fund. He is a mathematics professor turned politician, who is now enabling the poor to overcome poverty through the doors of education.
I see Sergio Fajardo as a humanist, a man who really cares about the poor, and a mathematician who used logic to study the equation of inequality. That is why he first devoted his career to be mayor of Medellin, and is now the Governor of Antioquia, finding a formula that will allow the community to restore its dignity and improve its quality of life.
Fajardo is known internationally: partly because during his time as mayor he reduced the levels of violence in Medellin by 90 percent, and also because he has won international awards. His administration has always maintained the premise that "the most beautiful must be for the most poor."
"Corruption in Colombia is a criminal enterprise, more difficult to combat than the guerrillas and criminal gangs," Fajardo said during our interview, "There are gateways to the world of illegality, corruption, and drug trafficking. They exist in all societies but are particularly big in Antioquia. My goal is to close these and simultaneously open other doors of opportunity through education."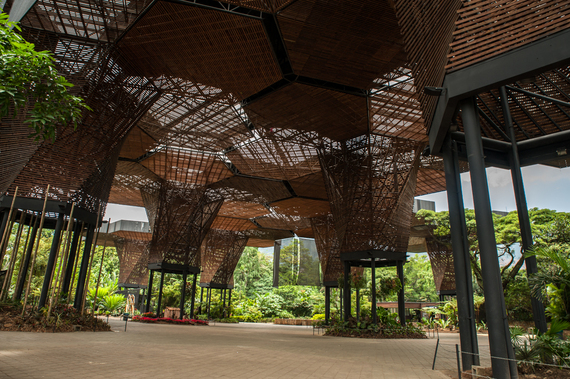 Sergio Fajardo, 58, is from a generation that has lived in war constantly; but despite that, he deeply believes in building peace. He said he wants the end of the war through the negotiations that are taking place in La Havana, Cuba between the Colombian government and the terrorist group, Farc. "I want the peace process to yield fruit. That is a big challenge for Colombia. But it can be done and I want it done. The pages of violence are full...full of tears, fear, and death. How many victims do we have? Antioquia has more than 1,200,000 victims! That's enough! We must tread these pages lightly to not repeat history....we have to forgive but never forget."
Fajardo admitted that he is willing to pursue the Presidency of the Republic of Colombia. He said the possibility is wide open, but for now he has to focus on finishing his work as Governor of the province of Antioquia.
"This is a project involving many people. There are many efforts needed. Pursuing the Presidency is a possibility. I already have experience from 2010, when I ran for Vice President, and the likelihood that I will return is high."
Sergio Fajardo will finish his job as Governor before the end of 2015. He will then take a sabbatical from work to write his book, From Mathematician to Politician.
REAL LIFE. REAL NEWS. REAL VOICES.
Help us tell more of the stories that matter from voices that too often remain unheard.