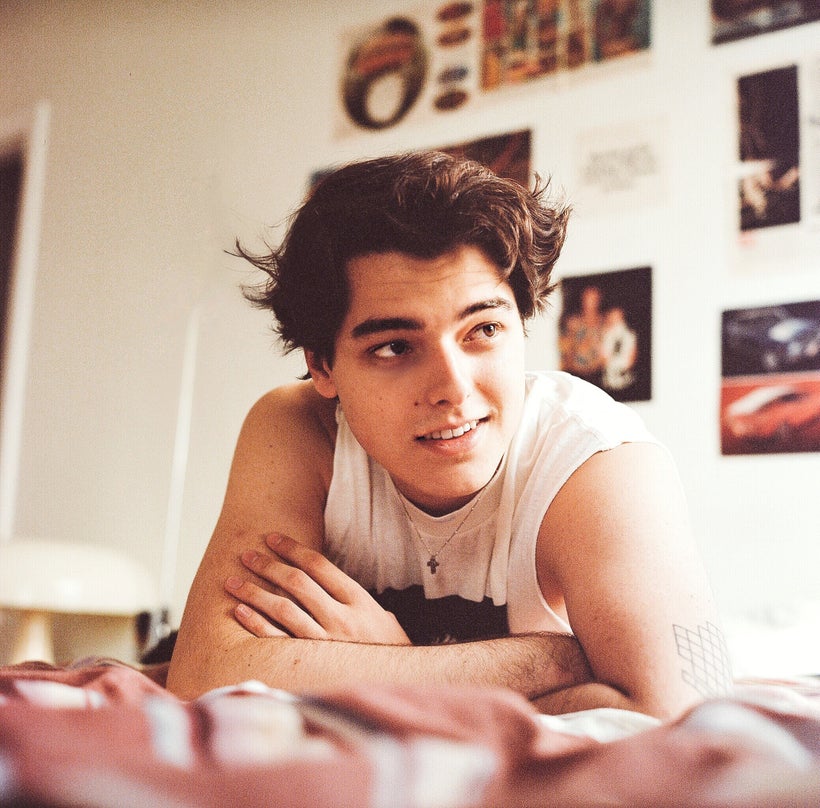 Dante Palminteri's dad is Chazz. His mom Gianna has done a ton in the entertainment world as well. Good, we got that out of the way. I hate when bloggers or journalists (some are one-in-the same - some aren't) only want to talk about a "celebrity kid" pursuing stardom on their own by continually referencing their parental units. Not here. While he may consider Robert De Niro family and totally recognizes his parents have given him quite a fortunate and unique upbringing, the pop singer/songwriter is determined to make a name for himself on his own terms - no favors, no nothing. "I'm fueled by this drive and passion to earn my fame," the 22 year old said.
But, it's not about the fame really. It's about the work, and Palminteri's journey starts this Friday when the pop singer/songwriter drops his debut EP From Me to You. The album is a collection of five songs he began writing in high school and college (he attended Berklee in Boston). Living with these songs for so long, he's obviously ecstatic it's being released to the masses. "It's been a long time coming. One song, 'Breathe Easy,' I wrote and recorded as a 17 year-old but never got around to releasing, so it's the perfect addendum to this body of work," he said.
I recently chatted with Palminteri about the EP, pop music as a whole, and his influences. Before we jump into the Q&A, I'll say this - you won't meet a more down-to-earth kid. He's got every reason to have an inflated ego, but is grounded as a plane in Phoenix. Google that reference by the way. It kind of makes sense. Anyway, here we go.
Q. How'd you whittle the songs down - figuring out what stays what goes?
To be honest, these songs were randomly written during different points in my life that happened to stick with me throughout the past couple of years. Even after writing dozens of songs, I found that I kept returning to the same few, especially in my live performances. Eventually, this collection naturally evolved into what is my EP.
Q. Is the EP name indicative of that at all? How'd you come up with the title?
I had a feeling I would just say it in a sentence one day without even realizing it. I had been talking to a friend who asked me the same question, and I answered "It's just a collection of songs 'from me to you."
Q. Everyone asks this but I'd like to know so I'm asking it anyway. What's your songwriting process like?
It's hard for me to explain, but I often find a song by mistake rather than intentionally writing one. Most of the time, I'll be playing the guitar and accidentally play a melody wrong, causing a domino effect that leads into a full song. I have the most trouble sitting down and saying, "I'm going to write a song right now," the inspiration never seems to come when you demand it.
Q. I can come up with a few people you remind me of in terms of style and vocals, but I'd rather not. So just tell me who are your major influences?
John Mayer has been my biggest influence for as long as I can remember, but even growing up I listened to a lot of '90s rock and grunge bands like Tool and Audioslave. So my sound is a mix of wanting to fight the power, but winning the girl back as I do.
Q. "Pop" can be a four-letter word. Your music is definitely in that genre but you are more in that John Mayer singer/songwriter wheelhouse. Would you agree?
The music I write has a direct correlation to the music I listen to. The pop phase really began when I transitioned to listening more to singer/songwriters and pop artists—more Ed Sheeran and Jackson versus Alice in Chains. Even more recently, I've been into R&B and soul music, which has had a really positive effect on my writing.
Q. Lastly, what does your touring schedule look like this winter and spring?
Very flexible. I'm planning a college tour and some new shows out West in California. Also, I'm always gigging in my home of New York.
Jon Chattman's music, culture, and entertainment series typically features celebrities and artists (established or not) from all genres performing a track, and discussing what it means to them. This informal series focuses on the artist making art in a low-threatening, extremely informal (sometime humorous) way. No bells, no whistles — just the music performed in a random, low-key setting followed by an unrehearsed chat. In an industry where everything often gets overblown and over manufactured, Jon strives for a refreshing change. Artists featured on the series include Imagine Dragons, Melissa Etheridge, Yoko Ono, Elle King, Joe Perry, Alice Cooper, fun, Bleachers, Charli XCX, Marina and the Diamonds, and Bastille.
Calling all HuffPost superfans!
Sign up for membership to become a founding member and help shape HuffPost's next chapter
This post was published on the now-closed HuffPost Contributor platform. Contributors control their own work and posted freely to our site. If you need to flag this entry as abusive,
send us an email
.