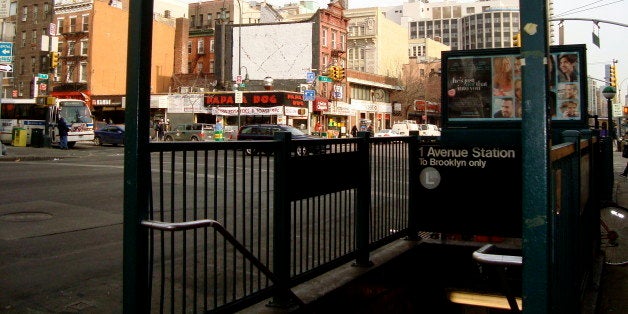 Aboard Delta Airlines Flight 5213 bound from Durham to St. Louis, the past and present collided. Anticipating my destination, I tweeted, "On my way to #FergusonOctober, with Michael Stewart on my mind. For me, this story begins with his NYC killing by police in 1983. RIP." Within moments, Mike Gianella from Bucks County, Pennsylvania, replied, "An extremely f#@cked up story that almost no one under the age of 40 remembers now." In Ferguson two generations, mine and that of today's youth, have come together to learn the long history of police violence. We are joined through rituals of loss and mourning.
I hadn't wanted to tell the story of Michael Stewart, but perhaps it was time. I was twenty-five in the fall of 1983. News began to break piecemeal that Stewart lay in Bellevue Hospital, comatose after a late-night encounter with police. Print dailies and evening telecasts chronicled his condition in the nearly two weeks that preceded his death on September 28th. Some details were often repeated. Stewart had been a graffiti artist, a moniker that was new in the early 1980s. He'd been stopped for spray-painting in the L train's First Avenue station. By the time he was brought to the hospital, just 30 minutes later, Stewart was unconscious.
Most of this early picture came by way of police sources. Stewart's version of events was told by his body. He weighed just 135 pounds. Abrasions on the face and wrists marred his skin. He'd been drinking, and sometimes smoked marijuana. After an autopsy, the medical examiner named the cause of death a heart attack. No, it had been strangulation, countered a physician for the Stewart family. Eventually the medical examiner concurred. Before a grand jury he testified that Stewart died at the hands of unspecified individuals from "physical injury to the spinal cord in the upper neck."
After four months and two grand juries, six police officers were indicted. I was glad, if only in a grim sense. More than two and a half years later, in November 1985, the accused were acquitted of all charges. But by then, my friends and I had drawn our own conclusions. And our lives had been inalterably changed. We lived by new codes that governed encounters with police, and we avoided authorities altogether. Our streets and subways were a battleground, though not because of the slashers or chain snatchers who were also part of everyday life in New York City. It was our own black and brown bodies that were the terrain upon which ideas about law and order were being enacted. The tragic end of Michael Stewart's life taught us to feel unsafe and to be vigilant.
Landing in St. Louis, I headed directly to Michael Brown's memorial, there at Canfield Green. Had there been a makeshift memorial for Stewart at the L train? I didn't recall any. But for me there need not have been. By 1985, I had moved just two blocks from the site of that fateful underground encounter. There was a sandwich shop on the corner. And each time I passed that way, my walk slowed and my shoulders grew tight. Only to myself I'd whisper his name. It was a sort of homage to Stewart, a quiet marking of his life and death. But I couldn't linger even in the light of day. I'd hurry along, trying to hold my terror at bay.
By 1987, I was finishing law school and my then-husband Richard was making his way in the restaurant business. The memory of Stewart's death still haunted us. We both worked late in those years, I at an accounting firm in the word-processing pool, and Richard closing up at a popular downtown restaurant. He had only few blocks to travel, and most nights he walked or grabbed a bus. But one evening, especially tired, he tried to hail a cab. This was a clichéd dilemma. Cabs did not stop for young black men -- or older black men, for that matter -- especially late at night. Richard cursed a driver who passed him by. And, in a chaotic twist of events, he found himself on the receiving end of a steel car jack.
My husband -- budding entrepreneur, All-American college wrestler, and food science major -- was also street-savvy. When police arrived, Richard was standing on the sidewalk, shielding himself with an aluminum garbage can. Few words were exchanged before the cabbie pulled off, leaving Richard to be roughed up, set in hand cuffs, and loaded into the back of a squad car headed for the 6th Precinct. Eventually the charges of disorderly conduct and resisting arrest would be dismissed. And Richard would win a jury verdict in his suit against the NYPD for civil rights violations, though the victory was only bittersweet. What always stayed with me are the words Richard uttered as the cop car sped through the late-night streets, just loud enough to be heard, whispered like a talisman: "I know what you did to Michael Stewart," he told the arresting officers. "I know what you did to him."
In these ways we remembered Michael Stewart: a passing glance at the L train's dark staircase or an utterance in the steel cage of a police cruiser. As a young lawyer, I had a chance to work with the attorney who represented Stewart's family in their civil claim. He never asked if I remembered the case; he knew I could not forget. In 1990, the family settled for $1.7 million. Did black lives matter? The NYPD paid the Stewarts, just as they had Richard. The sums were recompense, and some called them justice. But dollars and cents we knew were not enough. It changed very little on the streets.
In New York, we came to know the names by heart, a pantheon of victims, martyrs in the battle for respect, dignity, and peace in the lives of black and brown people. Our chant began with Michael Stewart, and went on. Names accumulated, like a morbid children's rhyme. The dead: Eleanor Bumpers, Anthony Baez, Amadou Diallo. A survivor: Abner Louima. When in 1992 the officers who brutalized Rodney King in Los Angeles were acquitted, my Lower East Side storefront law office dropped its riot gates. I roamed the eerily quiet streets after dark, only to come upon a NYPD phalanx in full riot gear sweeping up Broadway just below 8th Street. I remembered Michael Stewart, turned around, and headed home.
Before arriving in Ferguson, I had never retold Stewart's story, or my own. I'd hoped to spare the next generation. Still, Stewart's killing has never left me. It indelibly marked my soul and informs how I move through everyday life: wary, guarded, even afraid, and believing that our bodies are the front lines in a contest over race, rights, and who counts for what. But new names, more young lives brutally extinguished -- Oscar Grant, Sean Bell, John Crawford, Eric Garner -- demand that I add another stanza to my song.
I slowly walked that short block at Canfield Green where Michael Brown's body had lain too long in the summer sun. A steady stream of visitors paid their respects, leaving caps, candles, and poignant embodiments of innocence, teddy bears. In that place, my story became intertwined with those of so many young people as we shared a ritual of grief. I spoke the names just loud enough for those around me to hear. From Michael Stewart to Michael Brown. It was time they knew what I cannot forget.
Calling all HuffPost superfans!
Sign up for membership to become a founding member and help shape HuffPost's next chapter