If you like a good road trip -- and who doesn't? -- you owe it to yourself to hit the highway through the Florida Keys. It's a classic. In a Florida that's come to be defined by coconut oil and Disney, it's a spectacular reminder of the awesome natural beauty and easygoing rhythm that made the sunshine state a hotspot in the first place.
My sister Val and I had fond memories of drives from Miami to Key West back in the day; in fact, she'd spent a honeymoon there. This winter we decided to make the trip together. After a couple of days on the Gulf Coast, we hopped into her little red Mini and onto I-75 for the trip south.
Just below Naples we turned east on the old Tamiami Trail, past sun-baked RV parks and middle-of-nowhere developments, when all at once we were driving through state parks and wildlife refuges. It was awesome. We gawked at ibis, herons and dozens of other big birds before stopping at the visitor centre in Big Cypress National Preserve to ogle the big gators hanging out in the swampland. Later, we saw a chalkboard road sign: "Serving alligator two miles ahead." Too early for gator, so we drove straight through to US 1.
Leaving the mainland was like a quick cut to a great escape. Big skies, sweeping vistas, and sparkling emerald-sapphire-aquamarine open water surrounding us on both sides -- the Atlantic on the left, the Gulf of Mexico on the right -- combined for a scrape-your-jaw-off-the-floor welcome to the Overseas Highway. Visually, it's a stunner: even the meridians are painted spacey swimming pool blue.
The buoyant feeling that came over us may have had something to do with the fact that so much of the road is built over water. The low speed limits mellowed our pace, easing the transition to island time. Cruising through Largo and Tavernier, we counted down the vertical green mile marker signs (from 127 just off the mainland to 0 in Key West) until we hit 82 in Islamorada, where we turned off the highway to Casa Morada, a hotel so chill there's virtually no indication it's there. Local artist and environmental activist Michelle Nicole Lowe, whose gallery is just around the corner, tipped us off to this under-the-radar gem last year.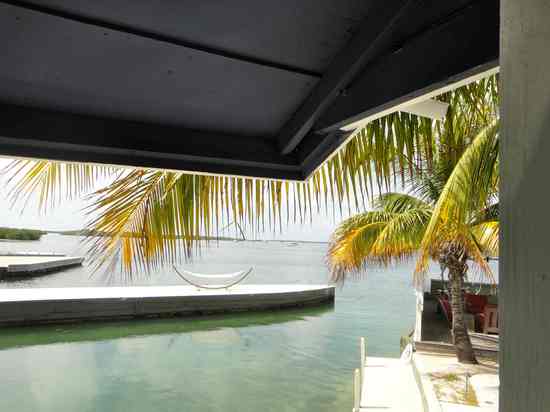 From the cabana, Casa Morada

Casa Morada is tropical cool -- a 50s-era motel transformed into an all-white 16-suite boutique hotel with a discreet and soulful style. It's like visiting the beach house of a friend. This was the vision of Terry Ford, Lauren Abrams and Heide Werthamer, who met while working for hotelier Ian Shrager. They know a thing or two about hip hotels; they hired landscape architect Raymond Jungles to create lush tropical gardens, a rock grotto and a bocce court, and redid the resort's private island as a laid-back outdoor lounge with pool, palm trees and an overwater bar.
"The intention was to make guests feel at home so they could enjoy spending time with the people they're with," said Terry Ford. It worked for us. Our friend Luce, who happened to be in Miami, drove down to tick "convertible through the keys" off her bucket list and join in the fun. We kayaked past funky, Travis McGee-style houseboats tucked into mangrove inlets, swam in the pool, snorkelled in the bay, and one afternoon watched a manatee swim slowly by.
Back on the road, we pulled off five miles south (mile marker 77.5) to eat grouper tacos and feed giant tarpon at Robbie's Marina. At mile marker 31 on Big Pine Key, we found our way to No-Name Pub, a dark, old-timey roadhouse, and added our signed dollar bill to the tens of thousands already stapled to the walls and ceiling. (Markers and staple gun on demand. It's a thing in the Keys. Don't ask.)
Key West is the southernmost city in the continental U.S, and in 1860 it was the wealthiest per capita town in the country, thanks to the thriving salvage from shipwrecks off its reef. In the 20th century it was home to Ernest Hemingway, Tennessee Williams and Jimmy Buffett. It has a lot of history, a touch of honky-tonk, and has evolved into a destination rich in tourist attractions. We had one full day to cram in as many as we could.
After a quiet sleep in the big, comfortable beds at Parrot Cay Resort and Hotel, we drove into town for breakfast at Pepe's Café, established in 1909 and the oldest restaurant in the Keys. We left the car in the lot for the day and jumped on an Old Town Trolley to get our bearings. By noon we were touring Ernest Hemingway House before cabbing it for lunch at Louie's Backyard, an old Victorian with a gorgeous ocean view.
Back in town, we visited the amazing Audubon House and Gardens, bought an ornithological print at the gift shop, and skipped across the street for a quick look at Mel Fisher's Treasure Museum before checking in with Danger Charters at the Westin Marina. We set sail at 5 on their marquee Wind and Wine sunset cruise: great captain, great crew, great sunset, and a perfect way to end a fabulous road trip.