Brett Swayn had been homeless, broken "by his brokenness," and had himself felt utter desolation. He knows what a miracle feels like.
I was drawn to his story because I love miracles. I love when people come to me after a talk or a concert and tell me about the miracles they have experienced -- the huge ones and those seeming small.
A beautiful young woman told me recently, "I should have died in that car crash. My doctors said it was a miracle that I am walking and talking today."
"I couldn't make my mortgage payment when I received a check from a company that overcharged me," a single mom shared with me.
"I didn't even know your show existed when I saw your guest and heard him speak the exact words I was thinking. Now I feel I can go on with my life again," a woman emailed, after seeing an episode of Waking Up in America, my television show that explores the turning points in people's lives.
Those turning points in our lives often feel and look like miracles. My guests talk about experiencing an awakening, an expanded awareness of something bigger than themselves, like God, purpose, connectivity with all life, healing love, compassion, gratitude -- which causes a deep personal and spiritual transformation and shifts our life's goals and priorities from ourselves to serving others.
Because miracles aren't really about becoming rich and famous (or turning pumpkins into carriages and rags into gowns), but about changing hearts and transforming lives. Brett's story is no different.

BRETT SWAYN AND "THE COOKERY"
Brett came from Australia to Los Angeles to pursue a music career. But he says, it was all about him and his need for approval. The miracle happened when his focus changed.

"For me it was a place where I thought [I'd] find life. Here is life in [music], and rather than using it as an expression to express life, it was life itself."
Stuck in the idea of who he thought he was, Brett made a series of choices that led him down a path of a "moral collapse."
"I became the monster that I never thought I would be... I had broken every sense of integrity that I thought mattered to me... The moral collapse of a person looking into the mirror and not being able to turn away."
When I interviewed Brett for Waking Up in America, I wanted to know what he meant by "not being able to turn away." Why not numb the pain with drugs or alcohol, or otherwise distract himself from it?
He had done all of that already, he explained. He had hit the bottom.
"At that point there was this utter desolation. There was this awakening where I would lay in bed at night and I would beg for the dawn to come because there was so much pain that I couldn't stand the slow ticking of the clock. And then I would wake up in the morning and go, 'Oh, let it be better.' And it wouldn't be better so I would beg for the night to come."
Brett begged, prayed and then reached for a Bible - where, as he says, the "red print [was] reading the monster in him." But the sacred text also offered the promise of healing.
And here is where Brett's story gets interesting. He was working through his pain, no longer numbing it or distracting himself from it. He felt it, he let it take him into the darkest parts of his soul and there he tried to understand it, embrace it, and eventually let go of it. This process took months and months. It was his transformation and his miracle.

"I remember one morning... hearing the sound of a bird.. I had lost all feeling. I could look at the color and it felt dead... and I can't explain that miracle but I remember the joy of the bird. It was foreign and yet it was like spring in my heart. And I remember an audible voice that said, 'The war is over.'"
Even though Brett shifted from being stuck in desperation and darkness into the flow of life and grace, his circumstances didn't immediately change. Actually, his life became worse -- he moved to Nashville and lost everything. He was now living in homeless shelters, sharing meals with people who like himself had no place to stay, no job and no money.
But Brett was awakened. He wasn't afraid any more, and he wasn't chasing the wrong dream that would only serve the person he thought he wanted to be. He had learned compassion and had gained a different perspective on life and its meaning. Through a series of miracles -- seemingly coincidental meetings and events -- Brett was offered a job at an upscale restaurant, where he worked his way up to the position of sous chef. Soon after, he began to train others in the culinary arts.
Instead of choosing a successful career for himself, Brett decided to minister to the physical, emotional and spiritual needs of the homeless community, for which his own experiences had prepared him. He co-founded The Cookery, a culinary training facility in Nashville, Tennessee where he and his team are now triggering miracles and restoring the lives of many.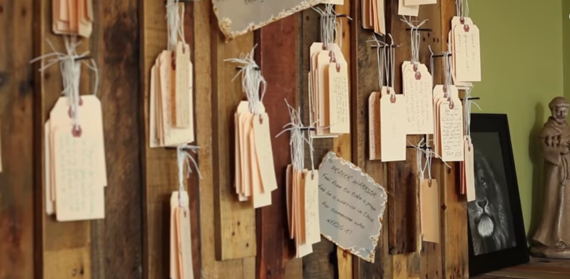 THE MIRACLE MEANT FOR YOU

When you walk into the simple and welcoming dining room of The Cookery, you will notice the wall of prayer tags. You can hang your own as you pour sugar in your coffee or milk in your cup of tea, or you can take one and send some love and healing to the person whose handwritten note you hold in your hand.
You may wonder, what can YOU do to answer someone's desperate plea for a radical change in their lives; how can you deliver their miracle?
Even if you send them all your love, if you say your prayers on their behalf, will it really make a difference?
It might not. But the compassion will cause a movement within you, and open up your heart a little bit more. You will feel yourself begin to change, and you might realize that the miracle to be delivered through those prayer tags was really meant for you.
Brett Swayn is a co-founder of The Cookery in Nashville, a culinary training facility that teaches skills and restores the lives of homeless and transitional students. Brett is also a musician and a co-founder of Lambscroft Ministries, which serves Nashville's homeless community.