Over the last few years, a major new front has developed in the fight against climate change: stopping new fossil fuel pipelines. Across the United States, climate advocates are joining hands with local communities and mobilizing against dangerous, polluting and unnecessary new pipelines, many of them meant to carry natural gas.
Fracking has flooded domestic markets with gas, at least temporarily, and gas companies are building new pipelines as fast as they can in order to get their product to lucrative markets in Europe and Asia. Here in Massachusetts, we're fighting five major pipeline projects: Northeast Direct (Kinder Morgan), Connecticut Expansion (Kinder Morgan), Algonquin Incremental Market (Spectra), Atlantic Bridge (Spectra) and Access Northeast (Spectra), not to mention all their attendant locals, laterals and loops. And that's just one state!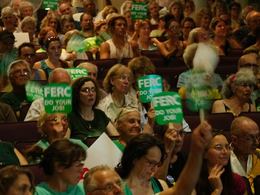 If you've ever had to fight against a new gas pipeline, you know it's not exactly easy. There are a half-dozen different agencies involved, all with their own alphabet-soup names (FERC, EFSB, DOER, DPU). It can be near-impossible to figure out who has real decision-making authority over any particular project. Crucial information is often buried on obscure government websites or hidden in reams of documents, and opportunities for community input are scheduled at the last minute and held during business hours in faraway government buildings.
The Federal Energy Regulatory Commission (FERC), which is supposed to be the ultimate authority in charge of new pipelines, usually acts as little more than a rubber stamp; it's been years since they last turned down a pipeline application. Some new gas pipelines are already under construction, despite massive opposition from local residents and environmental, faith, social justice, public health and community groups, and regulators have already given a green light to many others. At this point, many of us are starting to wonder: is it ever possible to win against fossil fuel companies and their allies? Can communities ever beat back new pipelines?
The short answer: yes. Dedicated grassroots organizing and persistent advocacy can stop new pipelines -- even against seemingly impossible odds.
One example is the Constitution pipeline, currently delayed and perhaps permanently stalled by grassroots opposition. The Constitution pipeline would run from Pennsylvania through New York and ultimately connect to the Tennessee Gas Pipeline. Williams, an energy company, is leading the push to build the pipeline; they went through the FERC process and got the usual thumbs-up in December 2014.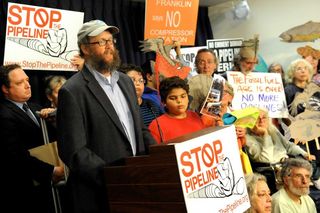 But grassroots leaders were not ready to accept "yes" as an answer. With the support of 59 local groups, people from all 125 miles of the proposed pipeline route continued organizing to put pressure on the state of New York. In response, the New York Department of Environmental Conservation (DEC) requested more time to consider the water quality permit necessary for construction to begin. It's up in the air whether the DEC will grant the permit in the end, but they behaved similarly before placing a moratorium on fracking in 2008; they continuously extended their timeline as the grassroots opposition movement grew until they finally reached a decision in favor of the public interest. This may suggest a precedent for turning Williams down.
Another victory comes from Georgia. If built, Kinder Morgan's Palmetto pipeline would cut through South Carolina, Georgia, and Florida. The pipeline is meant to carry petroleum, but as an interstate pipeline, it has to go through many of the same permitting processes as natural gas pipelines. From the beginning, landowners along the pipeline route have been refusing to let surveyors onto their land, and the Push Back the Pipeline coalition has been representing concerned communities throughout Georgia and South Carolina. Unsurprisingly, FERC approved the construction of the Palmetto pipeline in May, the same month that both the Republican Governor and Lieutenant Governor of Georgia came out in opposition to the project. Later that month, the Georgia Department of Transportation (DOT) announced that it was denying Kinder Morgan its certificate of public necessity -- a permit needed for eminent domain rights. This means that for now, the project is dead in the water, unless Kinder Morgan is able to negotiate with every individual landowner along the route or unless they win their appeal challenging the DOT. With the help of Georgians, South Carolina residents are now pushing their state government to oppose the Palmetto pipeline in any way possible.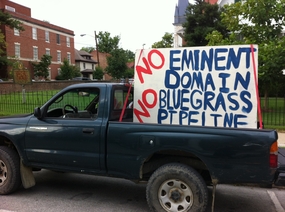 Another example can be found deep in Kentucky. The Bluegrass liquified natural gas pipeline was "indefinitely delayed" after landowners, environmentalists, students, and nuns formed a coalition to stop the pipeline. Local political leaders from both sides of the aisle teamed up to push for a bill that would make eminent domain inaccessible to fossil fuel pipelines. After multiple court battles related to eminent domain and the Bluegrass pipeline, an appeals court upheld the claim that Bluegrass has no right to eminent domain in the state of Kentucky. The grassroots and political opposition to this project ultimately led to "slower than expected commitments" from utilities to purchase the gas. With that blow, Williams, the company leading the charge, backed away from the project. If this kind of victory is possible in the heart of coal-country Kentucky, then we can truly win anywhere we have the courage to stand up, the organization to be effective, and the determination to never give up.
Indeed, whether you are trying to keep Spectra Energy out of Rhode Island, Kinder Morgan out of Massachusetts, Dominion out of Maryland, or Carso out of Texas, the lesson is the same: when people rise up and demand that their voice be heard, local representatives and agencies have no choice but to listen. Together, we can go after corrupt energy companies and their allies at FERC -- and together, we can win. Onward!

Photo credits: Rene Theberge, Cindy Schultz, Erica Peterson
REAL LIFE. REAL NEWS. REAL VOICES.
Help us tell more of the stories that matter from voices that too often remain unheard.