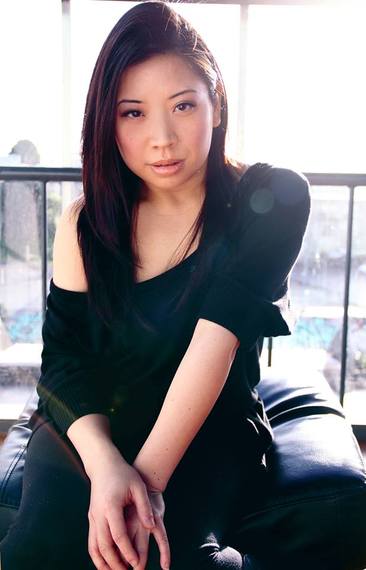 Hailing from Hong Kong and New Zealand, Karen Ng has danced on Good Morning America, New York Live with Ben Aaron, ABC Live, and showcased her choreography at B.B. Kings, Times Square Arts Center, and the NYC Dance Parade. She has performed at The Kennedy Center, The Blue Note Jazz Club, NYC Summerstage, Shakespeare in the Park and more. She has also produced and performed her own projects with Triple8Funk Dance Company, Soul in Motion, All Aboard Burlesque, and has brought Byron Cox (House Dance Project) and Waack It Out with Jayshri Nand to Auckland.
You were born in Hong Kong, correct?
Yes, but I grew up in New Zealand. My family moved when I was around four. My dad's a chef (typical Asian immigrant parents) and he ran a restaurant. I always loved to dance and sing, so they put me in ballet school because that was the only thing available in the 80's.
Where do you consider home?
New Zealand is still home [because] my parents and childhood friends are still there. But, I feel so at home in New York that I always miss it when I leave. There's nowhere else where I feel I can be me. In New Zealand, I always felt like an outsider growing up in a very white town. Even within my Asian peers, I felt different. I did the study hard and be a good Asian daughter thing for a long time. I actually studied pharmacy and worked as a pharmacist. While I was studying, I ran a hip-hop dance crew in Auckland. We were one of the two earliest dance crews who ran competitions and shows.
How did you discover your love for hip-hop?
In the 90's, I was exposed to artists like A Tribe Called Quest, Janet Jackson, Paula Abdul, and of course Michael Jackson.
So your taste in music influenced your taste in dance.
Yes. I saw all the dancers in the music videos and thought, "This is dope." At that point, I was able to choreograph and do more at my dance school. Even though it was a ballet school, my teacher said, "Choose your music and make up this part of the dance." We were encouraged to have a say about our dancing. In high school, I got to choreograph for talent shows, dance competitions, and musicals.
What made you come to New York City?
I had a lot of dancing experience while juggling college. Once I graduated and became a working adult, I dropped everything and worked 40, 50 hours a week. I didn't even realize I was miserable. My mother always brought it back to food. "This is your main meal. Dancing, music and all that is the salt and pepper." Suddenly, I was faced with the decision to buy my pharmacy. I didn't want to but felt this massive obligation. I enrolled in the Broadway Dance Center, where they offer this amazing International Student Visa Program. I turned down the pharmacy for this three-month program. I felt alive again and realized my soul was missing all this time.
You no longer felt like an outsider?
By this time, I was around 26 and feeling old compared to the typical professional dancer. But there were others who came from being a teacher or mechanical engineer, and they were just going for it. It was so encouraging to see other people on this journey.
Is it different being an Asian female hip-hop dancer in New Zealand versus New York?
In New Zealand, most of the people who came to hip-hop classes were Islanders and Asians. We started out young and had courage from being naive, so it was never a thing. Here, it's different. The history of hip-hop lies here, coming from the African American community. Also, race definitely matters for casting or auditions. Just recently, I went to an open audition with three Asian dancers and 10 dancers from other backgrounds, and the 10 dancers were asked to stay. It's a liberal melting pot here, but I'm also more aware that I'm Asian. It's part of the industry, so you either roll with it or don't partake in it.
Do you prefer dancing or choreographing?
What satisfies me about choreography is putting different elements of what I enjoy into one product. If I'm a dancer going into someone else's piece, you're not supposed to challenge the choreographer's vision. It's your job to make their work look great. I enjoy creating because you can put much more of yourself into it. It's harder because you have to show up first, invest in rehearsal space, and prep for rehearsals.
With the rise of social media marketing for dancers and studios, how do you balance the work with making sure it's visible?
It's a really great thing that dancers can take things into their own hands, using their own platform. The fact that dance videos are so popular online says a lot. If dance choreographers are making your songs more popular, there's value in that, but I don't feel dancers are usually credited or compensated enough for it. It's great that dancers and choreographers are more in the forefront and the world knows their names.
At the same time, if you're from the older generation and did all this stuff before social media, it shouldn't discredit your work. If you've done all this work but it's simply not documented online, then it doesn't exist and you tend to lose out on work against people who have a million subscribers. I've seen choreographers post, "We need a dancer who has at least two million subscribers." So it's great to take things into your own hands, but you can lose out on jobs if you don't do it, even if you're an amazing artist. It can be a steep learning curve. Maybe you're just a more private person, you know?
Calling all HuffPost superfans!
Sign up for membership to become a founding member and help shape HuffPost's next chapter