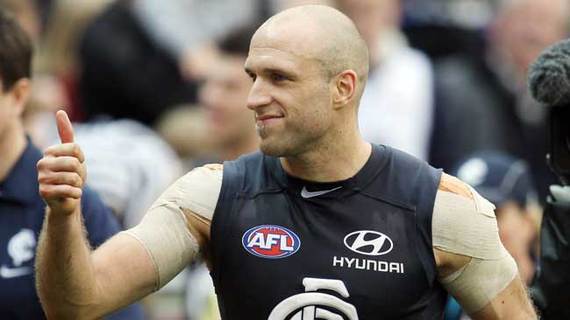 Matthew Lodge was a teenage rookie at Australian football club Carlton Blues when he first met Chris Judd. After the much-revered champion was forced into retirement following a significant knee injury on the weekend, Matthew reflects on the impact the man had on his life.
It's 6.30 a.m. on a Wednesday morning at what was then called VISY Park, in the Melbourne suburb of Carlton, back in 2012.
I remember it being a Wednesday because it was my third day as a professional footballer. I remember it being half six in the morning because it was my fourth day living in Melbourne and I had little idea of time, distance, speed or Melbourne traffic city-bound on the Eastern Freeway. It was also daylight savings. The oval at VISY Park was only partially illuminated by the lights of our facility; all else was as dark as a funeral scarf.
Arriving at this time at the club would soon become habit, but on this occasion, as I put my bag in my locker amid an eerie silence, I was acutely aware that I was probably the only one here at this stage. The rest of the players weren't expected at the club until 8 a.m.; to ready ourselves for the main mid-week training session beginning at 10am.
After a bit of pacing, the only light I saw in the whole place came from the rehabilitation room. The human hubris of curiosity drew me in, and upon entering I found Chris Judd on a Pilates reformer, receiving instructive guidance from Carlton Rehabilitation Coordinator, Mark Homewood.
After the initial surprise of seeing the 18-year-old NSW Scholarship Holder rookie at the club before the sun had surfaced above the Legends Stand, Chris invited me to join him. What ensued in the next hour and a bit is how I will remember Chris Judd, one of the greatest Australian Rules footballers to ever grace the game.
The fishbowl/hysterical/passionate nature of the football world heightens his retirement to assume that we have lost Chris Judd. But make no mistake. Chris Judd will forever be a champion footballer. Achievements, achievements, premiership, achievements, achievements. A Hall of Fame induction is a certainty. I look forward to Chris holding court at the awards night and charming the room when he is rightfully acknowledged a "Legend."
The awards confirm what we already know; from the five-goal half against Brisbane, to the Norm Smith Medal performance in a losing Grand Final, to his two Brownlow years. But Chris would scold me in his laconic, laugh-out-loud kind of way if even for one second I thought his retirement was some sort of "end".
As we lay on the Pilates reformers back in 2012, working our way through the exercises, Chris and I conversed. Being 18-years-old and stupid (some would say only my age has changed) all I wanted to talk about was football. Chris wanted to talk about everything else. Family, school, moving states, different sports, music, current affairs.
He also gifted me a nickname that has stuck for the past four years, "Lodgenator".
The only slightly football-related topic we spoke of was the lesson that I took away from the whole conversation: "you have your few hours a week of switching on, but remember what made you want to be where you are." Football -- after all the layers of fireworks, hovercrafts, talkback radio shows, betting scandals, fans, opinions and finances are stripped away -- is just a game. From there on, his aura evaporated and the Chris Judd I know is -- yes, a good footballer, but more -- a good person.
I spent 12 months as a teammate/colleague of Chris Judd's. However, the closest I ever got to pulling on the jumper with him was the day of the team photo. But the time spent off the track in the rehabilitation room or on the massage table -- him for week-to-week preparation, me for the latest injury drama, but both of us out of necessity -- ensured that I came to know Chris in a light far away from those who simply lauded him for a "hard ball get", or a goal on the run.
Chris is well-read, approachable, always inquisitive and reserves judgment. Those four are great human qualities rarely found anywhere in this day and age, let alone in a footballer. When it came to football-related things, Chris was always able to communicate things to me in a simplistic, but intellectual way. I understood more when he spoke than when others (even the coach) did. Chris, as a leader, emphasized the process more than the outcome. In team meetings, he would preach 'standards'.
There was little fanfare in the way he played the game. While he was explosive in speed, rarely was any form of celebration visible beyond that iconic squint, white mouthguard agape, sucking in all the air he could muster.
The shying away from public attention was no more apparent than when Chris made his return to football midway through last year for Carlton's second-tier team, the Northern Blues in the Victorian state league (VFL).
It would be the second match Chris had played in a game that wasn't at AFL level since his drafting. His last one, a 20-disposal, four-goal performance for East Perth in the West Australian state league (WAFL) is now engrained in Royals' folklore: "This is Chris Judd, take a look at him now. Because you'll never see him play in the WAFL again."
So this was Chris Judd's VFL debut. Against Sandringham -- a team he'd had small dealings with in his TAC Cup (junior) years with the Sandringham Dragons.
The Northern Blues squad and Chris trained the night before at VISY Park. For such a decorated player to train on a weekday night, with semi-professional footballers and homemade soup post-training, it was almost comical. Northern Blues coach Luke Webster introduced Chris as tomorrow's VFL debutant, asked him to tell the group a little bit about himself -- and then Chris trained. It was the mark of the man who didn't see himself above kicking the football with university undergraduate students, apprentice electricians and schoolteachers.
I watched Chris train. After he finished, he approached me and we chatted for 15 minutes like old friends. Me asking the slightly loaded questions of how his body was tracking, how was he feeling about Saturday. Him asking how university was going, how my own football was going, plans for holidays.
Chris' VFL debut drew almost 5,000 fans to VISY Park the following day. Journalists, camera crews, standoffish Carlton fans who almost didn't know the Northern Blues even existed, rolled in.
Chris wanted two things. To get through the game unscathed, and to win. Both things eventuated. And even though there was obvious glee as his 21 other teammates showered him in Powerade as he sang the song arm-in-arm with the other debutant Northern Blues player, Jordan Perry, Chris clearly wanted to be away from the circus of glowing, admiring fans and prurient media.
Chris was much more at ease when he was with the people who knew the processes he had to navigate through to make it to the next contest, the next day, the next game. Socially, he would laugh the loudest and the longest. An endearing quality for someone whose name often precedes his personality.
His humor and his wit was dry and smart. Conversations sitting next to him at lunchtimes regularly had me and those around him in stitches.
After the four years I've now known Chris, the mark, the landing, the facial expression of screwed-up agony was numbing to watch on Saturday. I'm sorry Chris, but this was 'an end'. The sun rose the next morning and life went on, but the news kept playing the sickening incident over and over again as speculation grew about whether this was, in footballing verbatim, 'the end'.
As you delivered the words to bring the curtain down on your footballing career, I hope the Adelaide Crows' supporters standing ovation, a show of unity that the fishbowl/hysterical/passionate nature of the football world is indeed capable, did not come as a surprise to you.
You are a respected man, Chris. As a footballer, you were good. As a human being, you are and will continue to be good.
Thank you for that time when I was 14-years-old in the change rooms, had just become a NSW Scholarship Holder at Carlton, and you went away from the training group, shook my hand and asked me my name.
Thank you for that Wednesday morning Pilates session and the other sessions from then on.
Thank you for the nickname. Kind of.
Thank you for introducing me to Game of Thrones.
Thank you for the quick advice when we were on the training track to help me understand.
Thank you for the plethora of laughs.
Thank you for the conversations -- both light and deep -- especially on that footy trip to Hong Kong.
And out of the almost 300 teammates you had at AFL level, thank you for making me feel worth my while from my first day at the club, all the way to when we ran into each other late last week.
Until we meet again, Chris.
A version of this post previously appeared on The Good Men Project. Reprinted with permission.
This post has been edited from the original version which appeared on Matthew Lodge's blog, 'Thoughts of a Closet Recluse'.
Photo Credit: AAP/File

And, if you like that, you might want a daily dose of Good Men Project awesomeness delivered straight to your inbox. Once a day or once a week for Good Men Project, or sign up for our once a week GMP Best of Sports email here.
Calling all HuffPost superfans!
Sign up for membership to become a founding member and help shape HuffPost's next chapter