We have all heard a few horror stories about online dating. Stories about how a young woman shows up on the first date and the guy is old enough to be her grandfather. Or how about the man who expressed in his profile that he is specifically is looking for someone with an athletic build and a 350-pound woman shows up? There are some success stories that happen also. According to Pewresearch.com , as of February 2016, 15 percent of all Americans reported that they have tried online dating. Twenty-three percent of all Americans agree with the statement "people who use online dating sites are desperate" - but, in general, it is much more culturally acceptable than it was a decade ago. Five percent of Americans who are in a marriage or committed relationship say they met their significant other online.
Today we are going to speak with a couple who are down with the five percent. In my last post, Tips to Help Honest People Navigate Online Dating, I introduced David Gershaw and his beautiful wife Lida Ajami. David and Lida met online and he asked her father for her hand in marriage on day 31 and they were married on day 46. To some this might seem rushed, but I must say, after speaking to this couple, they are really soul mates. I have known David since elementary school, and I can say he's no slouch, not desperate, and was NOT looking for a bride. After speaking with Lida and hearing the beauty, kindness, and love in her voice, I understood why my home boy's heart chose her.
L.A. Dawson, author of Waiting Online for Love and the online Fairy Godmother for my story, had this to say about getting married quickly after online dating:
"When it works out it is usually a great love. I try to advise people to stay long enough in a relationship before they commit to marriage, to see how your partner responds when something goes wrong. I ask them to assess their communication skills and to grade themselves on how they handled the situations. When you share this information with your partner, in a loving way ... it often brings couples to a deeper understanding and intimacy. That is always a positive."
If you didn't read my last post on this subject, here is what the groom had to say about meeting his new bride online:
"I knew from the first phone call by her voice, vocabulary, and expressiveness. She spoke of her father as being the best male role model in her life. She spoke lovingly of her mother and family. She described each of her brothers/sisters and their spouses, which made me realize what she valued. She spoke of her three children as the best things that have happened to her and about enjoying being pregnant and the birth of each. She then spoke of her transformation into the person she aspired to be, which involves career, family, and personal matters. She was the only one to ask me about goals for the future and didn't dwell on the past. We spoke for a period of three days before meeting. This amounted to about 10 hours of talk time. She felt like someone I already knew. She was someone who I already understood and was comfortable with interacting, being open, and sharing personal details of me. I already knew during these lengthy talks that she would be the one. The only question was whether she would feel the same, but of course I hadn't even met her yet."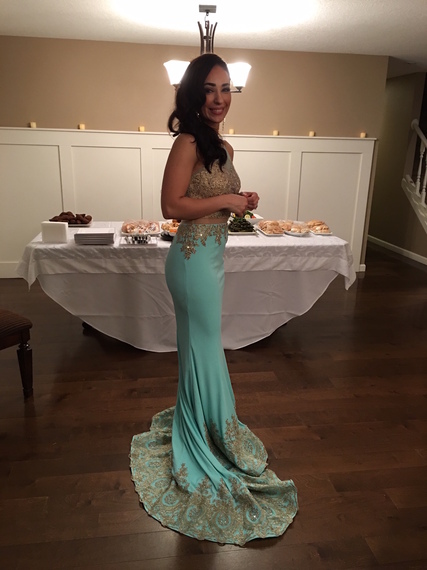 The bride, Lida, has an interesting story. Lida is Lebanese living in Portland, Oregon and was raised in a loving and supportive traditional Muslim family. Her family, being very conservative arranged her marriage at 19.
Here is what she had to say about her first marriage:
"I was 19 years old and he was 34. I was going with the flow even though I had no clue what I was getting myself into. My wedding night was the first time alone with that person. I lived 11 years of that marriage being a traditional wife, mother, and fitting into the cookie cutter way of traditional Arab female life. It was rewarding in many ways, and in other ways extremely limiting and torturous. I had many dark nights, and I lived with a lot of shame, guilt, and pain for not feeling good about my marriage. I can go on and on because it is a long story. But in summary, my past made me who I am, and I am very proud of me. It took me five years to leave my ex and to be completely independent, supporting three children on my own with my head up high, becoming the woman of my dreams and having the highest standards, and now with David living a DREAM LIFE. It feels great because I worked hard to earn the freedom to choose my own destiny and mate. It takes a lot more than average work, experience, challenges, and failures, sadly, for a woman from my background to develop confidence and strength."

Final wishes and blessings from the Godmother: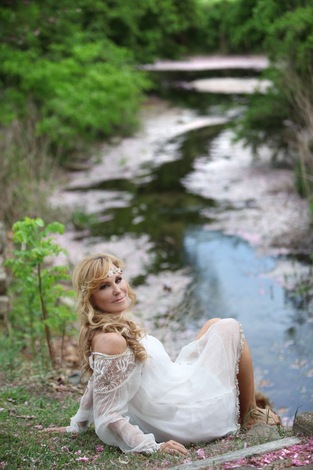 "I challenge David and Lida to continue dating and learning openly about each other. With that comes the understanding that they may discover something surprising or an annoying trait that they didn't see. Those are some of the inherent problems of jumping too soon. However, I am ever hopeful that they will pursue the peace of compromise and have a loving and successful marriage. If their communication skills constantly improve, there is every reason to believe in a positive result."
Lida and David, we wish you the best!