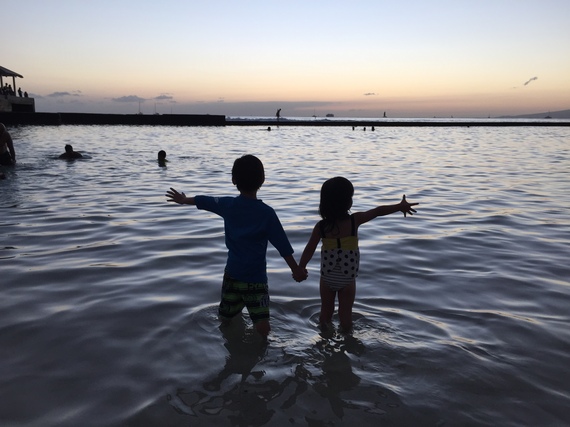 The day I discovered I was going to have a daughter, my heart sunk like a stone.
Our adoption agency called to deliver the news: "A three-year-old girl from the Henan Province is available for you!" Seconds later they dropped another bomb: She has brain damage. I swallowed a scream. "What does that mean?" I asked. I was told it could be anything--a diagnostic error, a developmental delay or a serious intellectual disability. The medical records they had on file were so vague, there was no way to make a decision based on her history--we'd have to make a judgement call from our gut.
After stalling for weeks, my husband and I said "yes." With blind faith and trembling hands, we inked our commitment to give this girl a family. The day before Father's Day of 2014, we flew to China to meet her for the first time. I suspected within seconds her diagnosis was dead wrong. She sassed me in Mandarin. She refused to hold my hand. She bopped me on the head with the doll I gave her. Her brain seemed to function just fine!
But her fierce spirit masked a disability more undiscerning: a petrified heart from years of neglect. Her eyes were wild with hunger. We took her to lunch and watched her slurp a large bowl of beef and noodles clean. She stuffed Cheerios and suckers in her pockets while scavenging my bag for more. She was three years old and 22 pounds. Her head was angled flat from lying in a crib she had to share with another child. Her dirt-encrusted fingernails were so long, they snagged on a blanket we swaddled her in. And her shoes were so tight, when I peeled them off, she cringed. Red marks revealed where the straps dug through. Yet she clung to those shoes--it was all she had. And she woke us up before the sun streaked into our hotel room every morning, pointing out the window as if to say, "Let's explore!" So we did. We got lost in parks, whizzed her stroller through roads packed with motor scooters and mastered the subway like a local. As a rooster beak floated in our soup bowl one day, we beamed. This was our daughter's heritage. And it was beautiful.
As I toured my daughter's homeland, I thought of my own. I was raised in the pacific paradise of Hawaii and missed the culture, landscape and history that informed so much of how I thought, moved and operated in the world. But it was so cost-prohibitive to visit from the Midwest where my husband and I made a home for ourselves that I hadn't seen my family in years. And suddenly, with my new daughter in my arms, I wanted to introduce her to my ohana--my Hawaiian heritage.
Finally, an opportunity arose the following year. My husband decided to reinvent his career in a city three hours north. The program demanded 12-hour days, so I convinced him I should take our two kids (we adopted a little boy four years prior) to my homeland of Oahu. To the sea we trekked on a 4,000 mile journey. I spent an entire week prepping my now four-year-old daughter for the experience of the ocean. My little girl, who spent the first three years of her life imprisoned in an orphanage, could not comprehend the enormity of such a thing. "It's like a really big tub," I shared as I scrubbed her clean. The next day as we waded in a community pool, I said, "The ocean is like this-times a million!" She nodded, still not understanding.
But when we finally stepped foot on sand the next day, my daughter's almond eyes turned to saucers. Tears squirted from her eyes and her nails clawed my flesh as we inched from shore to sea. I ignored her pleas to stop, snapped a flotation device around her waist and nudged her toward the tide. Her screams turned to squeals when she realized she was bobbing along with the waves, not under them. An hour ticked by. Then two...and three. Her face relaxed in the wonder of it all. She laid flat on her back to float, her arms flopped out in pure trust. It was time to go. My fingers were pruning and I was hungry. She obliged and trudged to shore. But when the sun dipped down from sky to sea over the shores of Waikiki, she grabbed my son's hand and danced. "This," I thought, "is what it feels like to kiss the face of God."
We stared in open-faced wonder at the sea together as the sun baked its goodness into our skin. So tender. So sweet. My mind flashed to the memory of meeting this child in such a malnourished state. And here she was--healthy, happy, splashing in a piece of paradise people around the world penny pinch to see. Where I come from, ohana means family--no one gets left behind. I'm so grateful my daughter never will be again.