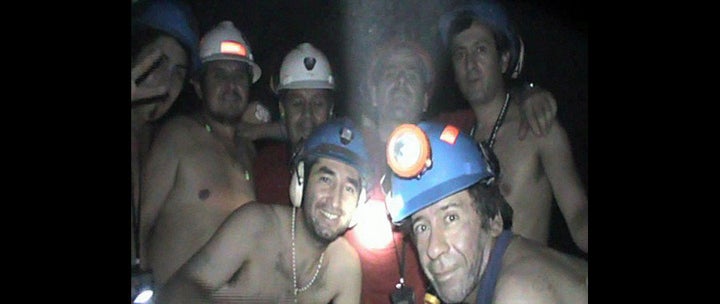 In watching the emotional coverage of the Chilean miner rescue last night, my ears perked up when I heard one news anchor say, "...and NASA played a key role in helping to save these guys."
So I did a quick Google search and found a great blog post by Examiner astronomer Paul Heckert:
Here are a few quick notes on Heckert's explanation of NASA's role:
A NASA team of two physicians, a psychologist, and an engineer visited Chile on August 31 to provide technical assistance.
The two NASA physicians, Michael Duncan and J.D. Polk, and psychologist Al Holland made recommendations on how the trapped miners could stay healthy while confined 2,300 feet under Copiapó. For example, the NASA experts recommended, among other things, regular exercise, staying on the normal 24-hour sleep cycle, and staying busy. They also recommended that the miners stay involved in their own rescue efforts rather than wait passively.
NASA engineer Clint Cragg also traveled to Chile to help provide technical expertise. Cragg's experience on Navy submarines also helped him provide recommendations for keeping the miners healthy.
Be sure to read the full article for further details, but it got me thinking: doesn't it seem like government always shows up to save the day?
Government is an easy scapegoat and a frequent target for what's going wrong with America -- or any country for that matter -- but government always seems to be involved in finding solutions to our most vexing issues. The Chilean government led this "problem-free" effort, as reported by NPR:
The anxiety that had accompanied the careful final days of preparation broke at 12:11 a.m., when the stoutest of the men, Florencio Avalos, emerged from the missile-like chamber and smiled broadly after his half-mile journey to fresh air. Amid an explosion of cheers, Avalos hugged his sobbing 7-year-old son and wife and then President Sebastian Pinera, who has been deeply involved in an effort that had become a matter of national pride.
When was the last time we felt that "national pride" about a government-led effort here in the United States?
For good or bad, government gets involved. In this particular situation -- and I think in most circumstances -- they get it right.
Consider that our neighbors and family members who work as civil servants get up every day to ensure that the infrastructure which supports our way of life -- from our roads and railways to our cars and computers -- is safe and secure. They are not the enemy, but all too often we only hear about their efforts when something goes wrong.
But the fact is that 99% of the time, they are doing their jobs in such a way that we don't even notice their heroic work and we take it for granted. We complain about how our taxpayer dollars are being used and neglect to acknowledge (or maybe we just don't know) that NASA's exploration of millions of miles deep in the universe can save a person's life a half-mile deep in the earth. I don't know about you, but I think that's an awesome use of my money and I'm glad to make that investment.
So let's celebrate that these 33 men are being lifted out of a mine shaft to new and hopefully long lives, and at the same time appreciate the vital role that government and governmental entities perform not only in these extraordinary efforts, but in the mundane -- and possibly more important -- functions that preserve our freedoms and our future.
Calling all HuffPost superfans!
Sign up for membership to become a founding member and help shape HuffPost's next chapter