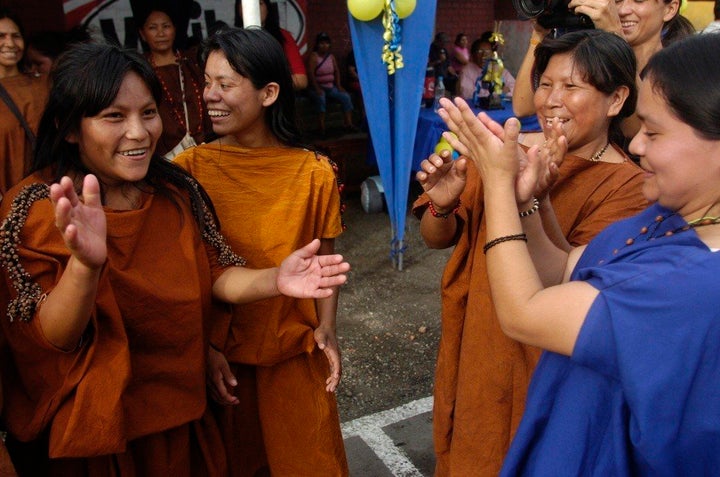 One week ago, I was on stage for the opening plenary of the Skoll World Forum in the scholarly, well-ordered university town of Oxford, England. Today, I am in the ramshackle home of an able, but very poor, businesswoman in the impoverished, raggedy outskirts of Lima, Peru.
The Skoll World Forum is the preeminent global gathering of social entrepreneurs. Over 1,200 of the smartest, most dedicated change agents in the world attend; on your behalf, they are working for social and economic justice.
Finca Peru, a microfinance institution, manages and invests in 926 "village banks," each comprised of a dozen or so women who gather weekly to manage their finances, learn business tricks, study accounting and sales techniques, contribute to their savings, buy life insurance and support each other. In common, they each have tiny business loans, called microloans. On our behalf, they too are working for social and economic justice.
I am in Peru with a MicroCredit Enterprises study mission to learn how very poor women are improving the lives of their families. The key ingredients: business smarts, determination and a small business loan.
One woman proudly reported to us that she used her microloan to start a neighborhood gas propane distributorship (doubtless too a large word for such a small enterprise) which she runs out of her house. When she noticed that customers waited in line to pick up their gas canisters, she added a line of cosmetics which she sells from a catalog. Here is the on-the-ground, entrepreneurial spirit which drives the Skoll World Forum.
The average loan amount for Finca Peru's rural clients is $70.00; $150.00 in the city. Upending traditional gender norms in a country where male machismo is celebrated, 93 percent of the borrowers are women, or should I say, businesswomen.
Established in 1993 by Lucinda Flores de Lanao and Aquiles Lanao Flores, Finca Peru is still a family-led social enterprise. Today Iris Lanao Flores is the chief executive officer and Viviana Salinas Lanao, her daughter, runs the human resources department. From grandparents to grand-daughter:

At the Skoll World Forum, microfinance best practices was debated. At Finca Peru, in the social ventures of 16,000 micro-borrowers, it is a done deal:
-One, recognizing that financial opportunity requires financial literacy, Finca Peru is educating young children about the basics of money management and saving.
-Two, health programs cover pap smears, gynecological exams, diabetes detection, nutrition education, optometry and more.
-Three, for its members, Finca Peru awards university scholarships to daughters who earn good grades.
-Four, noting that savings "allows our members to better overcome emergencies, improve housing conditions and educate our children," members create self-run, self-help savings circles. No formal banking license required.
In a lengthy, formal and impassioned management presentation to the MicroCredit Enterprises mission, not a single word was mentioned about financial returns, profits for social investors or monetizing women. Instead, Finca Peru understands that, in its own words, "microcredit is only a tool for women's empowerment."
Finca Peru wasn't at the Skoll World Forum, but it should be.
Support HuffPost
The Stakes Have Never Been Higher
Related
Popular in the Community