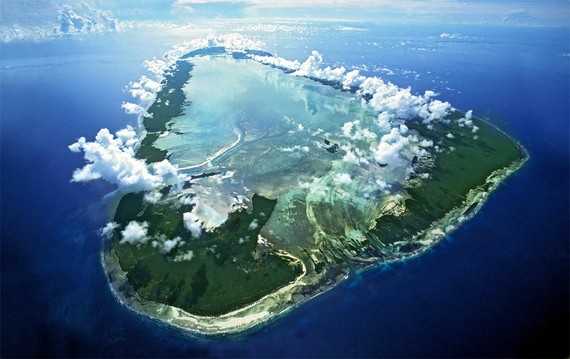 Aldabra Atoll in the outer Seychelles. © Camerapix
"Small islands have big ideas."
Those were the words of my friend, H.E. Ronald Jumeau, an ambassador from Seychelles who works on climate and island issues, as he addressed attendees at the United Nations' climate change convention this morning in Paris.
While negotiators work deep into the night in crowded conference rooms refining the language of an agreement that would strengthen global cooperation on climate change, down the hall new alliances of governments, civil society, communities and the private sector representatives are announcing exciting, fresh solutions.
There's real innovation happening here in Paris that highlights ways to help vulnerable communities adapt to climate change right now. They can't wait another day to start protecting their homes.
I was proud to take part in one of those announcements this morning alongside Ambassador Jumeau and other donors and creditors from countries that are part of the Paris Club, a group that seeks solutions for debtor countries experiencing payment difficulties. I listened as the Seychelles environment minister, H.E. Didier Dogley, announced the closing of the first-ever debt restructuring for climate adaptation.
For the deal, the Nature Conservancy and its impact investing unit, NatureVest, gathered enough impact capital and philanthropic grants to help Seychelles restructure nearly $30 million of its debt. The arrangement allows the government to redirect its debt payments to an independent trust fund that will be used for reducing the climate vulnerability of Seychelles' marine and coastal ecosystems.
So what does that really mean? For the first time, these partners are helping island nations -- some of the world's most susceptible countries -- adapt to the impacts of climate change when they can't afford to wait for a global agreement on climate finance. Instead, these countries are looking for innovative ways to address their critical marine challenges and protect their residents right now.
Seychelles is at the forefront of this movement, pioneering a debt restructuring model that will support climate adaptation through improved management of coasts, coral reefs and mangroves. Specifically, the financing from the deal will help the country implement a marine plan for its entire ocean territory and ensure that approximately 400,000 square kilometers will be managed for conservation as marine protected areas (MPAs) within five years.
Seychelles' leadership is contagious. Perhaps the most exciting piece of the Paris event is the friendly competition the Seychelles deal has inspired. Other island nations such as Palau, the Marshall Islands, Grenada and Jamaica all expressed interest in pursuing similar models to help protect their economies and increase their climate resilience.
Speakers from each country's government expressed enthusiasm about potentially being next in line. And the World Bank, the European Investment Bank and the Waitt Foundation indicated their interest in supporting the replication and scaling of these efforts.
I strongly encourage other countries around the world to tap into this momentum. Vulnerable island nations can increase their economic and natural resilience by investing in nature and implementing coastal conservation projects.
At the heart of the Seychelles debt-swap model is impact capital -- the idea that investors can support projects that deliver conservation results while also providing financial returns.
At the Nature Conservancy, we engage these impact investors in effective, scalable ways using our organization's expertise in science, policy and practice and our relationships with businesses and government. This is part of an emerging set of solutions to address one of the central challenges of climate finance -- how to use public funding to leverage more private dollars for climate adaptation.

As I walk around COP 21 here in Paris, I continue to be impressed by the strong ideas and new, innovative approaches being discussed for solving the problems caused by climate change.
I firmly believe the path the world is headed down includes using nature-based solutions to foster sustainable development and deliver a low-carbon future. Ideas like the Seychelles debt restructuring will help us achieve this in a way that benefits governments, communities and nature.