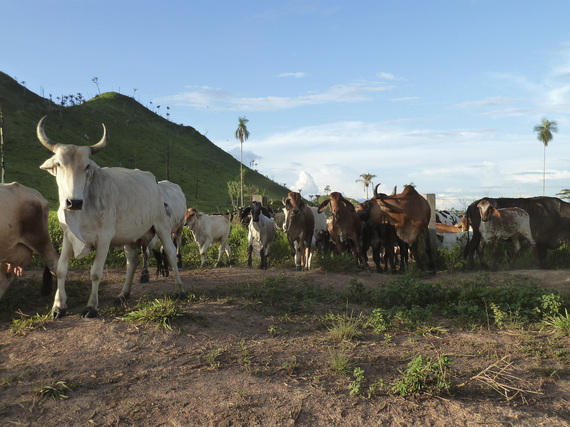 This post is coauthored by Greg Fishbein, the Nature Conservancy's Managing Director, Forests and Climate.
As world leaders work toward finalizing a global climate agreement this week in Paris, there's been a lot of focus on the technological innovations needed to manage the risks of global warming, which is positive of course.
Yet we already have one great "technology" to address a large part of the problem - natural systems. Protecting, restoring and improving how we manage the world's forests, grasslands and wetlands can offset at least 20% of human-caused greenhouse gas emissions.
This message was loud and clear at the Global Landscapes Forum during the U.N. climate change convention here in Paris. At the forum, thousands of government, business and civil society leaders gathered to find land-use solutions for the climate, people and the environment.
The Nature Conservancy was pleased to convene and moderate a panel discussion with leaders from key tropical forest countries - Brazil, Indonesia and Mexico - where we have been working with partners for years to create a greener development approach.
The leaders on the panel are on the front line of economic development and climate challenges. Their economies rely on the development of their natural resources: oil and gas, minerals, timber, agriculture or natural features important for tourism. And these systems are all facing intense pressure.
These leaders sit at the intersection of the environment, climate and politics. They're balancing the need to help lift some of their citizens out of poverty, keep an eye on their long-term future and be mindful of their society's dependence on their ecosystems.
Yet it's clear that these leaders understand the importance of protecting their ecosystems and recognize that raising incomes and reducing poverty can go hand-in-hand with conserving our natural resources.
For example, Rafael Muñoz, Secretary of Ecology and Environment for Mexico's Quintana Roo State, noted that in the face of rising demand for beef, we need to become more efficient in how we use land for cattle grazing.
Daddy Ruhiyat, Chairman of the Climate Change Council in East Kalimantan, Indonesia, shared that his province plans to double its palm oil footprint from 1 million to 2 million hectares but will do so on already-degraded land.
And Justiano Netto, State Secretary of the Green Municipalities Program of Pará, Brazil, noted that his government and its citizens of course want to grow their economy - but not at the expense of the Amazon.
Although these leaders face multiple daunting challenges, they seem resolute in their focus on protecting their ecosystems while creating initiatives that work for the people who live there.
We need these leaders to be bold and push hard for the environmental progress we seek. But it's these officials and their citizens who need to lead the charge.
At the Nature Conservancy, we're doing everything we can to help them accomplish their goals.
Take our work in Secretary Netto's state of Pará, Brazil, where we are helping the government meet its ambitious goal of spurring economic growth with net zero deforestation by 2020. We have found that by restoring degraded pasturelands and implementing other smart agricultural practices, ranchers in Pará can sustainably graze three cows per hectare versus the current average of one cow per hectare - tripling productivity without growing their agricultural footprint.
Of course realizing this opportunity at scale will require significant funding. The good news: sustainable intensification is a profitable investment. Through new investment models that attract private capital, Pará can likely increase its beef production by 50% without any new deforestation. The environmental upside of this shift from expansion to intensification would be huge, protecting or restoring over 3 million hectares of land and reducing carbon emissions by around 1 billion tons in a little more than a decade.

Of course this work will only succeed when coupled with strong governance and protection of remaining forests. The area in Pará where TNC has been focusing - which is the size of Portugal - has seen an incredible 85% drop in deforestation during the past six years.
Panelist Frances Seymour of the Center for Global Development and the Packard Foundation called this work at the state and province level "the most exciting thing going on here at COP." At the same time, she cautioned that we haven't fully turned the corner toward green development, and called for the following measures:
Expanded payments for carbon emissions reductions. Indeed, Norway, Germany and the U.K. pledged5 billion at the COP to do just this.
Domestic subsidies and rural assistance programs that discourage further land conversion, like the ones India is testing.
Corporate commitments to source commodities from farmers and jurisdictions that champion sustainable practices.
Law enforcement and credit restrictions where deforestation persists.
During the Global Landscapes Forum and many discussions at the climate convention, evidence emerged that many diverse parties - government officials, environmentalists, business leaders, indigenous people, negotiators, diplomats and journalists - now recognize that protecting and restoring ecosystems should be a top priority.
It's a solution that's good for nature, climate, business and people.
Photo: Cattle ranching in São Félix do Xingu, in the Brazilian Amazon. © Peter Ellis/TNC
Popular in the Community