Many decades ago, in the former Yugoslavia, I came across a young British tour guide who was beside herself, almost literally tearing her hair out. One of her middle-aged wards was refusing to get out of bed in the very basic monastery inn unless bacon was on the table for breakfast in the wilds of the austerity-wracked Balkans. It was then that I realized travel could provide an excellent window into the world of wacko-dom.
I left before learning how that one played out, but many decades later a visit to Fiji brought the memory bubbling back up. An American lady staying at the hotel was so keen to reach her 100th country -- she was then at 94 -- that she decided to use Air Pacific's Nandi hub as the needed multiplier. She'd just come back from Tuvalu, where I was due in a week, so naturally I asked her what it was like.

"Not the faintest idea," she said with great pride. She'd gone straight through immigration and got right back on the plane -- but with the treasured entry-exit stamp in her passport.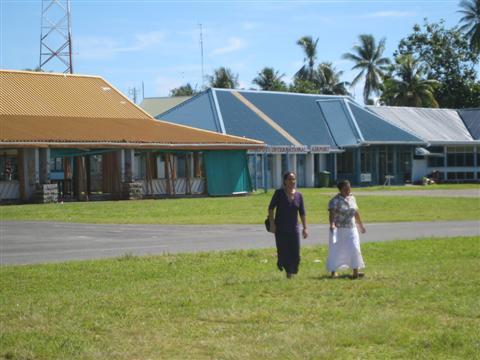 Funafuti International Airport in Tuvalu
The following day she was back from the Solomon Islands, furious. The Solomon authorities wouldn't let her out of transit at Honiara International Airport and she couldn't get her passport stamped.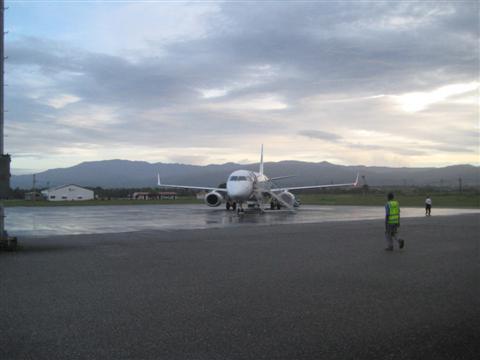 Honiara International Airport, Solomon Islands
Now here was Airport Mary on my flight to Kiribati, and she was already pushing to the front of the line in the small terminal as soon as we landed at Bonriki International airport on Tarawa atoll. "Quick, quick, or I'll miss my flight," she spluttered. The guy stamped her passport, and she was on the other side in no time being stamped back out, planning to do the same turn-right-round-again violence to Tonga tomorrow, and Samoa after that.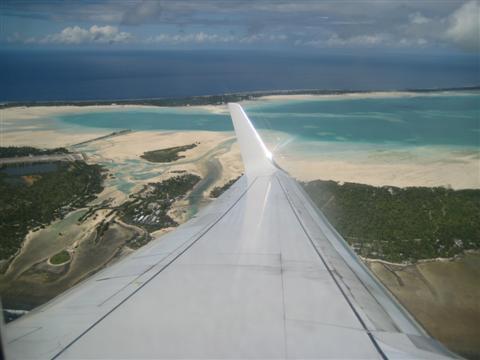 Tarawa in Kiribati, from the air
"Is Bosnia independent," she shouted at me as she moved back out to the plane that had just flown us in. Told it was, she erupted in a cheer: "That'll make Samoa my 100th." Then she did a recap. There was still one more to "do" after that.
The wackiest wacko bird of all, though, was on the Papua New Guinean island of New Britain. I'm just waiting to go from the hotel to the airport in Kokopo in East New Britain for the flight to the West New Britain capital of Kimbe when an Australian jumps into the van with a whole lot of camera equipment. Before I can even say "Waltzing Matilda," he's off at 100 words a second with a built-in bull-horn of a voice.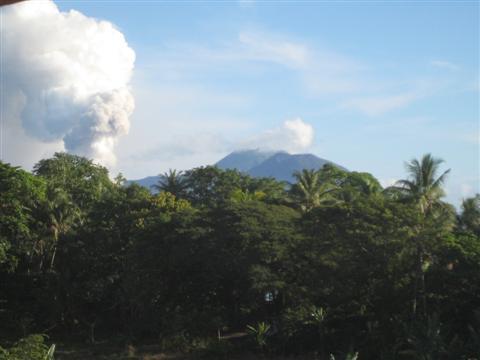 View from Kokopo to volcanoes above Rabaul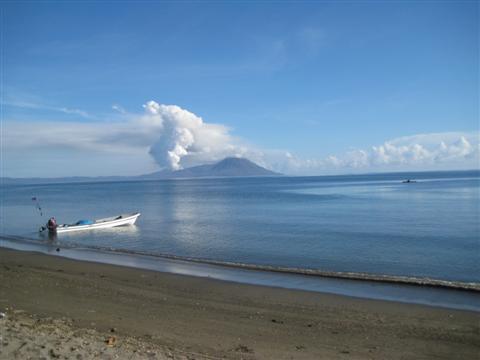 View across bay to Rabaul volcanoes
He's off to West New Britain at the invitation of the provincial government, needs a writer, so why don't I join in and get a freebie. Before I can sing 'swagman," "billabong" or "collibah tree," we've flown over the most magnificent volcanic peaks, we've already landed at Hoskins, the airport for Kimbe, and I'm being introduced to an official of the West New Britain tourism board, as a major writer of worldwide renown.
Too late now to naysay. We're whisked off in a van to visit a girls' vocational technical college, where AB (Aussie Bullhorn) gives an inspirational address. He's into to "inner thinking on breath," i.e. meditation, and ends up his oration by telling the girls in the secretarial computer lab to do what his father told him to do when he was 6 years old: "Make whatever you do a statement of excellence."
Not surprisingly he is met by row after row of beautiful brown eyes staring blankly back at him, while Yours Truly nods sagely in approval at the front of the class. I've been kidnapped and am already suffering from Stockholm syndrome. The tourism official, who's wearing a red baseball cap screaming "I (heart) Jesus," is also nodding, but he has no such excuse.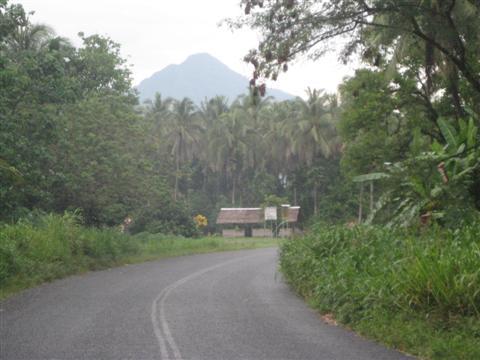 View from the road near Kimbe
Next we circle round lush volcanoes, past orange-flowered trees and blazing red leaves to visit a site under construction. AB is telling them how to make the huts more traditional and tourist-friendly, with matted palm-weave facades outside but all mod con within. Actually he sounds quite sensible until he adds: "Think of Hemingway. I stayed at the same hotel and slept in the same bed as Hemingway in Paris -- and T.S. Elliot, and Proust."
The connection is totally lost on me, so don't even think of the locals. But they look at me for input and now I'm energetically advising the West New Britain government on window shapes, balcony doors, landscaping with natural jungle lushness, and anything else that flies off the top of my head -- except, of course, Hemingway, T.S Elliot and Proust.


View of Kimbe bay
AB, meanwhile, is spewing forth greater volumes of words than the columns of ash Mt Tavurvur is still belching over Rabaul, the town opposite Kokopo that it destroyed in 1994. He's coughing and hawking an awful lot, too -- "volcano lung," he announces, from all the ash he sucked in while filming Mt. Tavurvur.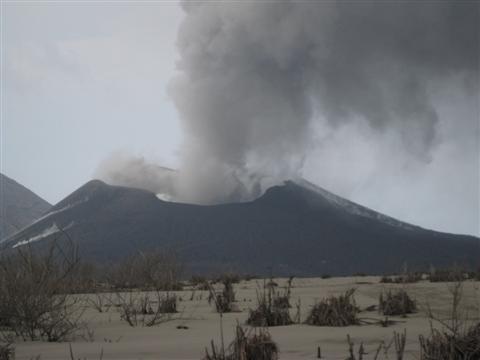 Mt. Tavurvur spewing its stuff
We're booked into a luxury hotel, all free of charge. It's 7.25 p.m., His Excellency the Deputy Governor of West New Britain is coming to dinner in five minutes, and AB, who said he would go and have a shower and meditate at 5.30 p.m., is still talking to the hotel owner. He notices the time, scoots off to his room to shower and meditate, and tells me to welcome His Excellency.
His Excellency is already three sheets to the wind when he arrives with a retinue of officials. Well, in times of necessity, such as free luxury bed and board, initiative takes command, so here I am advising His Excellency on how Western New Britain is sitting on a gold mine, how the tourism goose will surely lay a golden egg, or even two -- nay, what about a half dozen -- and any other cliché I can think of.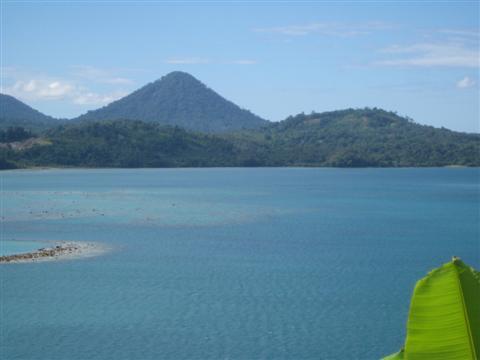 View of Kimbe bay from the hotel
Fortunately His Excellency is so pissed he can't see, think or speak straight, and doesn't realize I haven't the foggiest idea what I'm talking about. Meanwhile, AB doesn't reappear for an hour. One of the retinue opens the proceedings with a speech, followed by two others, and then by His Excellency, whose English accent is not improved by the oceans of booze sloshing in his belly.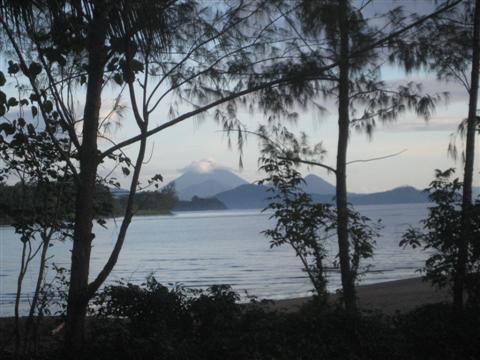 Kimbe bay again
A half hour later, with the food totally cold and untouched, AB gets up to orate, again repeating Daddy's dictum to "make everything you do a statement of excellence." Then he starts talking me up -- how I've reported from around the world, how I'm full of honesty and integrity, etc. Oh Gawd, the odd couple!
Now he lams into the inefficiency of the national tourism board in Port Moresby, the federal capital, winning from His Provincial Excellency a robust and approving chant of "up the arse." After another half hour, and several other slurred "up the arses" from His Excellency, dutifully echoed by his retinue -- and of course Yours Truly -- we at last eat.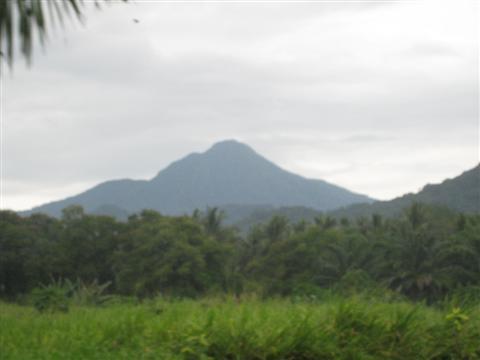 Drunken dusk over Kimbe
In between, AB throws in asides on the tomb of Genghis Khan's No. 1 wife, which he discovered in the Gobi desert. Then there's the pigmy on the Indonesian half of New Guinea Island who told him how ferocious Azmut tribesmen killed and ate Nelson Rockefeller's son Michael in 1961 because he was stealing sacred art, and young R's head is still stuck on a pole in a remote longhouse.
It's now gone 11. I leave AB and His Excellency sloshed at the bar, with AB swearing that he'll get up at 5:30 to check shooting locations for the tourism brochure. I rise at 6 a.m. to get a superb view of the volcanoes and Kimbe Bay. AB finally emerges from his room at 10.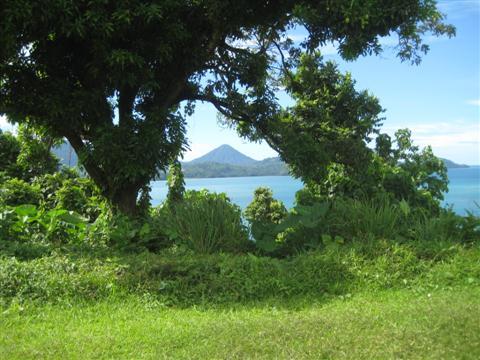 Kimbe bright and fresh in the morning
The tourism guys are already waiting to take us round the sights -- the area has a greater concentration of volcanoes than anywhere else in the world, five active and 16 dormant. We jog off at 11, and screech to a halt 100 feet on. AB has called on the "I (heart) Jesus" red baseball cup guy, who's driving, to stop so that "we can ask the creator for guidance, protection and direction." He lowers his head.
Now, out of the blue, he turns to him -- the "I (heart) Jesus" guy that is, not the creator -- and says: "I don't know whether anybody's ever told you this, but I've been sitting next to you for three days and you have toxic breath. You've either got stomach problems or bad teeth. Your wife should have told you."


Kimbe's red leaves
Well, the poor guy is quite confused. Today he's not wearing his red "I (heart) Jesus" cap. Who knows, he might revert back to the anecdotal past of his tribal ancestors, feel mortally humiliated and seek cannibal "payback." If AB doesn't mind his Ps and Qs, we'll both end up in the wok tonight.
We get totally lost on jungle and plantation tracks, looking for some hot springs. So much for "guidance and direction" from the creator. It's through the direction of a local youth that we finally find the springs. After a nice walk down slippery paths and across treacherous rock fords we reach the steaming pools reeking of sulfur -- and AB is preaching: "the first church you go to is here,"he says, thumping his heart.


Steaming sulfur pools
Tonight we're at another luxury resort further along the magnificent bay. But freebie or not, this is getting pretty stressful. Fortunately I'm to be freed tomorrow to fly back to Port Moresby, the capital, and on to Lae, on the main island of New Guinea.
AB's not up when the van comes to take me to Hoskins. We're going along at a nice clip when it screeches to a halt. A group of birders on board has just spotted a greater Melanesian tomtit or lesser Papuan Monkey-Spanker or whatever. They all pour out, binoculars at the ready, standing in a serried rank, levitating forward.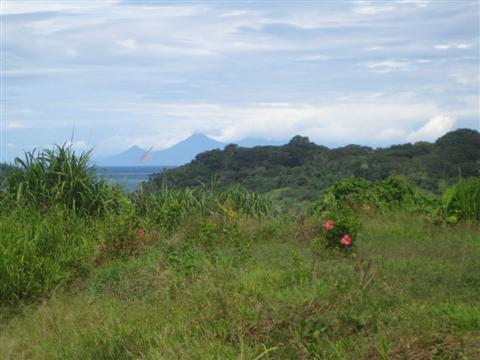 Watch the birdie -- but where's the birdie?
They look even more avian than their prey, noses more beaky, eyes more beady. The one thing with wings they don't seem to care about is the plane. We seem to spend hours just staring away. We finally make the airport and catch the flight by the skin of our beaks.
Oh, by the way, AB never did get back to me about writing for his brochure.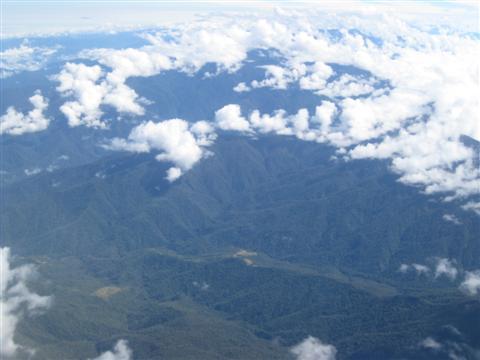 New Britain's mountains from the air