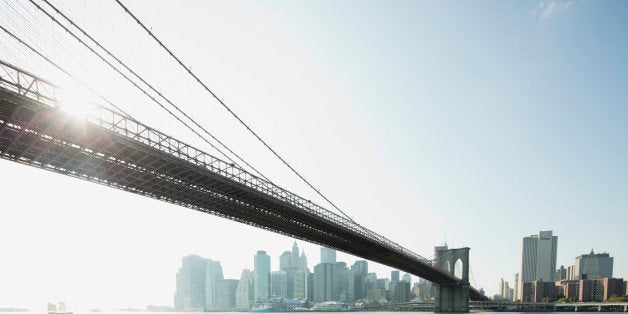 One of the signature accomplishments of New York City Mayor Michael Bloomberg's 12 years as mayor was the development and implementation of New York City's first sustainability plan: PlaNYC 2030. Mayor Bloomberg saw projections of New York's population growth and realized that environmental goals needed to be integrated into the city's economic development goals. The plan's focus on measurable accomplishments and frequent performance reporting mirrored the highly successful anti-crime techniques pioneered by the NYPD's CompStat system. Key to the success of PlaNYC was its clear status as a mayoral priority. PlaNYC joined environment to the mayor's top priority of economic development. Last week, we may have seen a similar moment in policy development as Mayor de Blasio linked sustainability to his top goal of poverty reduction. The fact that he is attempting to integrate sustainability with his highest priority is a strong indication that sustainability goals will continue to advance in New York City.
The different goals of our very distinct mayors reflect the different conditions they inherited when they assumed office. Mayor Bloomberg took office less than one hundred days after the horror of the World Trade Center's destruction. Our confidence was low and the city's economic viability was under threat. Bloomberg's steady, business-like approach and his focus on management and economic development reassured New Yorkers and led to a decade of renewal. In 2008 and 2009, the shock of the Great Recession further reinforced the need to create a city attractive to businesses that would bring energy, creativity, money and employment to the City.
Mayor de Blasio took office in a revived city, but one that many working and middle class residents were struggling to afford. Occupy Wall Street placed extreme income inequality on the political agenda. Policing and racial profiling had become a political issue and Bill de Blasio was able to dominate the Democratic mayoral race with a clear articulation of what he termed "progressive values and principles." Anyone observing the mayor's first 16 months can see that unless the goal relates directly to his overall progressive agenda, it has trouble gaining traction. Sustainability seemed to flounder until the mayor and his team found a way to integrate it into his social and economic equity agenda.
That is the good news. The bad news is that as influential as New York City might be, it does not have the capacity to lift 800,000 people out of poverty. The anti-poverty goal set by OneNYC is laudable, but not under the city's control. New York can create and implement universal pre-K, a critical element of an anti-poverty program. It can provide municipal IDs and can undertake a variety of other equity-oriented initiatives. But in the end, New York City's powers are limited and derived from the State of New York's claims to sovereignty under American federalism. Mayor Bloomberg learned the limits of his power to implement PlaNYC when the state legislature defeated congestion pricing. PlaNYC tried, but did not accomplish, increased spending on mass transit and a reduction in motor vehicle traffic in New York's central business district. Mayor de Blasio can propose and envision an anti-poverty program just as he can propose and envision a Utica Avenue subway (an ancient dream of those of us from Flatlands), but he has little power to achieve either of those goals.
I assume the Mayor knows all this. He is travelling all over the country because he knows that the issue of income redistribution is a national political issue, not an issue that can be addressed at the municipal level. What concerns me as it relates to sustainability planning is that while sustainability is hitched to a goal that the mayor believes is vital, it is not a goal that city governments can do much about. In contrast, the goal of local economic development is a principle function of local government. Mayor Bloomberg linked sustainability to economic development, a goal that the mayor of New York has a wide range of tools to influence. An abbreviated list of mayoral economic development powers include: zoning, building codes, the implementation of tax-based economic development incentives, purchasing, infrastructure construction through the capital budget and deployment of city assets ranging from police to parks.
The issue of income distribution requires national economic and tax policy. While a local war on poverty is not feasible, local governments can do a great deal to promote upward mobility. For a local government like New York City, poverty reduction is accomplished indirectly through the public programs that provide housing and rent subsidies, along with investments in improved schools, libraries, parks and transit. Public safety and low-cost health care also make it possible for New York to maintain a diverse population. Funding all of these local programs costs money and so New York has worked for many years to attract businesses and wealthy people.
One of the success stories of the Bloomberg administration was making the city attractive to the international elite. However, one of the outcomes of that attraction is that real estate prices all over the city are rising quickly and increasing the cost of housing for long-time residents and their children. The delicate public policy issue that is within mayoral control is: How do we encourage the wealthy to participate in our real estate market without driving out the rest of us? How can the city tax some of the new real estate wealth to provide housing subsidies for working New Yorkers? Wealthy non-residents own a growing number of the city's high-priced condos; some only stay in town once in a while and may have bought the place as an investment. This type of ownership reduces the supply of housing and indirectly may increase its price for people who want to live here. "Set asides" and other policies can be used to fund housing for people who aren't rich. Otherwise, given the stress on the real estate market, it won't be long before poverty will be reduced in New York City because poor people simply can't afford the cost of our housing. There'll be less poor people in the city because they'll all live in Long Island or New Jersey.
It is clear that the mayor's team understands the housing challenge, but its integration into the sustainability and anti-poverty goals are less clear. In my view, the goal of lifting people out of poverty is not a local issue. On the other hand, retaining a diverse population is a central and achievable goal of New York City's government. This is one of the goals of OneNYC. Under Vision 1, "our growing thriving city," the plan advocates a simple goal for housing: "New Yorkers will have access to affordable, high-quality housing coupled with robust infrastructure and neighborhood services." The de Blasio plan advocates the use of city land to build one to four family homes for working and middle class families; holistic community-based planning to promote new housing, and mandatory "inclusionary housing" to require developers to build subsidized housing units when they build market rate units.
One test of these OneNYC initiatives will come when a housing development is proposed on a piece of land that is needed for a green infrastructure project, or when a proposed housing development stresses local infrastructure or environmental quality. These are solvable problems, although they may require tough trade-off choices. A second, central test will be the transformation of many of the aspirational, visionary goals of OneNYC into specific, operational management indicators. Enlightened vision is good, but tangible, on-the-ground, measurable performance is better. Let's have both.
Support HuffPost
The Stakes Have Never Been Higher
Related
Popular in the Community