Shifting gears in life can be both a tricky and rewarding thing -- just ask Caroline Chabert Graeff, former pro athlete who reinvented herself as the creator of Deckopedia Publishing, a clever new concept (think Wikipedia as a deck of fun activity cards), specially designed for time-crunched people. Deckopedia's cards feature themes near and dear to Caroline's heart including tips for healthy eating, 50 Must-See Destinations, and 50 Road Trip Games. Caroline gave us insight on how one goes from snowboarding the French Alps to becoming a successful "mompreneur" in southern California's Manhattan Beach.
Xaque Gruber: You competed all around the world in the halfpipe for the French team -- the same sport Shaun White made famous. How was competing in France different than the U.S.? Caroline Chabert Graeff: A lot was, and still is, different. Snowboarding is much more popular in the U.S. than in France. So it's harder there to get press, sponsors and find the right coaches. Since the sport isn't mainstream, most French ski resorts haven't invested much in developing quality infrastructure for halfpipe riders. I remember shaping a halfpipe by hand with other competitors at a local resort for the national championship! Here in the U.S., I have always competed in state-of-the-art halfpipes, with highly trained athletes.
Caroline Chabert Graeff snowboarding (photo courtesy of Roxie PR):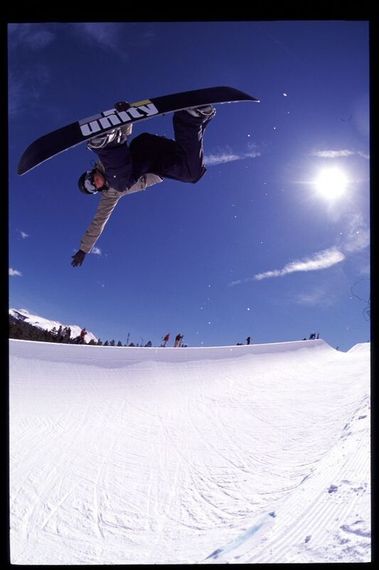 XG: How did you get involved in the sport of snowboarding, and why did you get interested in the halfpipe? CCG: My parents always pushed my brother and I to compete in sports. My father strongly believed that sports would teach us essential skills we could use when we grew up. At the time I started snowboarding, I had been a nationally ranked tennis player and spent most of my time out of school, driving around to play in tournaments. Then I tried snowboarding for the first time when I was 12, when the sport started appearing at my local ski resort. I fell in love with the adrenaline and the freedom, but also the lifestyle and camaraderie of snowboarding. When I turned 15, I gave up tennis to compete in snowboarding. At first, I competed regionally in slopestyle -- where you go down a course performing tricks on jumps and rails -- because that's pretty much all there was at the time. Slowly, halfpipes were built and contests spread nationally in France. It became the only freestyle discipline within the International Ski Federation's world cups, so that's why I competed in that event.
XG: Why did you stop competing? CCG: Back then, especially in France, professional snowboarders were barely able to make a living. This was particularly true for women and for freestylers; things were different for alpine snowboarders. Shaun White's level of success is so rare in the sport. I entered my last contest when I was 24. I wanted to keep studying in college, and focus on a different professional future. Snowboarding is still my number one passion and is also my husband's, so we get to enjoy the mountains every winter, and it looks like our four year old daughter is following Mommy and Daddy's path because she loves snowboarding.
Caroline and her daughter (photo courtesy of Roxie PR):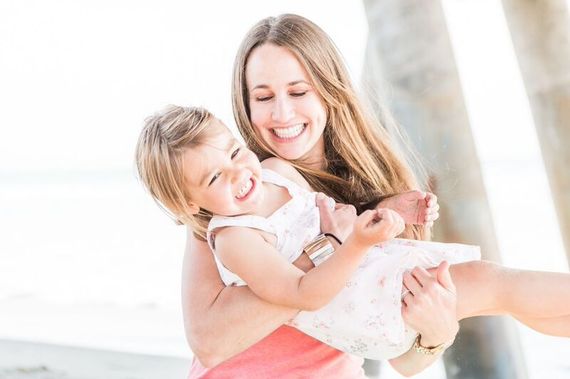 XG: Then you founded Deckopedia Publishing, in Manhattan Beach. How did you wind up in California and how did you come up with the idea for your business?
CCG: I moved to California to pursue a Graduate degree in sports management and it was clear to me that I wanted to start my own company. I launched Imagine Marketing Agency, a marketing company specializing in action sports. We covered everything from PR to event management and production, sponsorship, business development and more. We developed the first ever international skateboard film festival and one of the first skateboard apps on the market. I loved it, but the job became very demanding when I had my first child. So after five years in the business, I decided to move on. I started my own publishing company, Deckopedia, which is a series of decks of cards -- picture the size of a deck of tarot cards -- covering ways to improve on life. We have decks on raw food, travel destinations, road trip games and eco-friendly living. The subjects were picked based on topics I knew and loved; experts I had connections with; and of course, what we could do with a startup budget. The 50 Road Trip Games was the first deck in the series, and I came up with that one because my family drives long distances to go snowboarding. The decks are related to the kind of lifestyle I want to have, and want to share with other people. I also plan to go digital. And just keep on learning, teaching and empowering people.
Caroline and her daughter on Manhattan Beach, CA (courtesy of Roxie PR):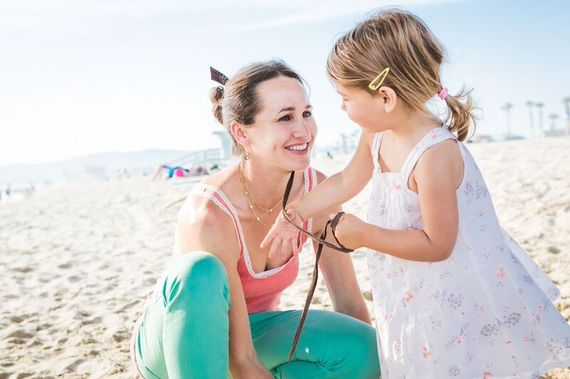 XG: Do you have any tips for moms who want to venture out and start their own business? CCG: I think that the most important thing for any woman, whether she's a mom or not, is to have confidence in herself and believe in herself. Doubt has to be out of the question; otherwise it will make you miserable and stressed throughout your entire venture. From my experiences and what I've learned through the years -- and keep learning as a mompreneur -- I believe there are six rules to follow that can make your journey fun and successful:
• Do your homework and come up with a solid business plan. Understanding what you are really getting into will save you lots of trouble and time down the road.
• Be open-minded on feedback and find out what others think about your ideas and projects. A lot of people think that if they like something, everybody else will like it too, but that is not always the case.
• Have a vision for your business and find meaning in your venture.
• Let your children's optimism and happiness inspire you. • Ask for your partner's support at all levels. It is not so easy to be a mompreneur!
• Don't give up too soon. If it takes a little time for your business to take shape, give it a chance to flourish. You're managing a household, a family, a business and hopefully taking care of yourself. Things are going to take time.
REAL LIFE. REAL NEWS. REAL VOICES.
Help us tell more of the stories that matter from voices that too often remain unheard.