Three years ago, I was a public school teacher, teaching 8th grade English Language Arts in New York City. When Hurricane Sandy slammed our coastline and caused destruction at levels I had never before seen. I took the time during school closures to examine my life. Was I happy? Did I want to continue being a teacher? What else could I do, if I decided to walk away from my 15-year career?
Looking back, I can honestly say that I didn't know what I could do to replace my income -- because teaching is what I had always known. But the possibility of a new career inspired me. I loved teaching (and still do a lot of teaching in my company, The Writing Whisperer), but I desperately needed my quality of life to improve.
I wanted to travel year-round -- not just during the holidays and summers. I wanted to eat lunch like a normal person -- not scarf food down in the 15 minutes I was allotted. And one of the biggest reasons for leaving? As silly as it sounds, I wanted to pee when I had to pee -- not when the bell rang -- and I had just three minutes to run up the stairs, use the bathroom, and run back down to meet my students for the next class.
Fast forward to now, almost three years later -- and guess what? I wouldn't trade this life I have intentionally built for anything else in the world! I am writing copy for brands I love. There are days when I write in my pajamas until two or three o'clock in the afternoon. I am traveling the world -- because I focused on building a copywriting business where I can work anywhere that has WiFi. In the past two years, I have traveled to Berlin, the Bahamas, Bali, Paris, London, and up and down the East Coast. And yes, you guessed it -- I get to use the bathroom when nature calls!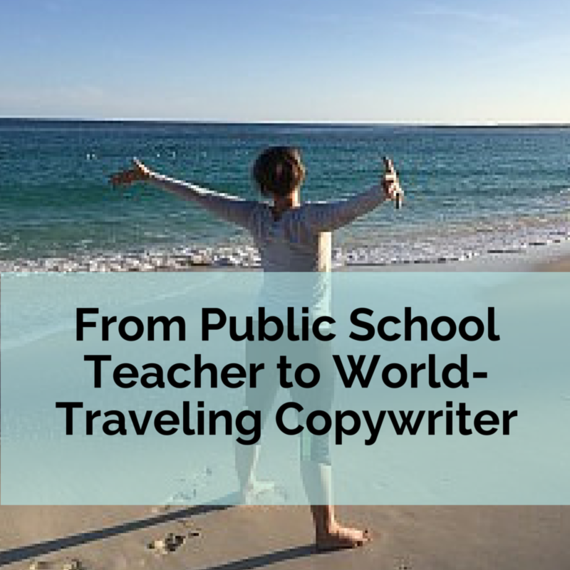 If you would have told me three years ago that I would be living this life, I wouldn't have believed you. But, because I have consistently focused on my goals as a writer, I often pinch myself (daily!) as a reminder that I am not living in a dream state.
If you are looking for an additional source of income, or you'd like to make a complete career switch, copywriting is a lucrative option. You don't have to be a powerhouse writer -- so if you are worried about that, please put that fear aside. What you need to possess is a desire to learn about various types of copywriting and then practice on a daily basis.
Just in case my personal story above didn't quite peak your interest, there are plenty of other reasons you should consider becoming a copywriter. Here are three major ones:
1. Copywriting skills are in-demand: According to the Content Marketing Institute, 70 percent of B2B marketers are creating more content than they did one year ago. That means more and more companies are looking for and hiring copywriters to create this content. Someone has to craft copy that attracts and keeps customers... why not you?
2. You don't need a formal education to become a copywriter: Getting a formal education isn't necessary -- especially if you plan to freelance. If you're still feeling a little nervous about the idea, you can get a jumpstart by:
Starting a blog and contributing to it regularly.
Networking and getting feedback from successful copywriters.
Enrolling in online training programs.
These ideas will help you hone your copywriting skills. Don't let your lack of formal education keep you from pursuing your passion for writing!
3. You have the freedom to work from home or in an office: As a copywriter, you get to choose whether you want to work from home or work in an office. Many other professions don't have this luxury. So, if you love having the flexibility to choose when and where you want to work, copywriting is a career you should definitely consider.
The reality is that you have been writing since grade school, so I know that you, too, can become a successful copywriter if you put your mind to it!