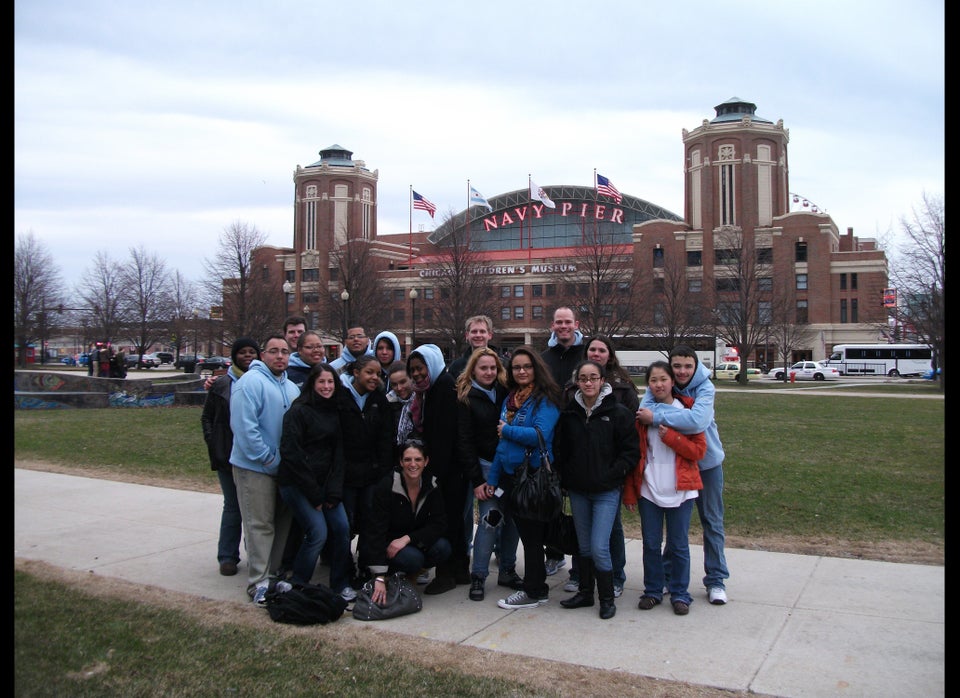 Monument High School (MHS) in South Boston has just under 400 students. In the past three years, MHS has had the fourth-highest drop out rate and the second-highest suspension rate of the 31 schools in the Boston Public School system.
In the same amount of time, geometry teacher Adam Gray has increased the number of 10th grade students at MHS who scored a proficient or higher mark on the math section of the Massachusetts Comprehensive Assessment System from 28 percent to an astounding 69 percent.
Last year, his students ranked seventh in the Boston public school system.
"Successful teaching is not a one-way street," Gray says. "The expectations I have of my students are the same I have for myself. We have to accept nothing less than greatness."
Gray's appointment to 10th-grade math began as a challenge. All 10th-grade public school students are required to take the MCAS. In order to qualify for their high school diploma, students must achieve a level of proficiency in English Language Arts and Mathematics.
During his first year on the job, 59 percent of his students "needed improvement" in math.
"A lot of kids are intimidated by the subject because they don't believe in themselves," Gray says. "You are scared of what you don't understand."
He assuages their fears by offering his students a fresh start. "When I give out the syllabus," he continues, "I tell my students, if you show up, give a learning a chance, and do what I ask, then you will pass MCAS."
Do his students buy the pep talk? "No," Gray reveals, "they absolutely don't believe me."
While most teachers might have been deterred by these attitudes, Gray has thrived on the challenge. If he sounds more like a football coach than a math teacher sometimes, Gray admits that it was his "super, super, super competitive" nature that drove him from University of Georgia's football field to a high school classroom in the first place.
"[I was] more passionate about helping urban youth than about throwing the ball around," he says. So he turned his fiery drive into outdoing the teacher next door and helping his students succeed despite the odds against them.
After a little time at MHS, Gray realized the school tended to "focus on correcting student behaviors, and on negativity within the school." He started to wonder, "are we celebrating their efforts and their success? Because that's what we should be doing -- inspiring kids to perform better on a daily basis."
Over the summer of 2007, he decided that it was time to give his students not only a voice, but access to things they have not had historically.
Gray drummed up a proposal and the financial support to launch a revolutionary new program for the school, a Math Honors Society, Mu Alpha Theta (M.A.T.) His vision was to create "a safe place where kids could just be themselves, and didn't have to worry about looking or acting a certain way."
In order to be a member, the club requires a 3.0 GPA. Out of a class of 200 juniors and seniors, only 11 were eligible to join the club in its founding year. Since then, Gray has opened up the club to sophomores with a 2.5 GPA, provided they make a 3.0 by the year's end. He has also designed a website that publicly showcases members' profiles and their GPAs in hopes of providing the club members with more reason to shine and inspire their peers.
Former M.A.T. alum and current freshman at Bentley College, Fjorela Dragoti praises, "M.A.T. not only helped me improve my SAT scores, get into great colleges, and receive numerous scholarships but it also helped me grow as a person."
The Society promises more than extracurricular Pythagorean theorems -- it introduces career opportunities to the students through travel. Taking advantage of the wealth of education opportunities in the Boston area, Gray brings his students on field trips to local colleges. He has also taken them farther afield to major cities like Chicago and D.C.
Gray's goal to incite curiosity by "showing kids that there is a world beyond their neighborhood," has succeeded. Former M.A.T. member, Cheria Funches says the society influenced her college decision. A Political Science student at American University's School of Public Affairs, Funches says she "realized that D.C. was where I wanted to be because of my visit with the group." She continues, "I am grateful for the trips and the mentors I had throughout my time in M.A.T."
Another former Society member, Northeastern University sophomore Jennifer Galvao, was similarly inspired by the team's trip to D.C., which prompted her to pursue a dual degree in Political Science and International Affairs. "Mr. Gray," Galvao says, "saw so much potential in each and every one of us. Every promise that he made he kept and every dream that we fathomed, he made reality. I became a more outgoing, confident, and reassured person because of the program, but most importantly I became a bigger dreamer."
But these life-changing trips didn't come cheap and in order to back these ventures, Gray made his budding mathematicians grow their skills. He enlisted his students to help him pitch to investors. In the process, Gray taught them the most important equation of their high-school career: entrepreneurship.
He recalls one of the most inspiring moments in his teaching career: his students, with a little coaching, rode the elevator to the 53rd floor of the John Hancock building, and proposed to the Old Mutual Asset Management team why they should invest in M.A.T. Their plucky efforts were rewarded with a lucrative sum, and the students watched in awe as Old Mutual scribed a check for $10,000 in 2009, and $13,000 in 2010. The club has raised $30,000 to date.
As he enters his fourth year at MHS, Gray's hopes for his students are higher than ever, with a trip to San Francisco on the horizon.
Adam Gray is a Teach+Plus Policy Fellow. Teach+Plus' mission focuses on retaining effective teachers and improving student achievement. Help Adam's cause:
Popular in the Community