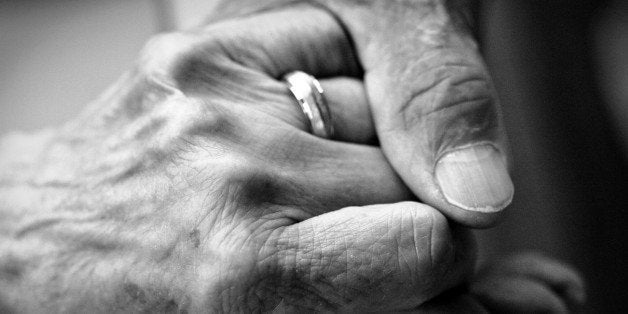 Robin Williams was universally loved and admired, which is why it came as such a shock when the news of his passing made the front page of every paper. Recently, it came to light that a significant underlying factor to Williams' decision to end his life may have been the fact that Williams was believed to have been suffering from Lewy Body Dementia. This recent discovery has put the spotlight firmly on Lewy Body Dementia or LBD, a rare disease that often goes undiagnosed in those afflicted with the condition.
However, LBD is not a rare disease. The second most common form of dementia, it affects an estimated 1.4 million individuals and their families in the United States, and millions more across the world. This trend of under diagnosis is often driven by the fact that LBD symptoms can closely resemble other more commonly known diseases like Alzheimer's and Parkinson's, the latter of which Williams had been given as an initial diagnosis.
My father was diagnosed and has been living with Lewy Body Dementia for over 13 years now. Consequently, my family and I have also been living with LBD for last 13 years. We have witnessed my father transform from a healthy active person to someone who does not recognize his family and friends, and spends most of his time sleeping. Emotionally it's been a difficult journey to see my father's condition worsen by the day. After all, LBD and most other forms of dementia do not have a cure.
Very little is known to the public about LBD and, as such, the condition is often misdiagnosed (as was the case with my father). I want to change that.
DIFFICULTY IN DIAGNOSING LBD
Lewy Body Dementia is the most misdiagnosed form of dementia. Early and accurate diagnosis of LBD, while not always easy to do, is of critical importance.
People with LBD may respond more favorably to certain dementia medications than people with Alzheimer's, allowing for early treatment that may improve or extend the quality of life for both the patient and their caregiver. However, some patients react poorly to the same medications and, if mistreated, can sometimes lead to dangerous or permanent side effects.
For example, my father's dementia was incorrectly diagnosed at the onset, which meant that he was receiving inappropriate medication for a long period of time. In a span of just a few months, my father went through two drastic physical reactions before we settled on a third medication. However, permanent damage had already been done. Our mistake of putting him on the wrong medication, based on incorrect diagnosis, exacerbated his deterioration. As such, it's of utmost importance to have a correct diagnosis of LBD to improve the quality of life.
HOW DO I CARE FOR A LBD LOVED ONE?
For any family struggling with caring for the needs of a loved one suffering with dementia, I believe a counseling session is crucial. Having a doctor provide a detailed breakdown of the disease and caregiving advice throughout its progression is invaluable when it comes to giving care, and coping as a family. Remember that you don't have to do any of this alone.
The most important lesson I have learned as a caregiver has nothing to do with my father's disease. I have learned that no matter how emotionally and physically straining caring for an LBD loved one can be, I cannot - and will not - give up on my dreams.
It's common to feel guilt when spending time pursuing a passion, feeling a sense of fulfillment while your loved one is at home suffering. However, it's important to recognize that caregivers face a huge issue of risking burnout and, consequently, limiting their ability to provide quality caregiving. Sadly, in some cases, it can also lead to resentment and even abuse. With that in mind, it's crucial to find a good balance between caregiving responsibilities, and the pursuit of your dreams and passions.
In my case, my dad's dementia brought my entire family closer together, encouraging us to work as a team. Every time I'm on a climb, my mother, wife and sister take care of my father. Likewise, when I'm going to be at home for an extended period, other family members take a breather. The idea is to sit down together as a family, and have a focused goal of providing quality caregiving to your loved one. Speak with full trust and frankness about what each individual wants to achieve, and then plan how to go about it.
I can honestly say, there has never been a time where I've felt that my father's condition has stopped me from pursuing my dream to stand on Everest. On the contrary, every time I'm in a difficult situation in life or on the mountain, I always think about my dad, the dementia patients around the world, and all the caregivers that give me inspiration to go beyond all limits. In fact, if my father could comprehend my achievements, I know he'd be proud.
HOW CAN PEOPLE HELP?
Since dementia is a disease without a cure, awareness and education is key. Today one in four people diagnosed with dementia admits to hiding or concealing their diagnosis. With statistics like that, we need to work towards raising awareness about social stigma and education.
Supporting LBD with fundraising is a great place to start. The Lewy Body Dementia Association is a 501(c)(3) national nonprofit health organization dedicated to raising awareness of Lewy Body Dementia, supporting people with LBD, their families and caregivers, and promoting scientific advances. Through outreach, education and research, LBDA supports all those affected by Lewy Body Dementia.
With public education around LBD, we are able to overcome the social stigma associated with the disease. Since the day I learned about my dad's condition, there has never been a moment in my life where I have been ashamed. My dad lived a great life and our family understands that his limitations are a result of his disease.
However, dementia is a disease without cure. Until there is a cure, we must continue to treat those with the disease, not only with medication, but with love, dignity, respect, and education for all.
Related
Popular in the Community