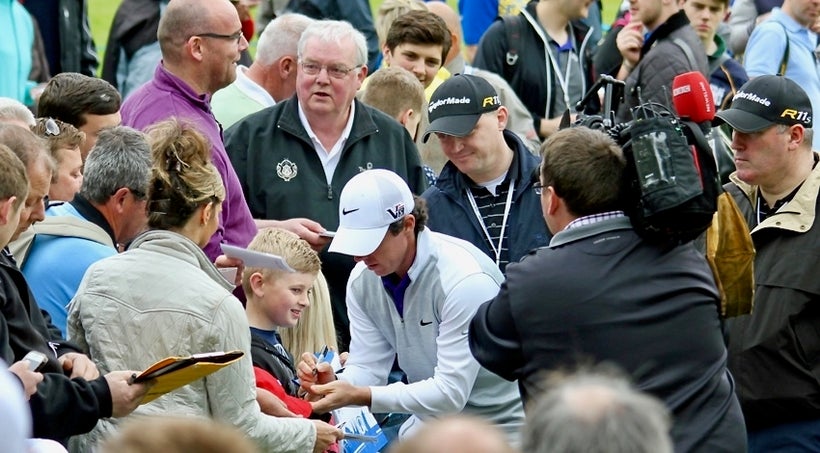 Today Rory McIlroy is unquestionably Northern Ireland's most internationally recognized sports star. Recent struggles with the putter aside, the four-time major champion – still only 28 years old – continues to write his very own chapter in the annals of the region's rich golfing history.
However, the pride of County Down isn't the only sports export from Northern Ireland making an impact in the United States. This week, some of our country's homegrown technology companies will be in Boston and New York to showcase many of the innovations propelling the evolution of modern sports training – for athletes and coaches alike.
As sports culture continues its trend of specialization, new technologies are being developed for a large and fragmented market continuously seeking a competitive edge. From the world's top athletes to youth leagues everywhere, the smallest of margins can make the difference between a team's winning and losing or the prospects of making a squad or getting cut. From strength and conditioning, to skills development, to player recovery, innovations are being developed at a rapid pace, attempting to meet the demands of every sport, across all levels of competition.
Technology Backing the Biggest Names in International Sports
Enhancing player performance is a core focus of many of the companies participating in Northern Ireland's September sports-tech trade mission. Proud of our leadership role in this emerging market, I thought it worth highlighting some of the cutting-edge Northern Irish companies making the trip to Boston and New York. Their technology is revolutionizing the way games are being played globally by some of the most renowned franchises.
STATSports can go toe-to-toe with any sports-tech firm in the world. Founded in 2008, the company has dramatically changed the way elite sport is played, coached and measured by combining cutting edge GPS technology and patented sports science.
STATSports already counts hundreds of the world's top-flight sports clubs and franchises as clients – including English Premier League teams Manchester United, Liverpool, Arsenal, Manchester City and Champions League teams including Juventus, AS Roma, Benfica, and AS Monaco. Expanding to North America in 2014, STATSports has since signed deals with over 30 teams across the NFL, NBA and MLS including the Carolina Panthers, Oakland Raiders, Cincinnati Bengals, Chicago Bulls, Washington Wizards, several MLS clubs, the US Men's National Soccer Team, Nike USA and the Michael Johnson Performance Center.
The company's new Apex product, being showcased in Boston and New York, is considered the most powerful wearable performance-monitoring device on the market today. Using a highly optimized embedded processor, Apex has the capability to calculate over 50 metrics in real time on the device, allowing STATSports to provide the most precise live metric data in the industry. It achieves this in part by integrating the latest technologies on the market, including augmented 18Hz GPS, 400Hz accelerometer and Bluetooth LE.
Another home grown global sports-tech name is FSL. The company will be showcasing its JumpMat– a portable training aid independently validated by Ulster University for increasing an athlete's performance by up to 10 percent. A long-time staple of training programs in Europe, world champions in several sports use it and eight of the last 40 golf majors have been won by JumpMat users.
FSL is no stranger to innovation. A diverse company in its type of tech offerings, it is already the largest manufacturer of electronic scoreboards in the UK having designed and supplied scoreboards to thousands of clubs and teams worldwide.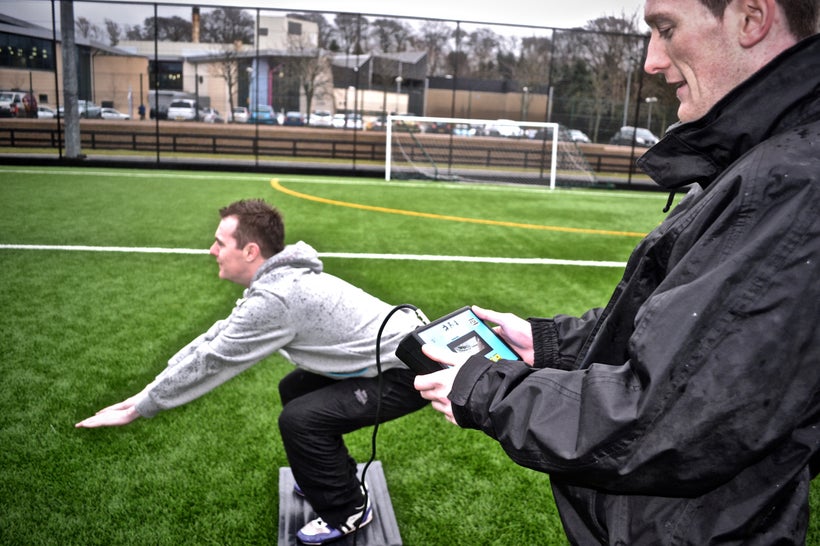 Sports Tech, Not Just For the Pros
Meanwhile, Performa Sports is focused on evolving the simplicity, efficiency and effectiveness of sports performance analysis for coaches and athletes at all levels of play. It believes in the power of athlete engagement for personal development and improving 'game intelligence' through reflective learning. Its Performa Sports iPad apps and integrated cloud analytics platform provide live and post-game stats and video analysis that extends valuable coaching contact time.
This company has developed a specialization in integrating effective analysis within academy and development environments. From its origins in the GAA (Gaelic Athletic Association), Performa Sports now works with a diverse range of athletic teams at all levels from the 2016/17 English Premier League Soccer Champions Leicester City FC to the Special Olympics. Performa Sports' passion for sport and learning is underpinned by its education partnerships with Ulster University and Loughborough University.
Recovery plays a crucial role in today's competitive sports landscape. Keeping players fit and injury free is critical.
CET CryoSpas started out seeking to solve one problem and ended up inadvertently solving another. First established in 2002 as an equine therapy center, it then began to sell its low temperature therapeutic Equine Spa directly to horse trainers and, in an interesting turn of events, by 2007 Irish football (GAA) players in Ireland began using these equine spas for their own recovery.
This led to CET developing the human version – the CryoSpa. Today sports clients include leading soccer clubs such as Bayern Munich, Manchester United, and Manchester City. North American clients include baseball's Toronto Blue Jays and basketball's Brooklyn Nets. Clients are reporting lower injury rates, faster recovery and increased player availability.
Its latest product to market is the CryoSpa Mini designed specifically to aid recovery in pitcher's elbow, golfer's elbow and tennis elbow.
Virtual Reality: Capturing Decision-Making Skills
As in our other technology hubs in Northern Ireland such as financial, legal, big data and cyber security, our universities play a vital role working collaboratively with industry as evidenced earlier with the citing of Performa Sports' partnership with Ulster University. The Movement Innovation Lab (MIL) at Queen's University is one such initiative within our sports tech cluster. MIL looks at how virtual reality technology can be used to profile perception and action and train decision-making in elite players. Research has demonstrated that this technology can add significant value to sports such as rugby, cricket and soccer.
The lab is currently developing a portable technological platform that will combine off the shelf motion sensors with its in-house VR software to develop compelling game scenarios that can be used in specific sports.
An opportunity to train players' perceptual abilities but also capture their decision-making skills is something many sporting organizations are seeking. This technological platform would allow elite sporting organizations to profile, rehabilitate and augment current decision-making training in elite athletes.
It is well known that we Northern Irish take pride in our athletes' performance on the field, and right now have high hopes for the Northern Ireland soccer team as we eagerly watch our Green & White Army move closer to qualifying for next year's World Cup. However, we take just as much pride in our premier sports-tech companies competing on a global stage.
We look forward to showcasing these and other tech champions in the United States this week.
Calling all HuffPost superfans!
Sign up for membership to become a founding member and help shape HuffPost's next chapter
This post was published on the now-closed HuffPost Contributor platform. Contributors control their own work and posted freely to our site. If you need to flag this entry as abusive,
send us an email
.