 Financial advisors caution clients to diversify their investment portfolios. But when a specific property develops iconic status, its owners work carefully to strengthen its roots for the purposes of longevity.
For many years, Broadway musicals were the launching pad for songs that would enter the pop mainstream. Many were adapted for the silver screen and reached a far greater audience than their creators could have imagined during the show's out-of-town tryout.
In recent decades (thanks in large part to the deep pockets of Disney Theatrical Productions), movie musicals that began as full-length animation features (Beauty and the Beast, Tarzan, The Hunchback of Notre Dame, The Little Mermaid) and original movie musicals (Mary Poppins, Newsies) have become multi-million dollar stage vehicles drawing audiences into theatres in cities around the world.
Along with tickets to live performances, Disney has developed healthy revenue streams from cast recordings, souvenir programs, and the wealth of show-related merchandise available for purchase on the way out of the theatre. Upcoming projects simmering in the Disney cauldron include musical stage adaptations of Aladdin, The Jungle Book, Alice in Wonderland, Dumbo, Father of the Bride, and Freaky Friday.
The past week offered a rare chance to attend performances of two of the greatest cash cows in the history of musical theatre. One was the final project of one of the most beloved creative partnerships in Broadway history. The other demonstrated what can happen when the brilliance of Walt Disney's animation talent is translated for the stage by someone with a unique artistic vision.
In addition to their huge cultural impact on generations of movie- and theatregoing audiences, both shows have delivered a phenomenal return on investment (ROI), developed into major economic engines, and become powerful job creators.
On November 16, 1959, when The Sound of Music opened at the Lunt-Fontanne Theatre, it became a smash hit which ran for 1,443 performances. I didn't get to see the original production until late in its run (after the show had transferred to the Mark Hellinger Theatre and Nancy Dussault had taken over the role of Maria). Nor did I know at the time that it was soprano Lotte Lehmann who had initially heard the von Trapp family sing and suggested they perform in concerts.
Although The Sound of Music's lyricist, Oscar Hammerstein II, would die of cancer several months after the show opened on Broadway, its legend continued to build. The 1965 film version, which starred Julie Andrews, became a major international hit and was eventually selected by the Library of Congress for inclusion in the National Film Registry. In the 53 years since the show's premiere, millions have fallen in love with its plot, its songs, and even attended "sing-along" screenings of the film.
The show provides an excellent opportunity for community theatre groups to feature local children in its cast while using The Sound of Music as a vehicle for educational outreach. Sometimes it's easy to forget the lessons it offers children about believing in themselves. Listen to Mary Martin's acceptance speech upon receiving the 1960 Tony Award for her performance as Maria von Trapp.
The Berkeley Playhouse is currently presenting a version of The Sound of Music which incorporates two songs created for Maria to sing in the film version ("I Have Confidence" and "Something Good") whose music and lyrics were written by Richard Rodgers following Hammerstein's death. As director Elizabeth McKoy explains:
"The Sound of Music is a perfect multi-generational show which speaks to everyone, regardless of age. The characters and plot tell a complex, interwoven story with the impending Nazi takeover of Austria creating a captivating dramatic tension. When I was younger, the story was simply about a family who needed, and then found, love. As I became older and understood the context of World War II and the rise of the Nazi party in Europe, I gained a deeper insight into how rich and important The Sound of Music truly is. It is so perfectly constructed that it is one of the great works of musical theatre."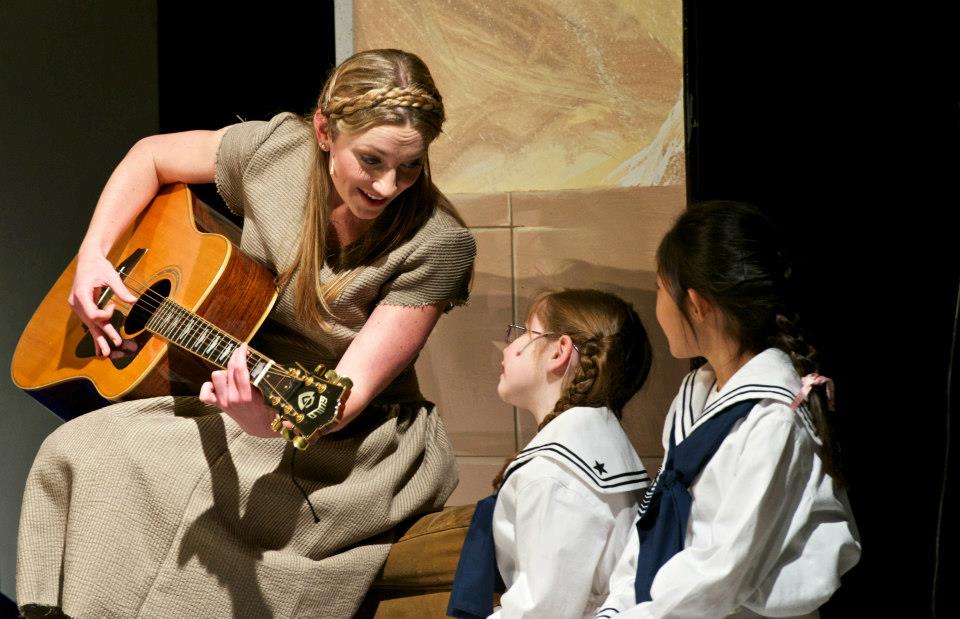 Sharon Rietkirk as Maria in The Sound of Music
(Photo by: Larry Abel)
Using Martin Flynn's unit set and Wendy Kaufman's costumes, McKoy made brilliant use of the seating configuration in the Julia Morgan Center for the Arts (formerly St. John's Presbyterian Church) during the wedding scene. When Maria came down the center aisle in a beautiful bridal gown with a full train and the von Trapp children stationed along the aisle as flower bearers, many audience members spontaneously rose as if attending a wedding.
Vocal casting was exceptionally strong for this production, with soprano Sharon Rietkirk (who works with the San Francisco Opera) as Maria and opera singer Hope Briggs as the Mother Abbess. Rietkirk (who was seen at Center Rep in She Loves Me and at TheatreWorks in The Secret Garden) continues to impress with an appealing stage personality and solid vocal chops.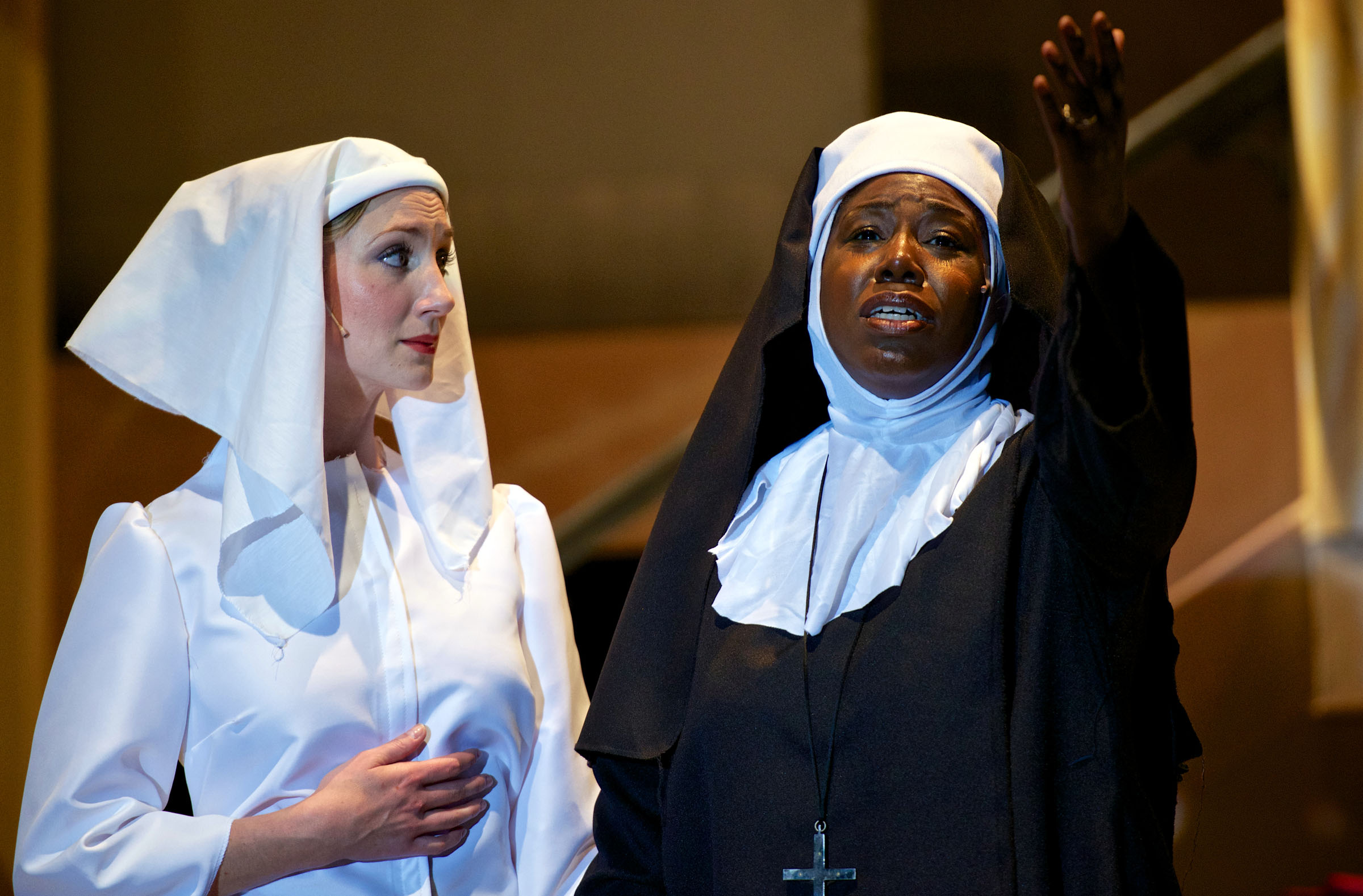 Maria (Sharon Rietkirk) and the Mother Abbess (Hope Briggs)
in The Sound of Music (Photo by: Larry Abel)
It's odd how other musicals and performers who have gained notoriety long after the show's 1959 premiere can inform a viewer's experience of The Sound of Music today. Melinda Meeng's portrayal of Elsa Schraeder bore an uncanny resemblance to Jeff Manabat's characterization of Trixie for the Kinsey Sicks. As Rolf, Kyle Stoner's coded warning made it seem as if he had taken a night off from a touring production of The Producers to tell Captain von Trapp "Don't be stupid, be a smartie -- come and join the Nazi party!"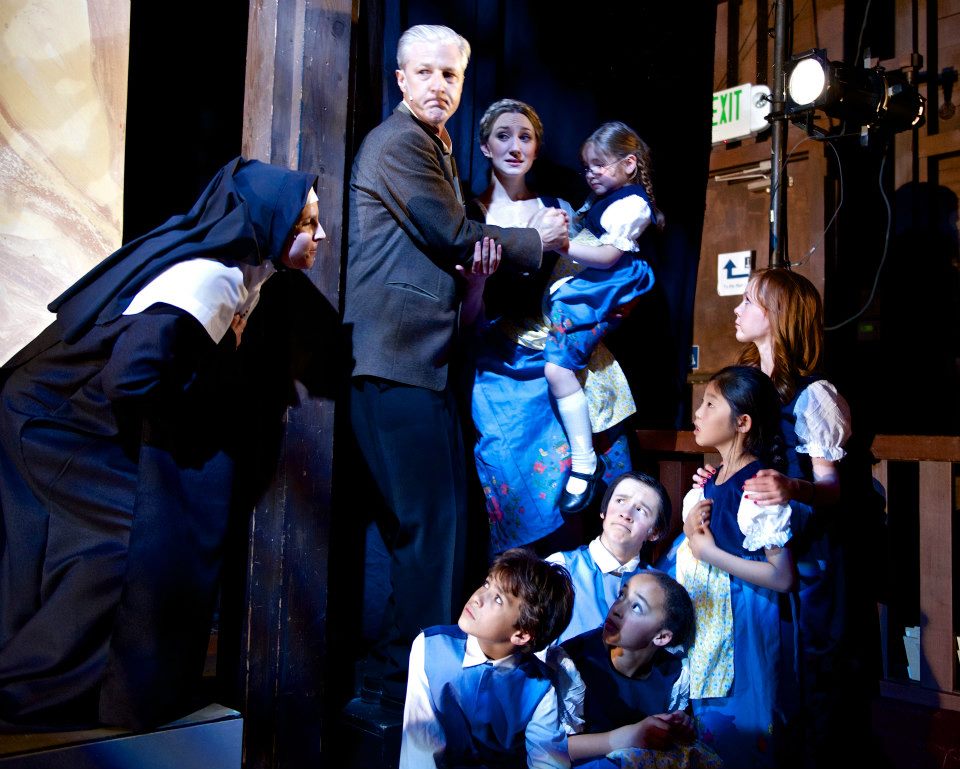 Captain von Trapp (Tim Kniffin), Maria (Sharon Rietkirk) and their
children hide from the Nazis (Photo by: Larry Abel)
Tim Kniffin was appropriately stiff as Captain von Trapp with Chad Dickerson appearing as a much younger and more energetic Max Detweiller than usual. Making his company debut, Adam Roy looked delighted to be onstage in a uniform. Although limited to a four-piece band, music director Greg Mason coaxed some wonderful vocal work from his cast.
Disney's full-length animated feature, The Lion King, premiered in 1994 and has continued to make history. It has become the highest grossing film in the history of Walt Disney Studios and second highest grossing animated film of all time. Since 1994 it has enjoyed new life as a video game, a television series, and a merchandising gold mine.
Following its Broadway premiere on July 8, 1997, Julie Taymor's jaw-dropping stage production of The Lion King has grown to become the fifth longest running Broadway musical in history. According to Wikipedia, as of April 2012, the Broadway production has grossed more than $853 million. From Tokyo to Toronto, from Sydney to Seoul, productions of The Lion King have continued to enchant audiences and reap hefty profits.
Taymor's costumes for The Lion King received a rare honor when they were included in an exhibit at London's famous Victoria and Albert Museum.
A touring production of The Lion King returned to San Francisco's Orpheum Theatre this month as the perfect option for holiday entertainment. Even after having seen the show twice before in the same venue, experiencing Taymor's production offers a life lesson in the kind of exhilarating theatrical spectacle that comes from someone who can articulate a unique artistic vision.
To celebrate the 10th anniversary of the show's London production, a 30-minute documentary took viewers backstage to see how the sets, costumes, and cast of The Lion King function. These clips are well worth 30 minutes of your time to learn how theatrical magic is crafted from its initial conception through to live performance.
The above video clips show that, despite the brilliant scenic design by Richard Hudson and the time required to fulfill the hair and makeup designs by Michael Ward before each performance, the strong appeal of Elton John's music (with lyrics by Tim Rice) and the thrilling choreography by Garth Fagan, The Lion King is an all-around high-maintenance endeavor. Even though several key members of the touring company now performing in San Francisco have been appearing in The Lion King for several years, their performances remain remarkably fresh (aided by Steve Canyon Kennedy's sound design).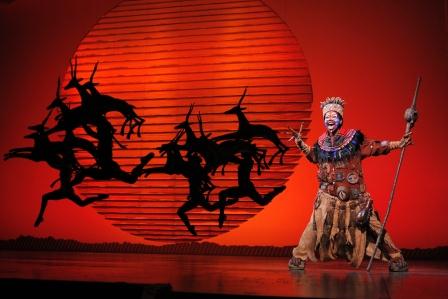 Buyi Zama is Rafiki in The Lion King
Photo by: Joan Marcus
Buyi Zama opens the show as Rafiki, the storyteller mandrill, with Dionne Randolph as Mufasa, Derek Smith as Scar, Tryphena Wade as Mufasa's mate, Sarabi, and Mark David Kaplan as Zazu. After young Simba (Adante Power) grows into an adult (Jelani Remy), he is joined by the vaudeville-style team of Timon the meerkat (Nick Cordileone) and Pumbaa the warthog (Ben Lipitz). Syndee Winters scores strongly as the adult Nala, who is lusted after by Scar but will eventually become Simba's mate.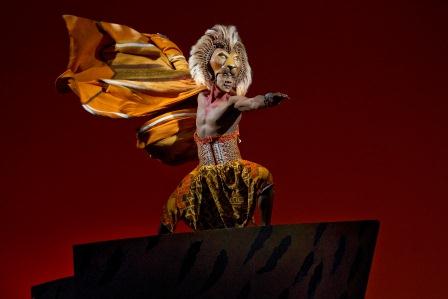 Jelani Remy is the adult Simba in The Lion King
Photo by: Joan Marcus
Performances of The Lion King continue at the Orpheum Theatre through January 13, 2013. The show's magic never fades. Here's the trailer:
REAL LIFE. REAL NEWS. REAL VOICES.
Help us tell more of the stories that matter from voices that too often remain unheard.