What does an Indigenous-led prayerful movement to protect sacred water have in common with the world's most popular West Coast bohemian, electronic-music, art festival and party? At first glance they may seem to be on opposite sides of the spectrum but upon a closer look we see something inspired and beautiful when opposites come together. This story promises to illuminate what happens when people with diverse perspectives share in deep listening, celebration, and solidarity. At Burning Man on August 29 and across the planet people will gather, or tune in to a livestream around the heartbeat of the sacred drum. This is the Power of Prayer.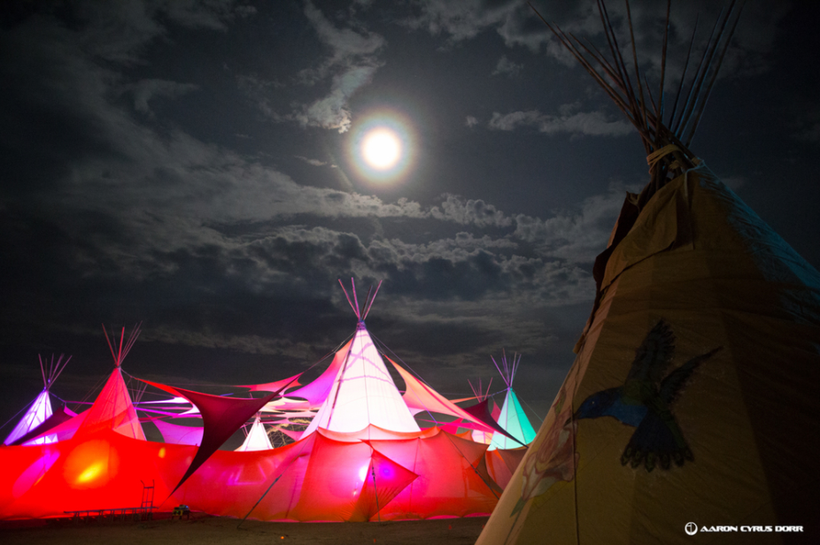 Perhaps we don't have enough examples of how to bridge the divide that has engulfed our social, political, and cultural landscape. What does it look like when we focus on what we share in common instead of the places we disagree? This is the message of Unify, a nonprofit organization with a large international network and social media presence that hosts globally synchronized events. Unity is achieved when different tribes gather at a traditional pow-wow, and this is the spirit of community that people come together for at Burning Man each August. We are one people, ancient and modern, sharing one sacred planet as it spins through an endless sea of stars. It's time that we start to live in a way that honors this miracle.
The Sacred Drum exists in every culture around the world. Drum rhythms mimic the pulse that courses from our heart through our blood, and the cycles of nature as seen in the waves of the ocean. It beckons us to dance and join in the great song of creation while inviting us to sing praises to the sky, to our ancestors, and to a future that is not yet born. This entrainment through sound and movement unifies community.

A Miracle and Prophecy The first recorded Drums Around the World was on August 28, 1994. It was initiated by a unity gathering in Arizona and included people drumming in 38 countries and 42 US States. It coincided with a Sacred Medicine Circle and Pipe Ceremony in Congo Square, New Orleans. That week a White Buffalo, named Miracle, was born fulfilling a Lakota Prophecy that had been kept for 19 generations. Of course some would say this is coincidence while others are aware that magic can occur when synergies line up with conscious intention and ceremony.
Red Lightning is a Burning Man Camp and a 501c-3 nonprofit organization that felt the call to be at Standing Rock last fall. Since the Burning Man ethic is radical self-reliance and the gathering happens in a rugged desert, the members of Red Lightning showed up to Standing Rock prepared to support in their own unique style. This clash of cultures doesn't always come easily. There were many skinned knees learning to walk together but the willingness to listen with open hearts, learn from each other, and support a shared prayer for the water forged new friendships. Though this process is not always easy, it is also a great model of how humans can come together despite their different ways to work towards common goals.
"Our community, Red Lightning, a Burning Man camp, had the honor of serving with a presence at Standing Rock in the main encampment, Oceti Sakowin (7 Council Fire) from September 2016 until the camps were evicted in February 2017. We lent support through solar power, wind power and dome offerings, where community met in leadership council, women's circles, decolonization meetings, reconciliation workshops, cultural celebrations and prayer gatherings. We also assisted with camp clean-up efforts upon eviction." -Red Lightning Press Release
Ancient Meets Modern: All of us carry a lineage that stretches back many generations though most have forgotten their traditional ways. A long history of wars, migrations, colonization, famine, and natural disasters have caused us to scatter in the four directions. The yearning to connect with the ancient, the ancestral is strong, yet we live in a modern world with internet and smartphones. How do we reconcile our past and our future while honoring the importance of both?

The Eagle and The Condor is an old story shared through many tribes in North and South America. The Eagle is associated with great power and technology, whereas the Condor is associated with spiritual wisdom and Earth Magic. It is said that when the Eagle and Condor fly together there will be peace on earth.
In many ways we see this happening in the world today. The usage of solar and wind for electricity at Standing Rock powered, drones, cameras, cell-phones, while the internet and social media allowed the whole world to witness the events as they unfolded in North Dakota. Yet the water protectors were using ancient forms of technology called prayer and ceremony to stand their ground against the Dakota Access pipeline. When modern technology compliments ancient wisdom, we may see powerful healing!
The People of Standing Rock opened their hearts and welcomed individuals from all tribes to join them on their sacred land. Now Red Lightning Camp has invited members of the Standing Rock/Water is Life Movement to join them for their annual Burning Man gathering in the desert of Nevada. There have been verbal acceptances from various artists, youth-leaders, and elders who are prominent voices in the movement. The culminating moment will be the Global Drum Prayer happening at 6:30pm on August 29 followed by a spoken prayer that will be broadcast globally online via Unify.
"THE POWER OF PRAYER was born from a direct request by the 7 Council Fire leadership to carry the prayers of Oceti Sakowin in our spirits to the places we came from, and to connect with First Nations near our communities who are facing similar challenges." -Red Lightning Press Release
People everywhere are encouraged to tune in online, and participate in local events around the world. You can find an event near you or host one through the interactive map on the Global Drum Prayer Website. If you are curious to learn more about Red Lightning, please visit their website. Though we may come from different places and have distinct ways, we must learn to come together despite our differences to honor what is sacred. This is the Power of Prayer.
Calling all HuffPost superfans!
Sign up for membership to become a founding member and help shape HuffPost's next chapter
This post was published on the now-closed HuffPost Contributor platform. Contributors control their own work and posted freely to our site. If you need to flag this entry as abusive,
send us an email
.