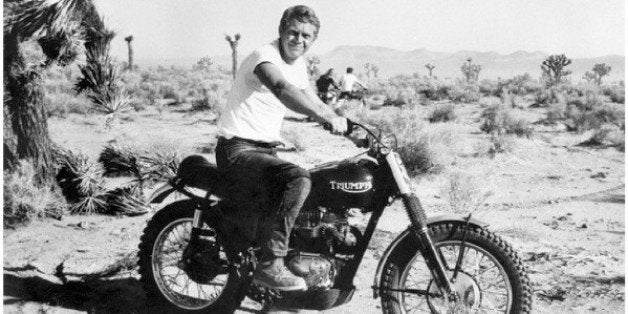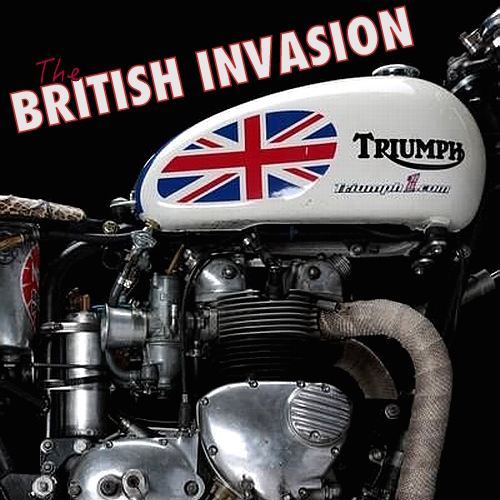 When motorcycle enthusiast and REBEL SOCIAL media director Nick Dee rode in the recent Distinguished Gentleman's Ride, a worldwide community event in aid of prostate cancer research, it rekindled his life-long passion for riding. Dee gets back on his Triumph again, alongside Brady Walker of Ramming Speed for the British Invasion run that they have coordinated together to meet up with the 35th Annual Hansen Dam All-British Ride and Show on November 2. Dee enthuses, "I promoted this year's Venice Vintage Motorcycle Rally with Brady. We hit it off right away and now have a bunch of really cool motorcycle events on the horizon."
Dee and Walker will share their camaraderie with hundreds of fellow riders on predominantly British motorcycles. The Hansen Dam event itself attracts more British bikes than the eye can see. The Southern California Norton Owner's Club will be handing out awards in a number of categories geared specifically towards British bikes.
British-born Dee proudly refers to UK-manufactured motorcycles like Triumphs, Nortons and BSAs as "British Iron," noting that bikes like the modern Thruxton and Triumph Bonneville were born out of a British passion for road racing and 1960s cafe racer culture. Dee adds:
Triumph is one of the few companies that gets what's going on with the custom motorcycle culture, especially when it relates to the modern classic. Bikes like the Bonneville T100, Scrambler and Thruxton have effectively revived British nostalgia and reconnected the Triumph timeline to its former heritage...with the advantages of modern technology, engineering and performance. Triumphs are cool bikes made by cool people. One of their guys, Sam Bendall was out with us on the LA Distinguished Gentleman's Ride which Rebel Social expanded from 60 riders last year to well over 600 this year. Sam, who rode in honor of his father who's survived prostate cancer, is really into bikes and rode like a badass, not like some suit! He was one of us. From donating bikes to good causes to their positive involvement with events like the DGR, it's pretty clear Triumph cares about riders.

I've enjoyed owning and getting my hands dirty with vintage bikes and cars but anyone who owns one will tell you they come with that constant nagging feeling that you could get stranded at any moment...run out of oil and seize the engine, some odd part may break free from it's housing down the road, you name it. The great thing about riding a modern classic is that all that worry goes away and you can just enjoy the ride. That's a great feeling.
The motorcycle timeline from classic to modern continues with the upcoming release of On Any Sunday: The Next Chapter, a new motorcycle documentary that revisits the legendary, Academy Award nominated 1971 classic On Any Sunday directed by Bruce Brown. The new film, clearly a passion project, is directed by his son Dana Brown and roars into theaters on November 7.
The original On Any Sunday featured and was reportedly partly funded by actor/motorcycle adventure rider, Steve McQueen. McQueen made no secret of his love of British motorcycle marques, especially his Triumphs which get ample screen time throughout the documentary. On McQueen, Dee remarks:
For some it's almost as if Steve McQueen is like this motorcycle god. But there are also skeptics. Personally, there's no denying McQueen was an avid motorcycle enthusiast with a true passion for collecting, racing and riding some of the coolest bikes around. Sure a Triumph might make some people, like Brando, seem more cool than they actually are. But McQueen made Triumphs look cool. I respect anyone that can ride the hell out of a bike the way he stunt rode in The Great Escape, or have his level of love for motorcycles.
McQueen's "King of Cool" reputation was fascinatingly explored in the 2014 documentary, I Am Steve McQueen, executive produced by the actor's son, Chad McQueen. Dee continues: "Same goes for David Beckham. Some might think 'Hey look at pretty boy thinking he can ride and sell some jackets.' Just have them watch David Beckham: Into the Unknown where he rides deep into the Amazon on a custom Bonneville. It's badass and it's authentic. Beckham even says, 'That's why I ride, no one knowing it's you under the helmet.' And, behind the fame is a guy that can really ride and is clearly into motorcycles. That's because motorcycles are addictive, dangerous and incredibly life affirming. On a bike you can pretty much go anywhere, do pretty much anything and that's what it's all about -- freedom!"
Follow the British Invasion at Cafe Racer on Facebook
Popular in the Community