A Charleston, South Carolina Make-Over Miracle
I was sitting on my couch yesterday morning, feet up, animal crackers at the ready next to me, as I creaked open my laptop. How many people had "liked" the picture I'd posted of my husband's chicken soup on Instagram? I had to know. How many?!
But when I started scrolling through Facebook, I saw something that made my feet come thudding off the ottoman and onto the carpet as I sat straight up and stared.
"Uh, honey?" I yelled to my husband in the other room.
"Your sister's boyfriend is naked on Facebook."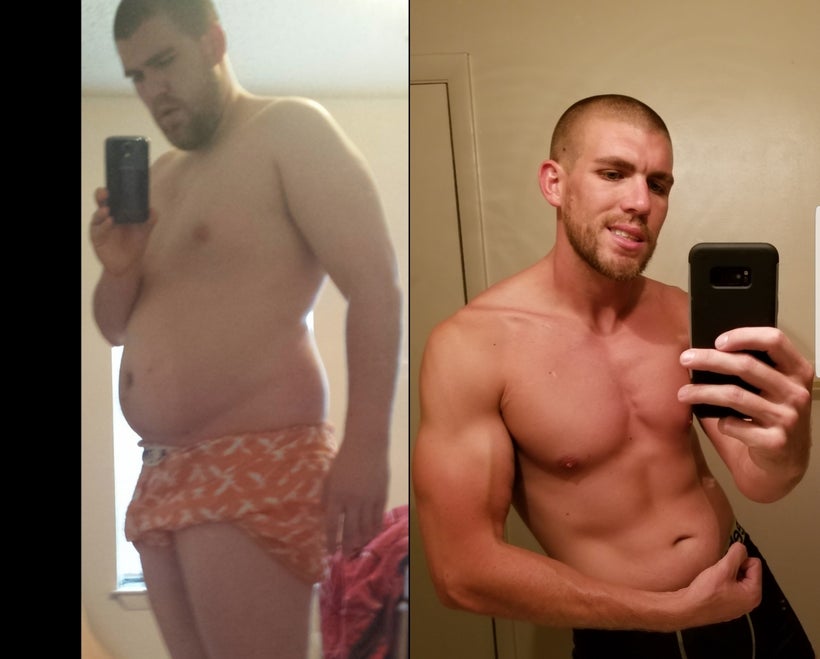 I first met Trey Langston during my visit to Charleston, SC, exactly a year ago. It was my first Christmas dinner down there (or anywhere, actually), a feast for which my mother-in-law had made a Christmas tree out of broccoli and mozzarella balls, plus sixteen other courses. Midway through dinner, Trey got off work and joined us at the table. Something about Trey made me sit up a little straighter in my chair. I was struck immediately by how articulate this 6'3" Charleston native was. So native, in fact, that he'd never left Charleston. Ever. Really.
Trey started regaling the table with stories from his day at work, a trash removal and dumpster rental business that he'd started from nothing and turned into a gold mine, sometimes literally. His 26-year-old brain was so super-charged that I just sat there and listened, his tattooed arms gesturing as he eloquently described some of his challenges and even launched cautiously into some political commentary.
"You know, Trey lost a lot of weight," my husband told me as Christmas dinner came to a close, all of us sucking on over-sized candy canes. I was surprised to hear it. He looked like he'd always been fit. I was curious. What was his story?
As it turns out, it was the most uplifting story I'd ever heard. So stop staring at these underwear pics and get ready to be inspired.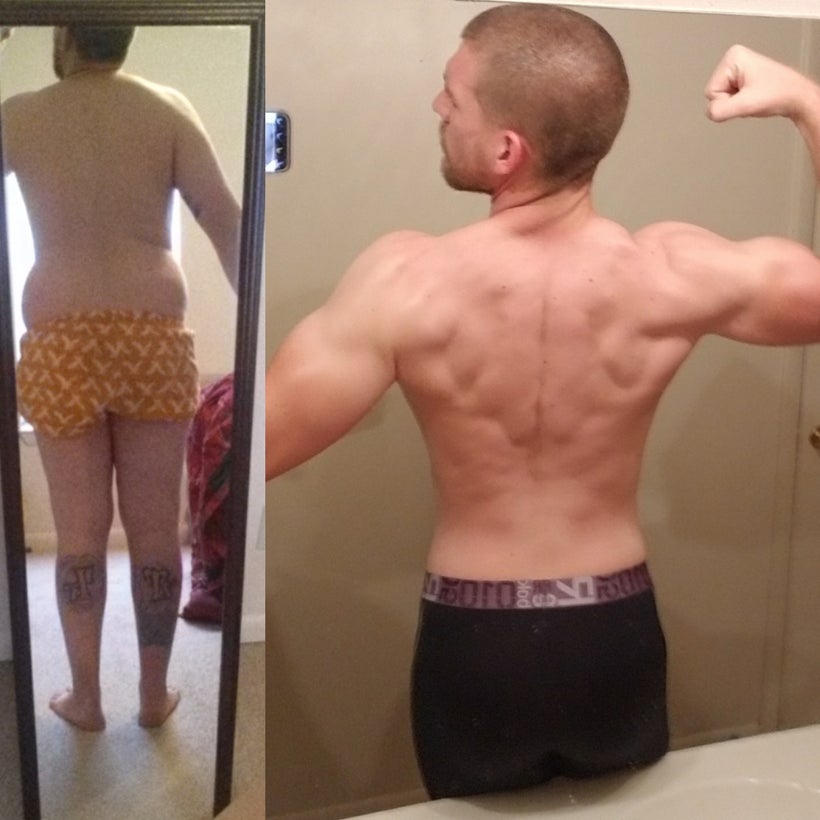 Three years ago, Trey Langston couldn't get out of bed. Unemployed, broke, severely depressed and 300+ pounds, Trey was sleeping 18 hours a day and drinking the other six. A recent break-up had left him with a ton of bills and debt, his drinking problem had led to legal troubles and his time spent in mosh pits had given him a nasty broken ankle. As Trey reports, "I let my family troubles and past experiences control my mental state. I was an anxiety-filled mess. I laid in bed all day for four months with suicidal thoughts. I was a lost soul."
Having lost his home, his truck, his friends and his job and with no one to "pick me up or set my straight," Trey lost his will to live. He walked over the bridge in Charleston, determined to kill himself, when his younger sister called on his cell phone. It hit a nerve.
"I realized I was so ashamed of letting myself go and the decisions I'd been making, not just for myself but for my kid sister," Trey says.
He got off the bridge and toughed it out for another six months, down and out in Charleston. It wasn't until he met Stefanie, my sister-in-law, who he would later start dating, that he knew he had to stop drinking.
"Coming from a long line of family with substance abuse issues, there was only one choice," Trey said. "After getting in a stupid fight with Stefanie at 2:00 am, drunk, and walking home alone, I knew what I had to do. Not just for me but for Stefanie, my sister and my friends."
Trey woke up the next morning still drunk but determined to stop drinking for good and regroup. As luck would have it, a buddy asked Trey to drop him off at a local gym that morning. His friend talked him into walking in the door and that was all he needed. Trey was ready. Game on! He quit drinking cold turkey and started going to the gym daily, sometimes even twice a day. He would do at least an hour of weight-lifting and 30 - 60 minutes of cardio, daily, always focusing on a specific muscle group.
Trey didn't need a personal trainer. He got his tips and advice from fellow gym-goers who were kind enough to help and encourage him with "great jobs" and "keep it ups," for which he is still enormously grateful.
Trey also taught himself everything he could about healthy eating like macro nutrients and calorie counting. With a goal of losing two pounds a week and drinking a gallon of water each day, he started seeing results quickly.
"It fueled me to push harder and harder," Trey said, "and lifted my depression. My clouded mind started to clear."
It didn't happen overnight. It took two full years for Trey to transform his body, mind and soul but he did it, going from 310 pounds to 190 and losing 20% body fat.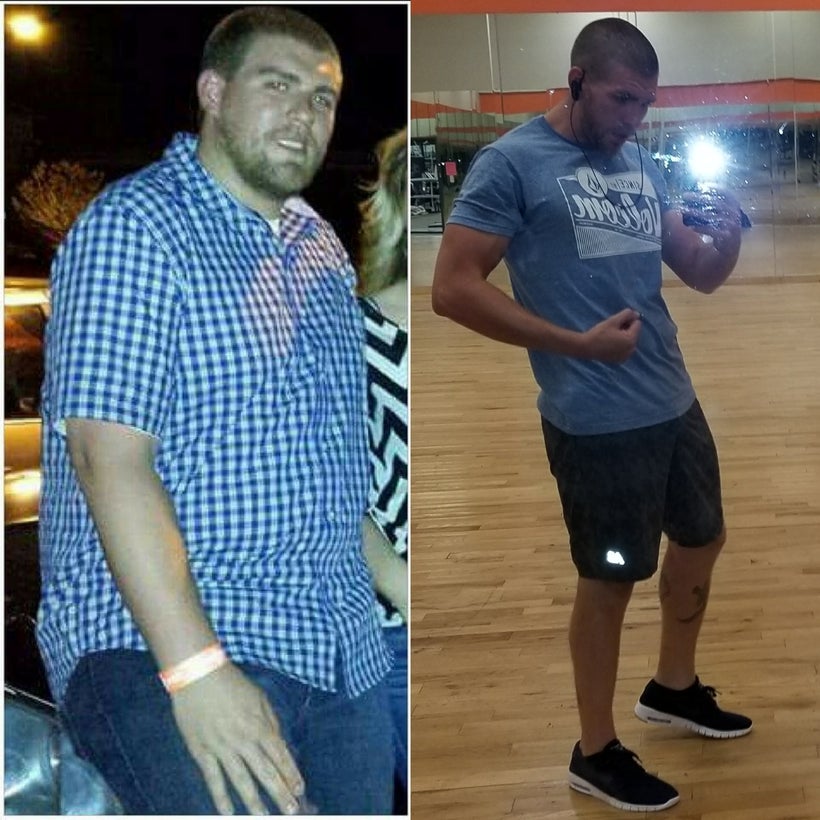 Not only did Trey lose weight and sculpt his body into a Men's Health ad, but midway through his weight loss, he started rentdumptrailers.com, his local trash removal service (think Hoarder Haulers), which did $300K+ in its first year of business alone. He employs 1-3 subcontractors at all times and works alongside his dad, who left his job as a butcher to help with the booming business. Trey has a loyal, large client base, a fleet of trailers and trucks and enough money coming in not only to pay his bills, but to give back. Two years ago, Trey couldn't pay his rent. This year, he donated $2,000 to local Charlestonians in need, including helping a boy with cancer and handing out pizzas on the streets of Charleston.
"I love to give as much back as I can," Trey admits. "I consider it paying my dues to the city that never gave up on me. I love this city!"
What Trey loves most now is giving back. He wants to help others "break the downward spiral and find happiness," like he did. He preaches sobriety, financial savings and healthy decision making to friends or strangers in need. People constantly reach out to him after learning about his success. Trey finds strength in their emails and messages too and loves encouraging others.
"People need to know, they aren't alone," Trey says. "I've gone from suicidal to successful, and, as my grandmother likes to joke, from 'chunk to hunk.'"
But, he cautions, there's no such thing as a quick fix. He learned by doing it properly and holding himself accountable for both his efforts and his shortcomings.
"I'm lucky to be here today," Trey admits, "and so thankful for everyone who looks to me for inspiration."
Trey is now rethinking his entire career. He may sell his business so he can dedicate his professional life to inspiring others to achieve the same transformation that he pulled off. Think: fitness trainer meets life coach. Meets motivational speaker.
I can think of a few potential clients here in New York, Trey. Let us know if you set up shop. I'll be at the front of the line. But first, I'm finishing those animal crackers.
This post was published on the now-closed HuffPost Contributor platform. Contributors control their own work and posted freely to our site. If you need to flag this entry as abusive,
send us an email
.