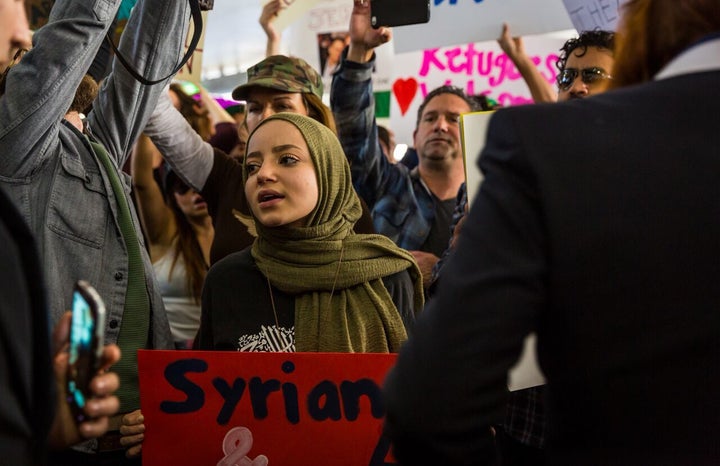 Rudayna Aksh and her daughter Dalya Zeno fled from Aleppo to Los Angeles in 2012 and moved in with Rudayna's son Mustafa Zeno who had already been living and studying in the U.S. Because of a previous 10-year stint more than 20 years ago, Rudayna was already granted citizenship. Even as American citizens, however, this family still faced the many challenges that Muslim Americans encounter.
Filmmaker Julia Meltzer's new documentary Dalya's Other Country follows Dalya Zeno, a teenage girl and self-proclaimed feminist who is adjusting to life in Los Angeles as the only Muslim in an all-girl Catholic school. Along with her older brother Mustafa and her mother Rudayna, we follow the family as they navigate their way through our starkly different culture.
Dalya's father, with whom she is very close, chose to remain closer to his Syrian roots by making a home in Turkey. Though he makes a few appearances in the film, his love for his family does not overpower his disdain for American culture. He and Rudayna separated before their exit from Aleppo and remain estranged. Mustafa then stepped in as the head of household, making his mother and sister his priority, taking on the responsibilities of a father at a young age. While each family member does play an integral role in the film, the main narrative is that of Dalya's.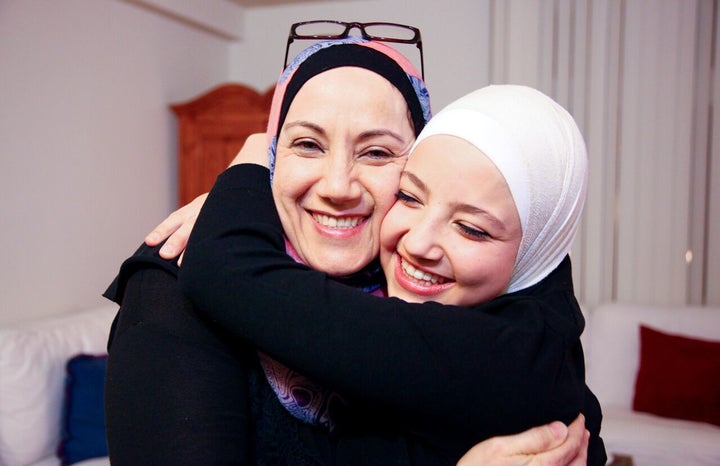 Meltzer tells Dalya's story by elegantly weaving together pieces of her life as a typical American teenager and her deep, ever-present Islamic values. As we get to know Dalya, we discover that she is a highly adaptable and intelligent girl who appreciates both the traditions of her culture as well as the frivolity of teenage existence in the U.S. While she indulges in standard high school activities such as playing basketball, socializing with friends and of course, prom, she holds on to her identity as a Syrian Muslim and feels no shame in displaying it.
"I do not wear the hijab because I want to cover myself or protect myself from men," says Dalya in a scene from the documentary. "What made me love my hijab is my life experiences; it was a constant reminder for me of who I am, where I'm from. It was a constant reminder to me that you don't need to let your hair down or show your skin to be able to be beautiful."
Dalya's Other Country began shooting in 2013 and was completed in early 2017. Dalya was just 14 in the beginning of the film and by the end, she is 18 and on the verge of graduating high school. While the documentary touches on the unavoidable topics of Muslim immigration and discrimination in a Trump-era political climate, the film as a whole embodies a coming-of-age tale.
Though Dalya seems to adapt to the American lifestyle with ease, she still faces a unique set of struggles that only amplify her faith instead of diminish it. The 2015 Paris attack occurs during the film as well as Trump's pre-presidential promise of banning all Muslims. Rudayna reacts with outrage and disappointment, as did many Muslims and liberals. Dalya, however, seemed to take a more levelheaded stance on Trump's claim. Though she disagrees with the ban, she sees it as an empty promise. Dalya even jokes with her school friends about it as they discuss where Dalya will go if she gets deported because returning to Aleppo is no longer an option. Her friends affectionately tell her that she can go to Mexico with them and their families.
"Donald Trump says stuff about every single nationality," Dalya jokes in the documentary. "He doesn't like Muslims, he doesn't like Mexicans, he doesn't like—who does he like? If he's gonna kick us out, he's gonna kick all of us out."
Meltzer's film captures modern immigration issues through the eyes of a Syrian teenager who displays one of humanity's most evolutionary attributes: adaptability. In a Catholic school, she does not pray to Jesus, but she does feel the presence of God. She goes to prom, but respects her mother's rules and dresses according to her faith. And in the Trump-era, where Islamophobia is on the rise, she proudly wears her hijab, even when her own mother covers hers with a hat to protect herself from discrimination. Dalya is a feminist who loves her family and her religion and supports LGBT rights. She does not believe in some of the ways of her parent's generation, especially those that pertain to women's rights. She is the next generation of Islam and is dispelling the fear and preconceived notions that exist around her faith.
Instead of propagating the Middle Eastern terrorist stereotype that is often found in Hollywood cinema, Meltzer is sharing Dalya and Rudayna's stories of love, faith, and acceptance. While Rudayna is still very traditional in her customs, she is also a strong woman who quietly rebelled against the antiquated ways of her parent's generation.
"In our country, the woman is always the one to submit," Rudayna tells Dalya in a scene from the film as they nostalgically pore over old wedding photographs. "He [Dalya's father] often said: 'I want a woman to be like dough, to mold however I want…die, die, live, live,' she does whatever he says, and I couldn't."
Dalya's Other Country is a poignant expression of adaptation and acceptance. As Dalya, Rudayna, and Mustafa struggle to adapt, they also find acceptance in each other, themselves, and even in those who choose not to accept them. They are understanding, loving, and strong, and just the kind of Islamic role models that America needs.
Dalya's Other Country will be screening at the Los Angeles Film Festival on Saturday, June 17 at 1:20pm and will make its broadcast premiere on PBS's series "POV" on Monday, June 26.
REAL LIFE. REAL NEWS. REAL VOICES.
Help us tell more of the stories that matter from voices that too often remain unheard.