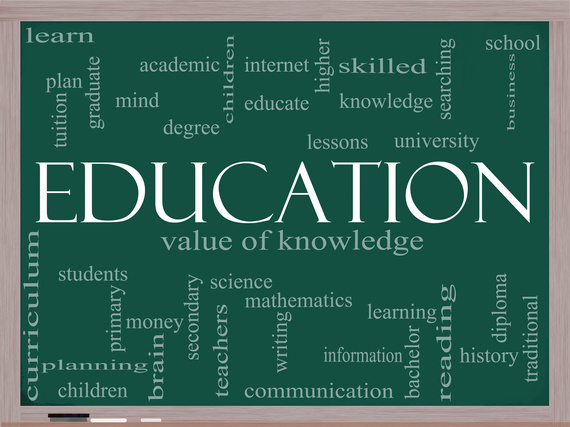 I had the chance to sit down with James Stewart, head of marketing and business development for 51Talk. He is connecting teachers and students across the globe through his engaging work and initiatives here in the United States.
1. James, can you tell me about the founding of 51Talk and how it began in China?
51Talk began five years ago in Beijing, on the belief that the way English has been taught in China is inefficient and not conducive to speaking the language.
Instead of focusing on a practical method of teaching that enables students to speak and understand English, the country's education system strongly emphasizes rote memorization of grammar rules and vocabulary. This process helps students remember answers for tests, but when it comes time to speaking English, they find themselves ill-equipped to do so. To compound this error, students are hardly ever given a chance to speak.
Our founders Jack and Sue, who have linguistic backgrounds themselves, identified this deficiency in the country's English education system, and set out to change it. From their own experience, they knew that the best way for someone to truly learn and speak a language is through one-on-one lessons with foreign teachers. The problem in China years ago was that this type of practice was inhibitively expensive for most people.
The solution they engineered was to leverage the Internet and economies of scale to bring these one-on-one lessons to millions of students in China.
As numerous students joined the platform, and thousands of teachers came on board to meet this demand, the costs to facilitate the service were subsequently driven down to the point where 51Talk had an efficient and profitable business model.
2. What were two top motivating factors behind starting the company?
The first factor was the demand for one-on-one English lessons. In China, the demand had always been there, but due to the unaffordable costs of having such lessons, people were unable to access them at scale.
The original problem leads to the second factor, which is Internet penetration. At the time of the company's founding, the level of Internet penetration in China had just reached a level sufficient enough to enable 51Talk's business model to scale.
In China, the tier 1 cities (Beijing, Shanghai, Shenzhen, and Guangzhou) have had high-quality Internet connectivity for some time now, but years ago, beyond these cities, connectivity could be quite unreliable.
So at the time of 51Talk's founding, the infrastructure in China had reached a tipping point where the second and third tier cities had also acquired excellent Internet access. Even today, connectivity is still on the rise in China, and is even spreading out into the countryside.
As this continues to develop, 51Talk is increasingly able to offer English lessons to people in all corners of China - from a student in a top Beijing academy all the way to a young child in Inner Mongolia.
3. 51Talk was listed on the New York Stock Exchange on June 10th, 2016. The company is the first U.S. listed Chinese online education company. Can you tell us about that experience and how the company celebrated?
The experience was incredible, because it was not only a milestone of great significance for the company, but it was a validation that this is the future of education in China, and it's happening now.
Our celebration had two facets. First, there was an introspective look into the company to acknowledge our whole team, and show our appreciation to them for working tirelessly each day to bring our vision to life. The celebration not only includes our internal employees, but our students and teachers as well, because each one of these groups is an integral part of our 51Talk family and is part of our identity as a company.
Second, there was an outward look to the world, which was an opportunity for us to further intensify our focus on delivering access to the best education possible to as many people as we can reach.
We are an education company, and true to the spirit of education, every event, no matter how small or large its significance, is an opportunity for us to learn and evolve.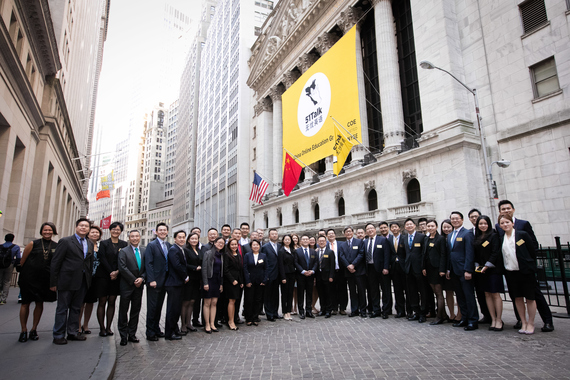 4. James, we know that technology has brought the world closer together. Can you tell us how the teaching process works for U.S. based teachers working with young children in China? For example, can you take us through a typical preparation and short lesson?

One of the greatest things about 51Talk is the ease of access that it brings to education.
Once new teachers have gone through our standard training process, they are free to open class slots whenever their own schedules allow.
Students will book class slots in advance, and through this, the teachers will know what level of proficiency their students are at before the lessons begin. Many students even continue to book lessons with the same teachers.
51Talk makes it easy for teachers to conduct lessons because we design and provide all of our own course material, which closely follows Common Core and CEFR standards.
We provide several different options through which our live, one-on-one lessons can be conducted. The most engaging of these is Air Class, or AC; this is a platform that we designed from scratch for conducting interactive, captivating lessons with students.
AC gives teachers an incredible set of tools for deeper engagement with students, and really enables the lesson material we provide to come to life and become genuinely interactive.
As most of our students are younger children, our teachers have great energy and enthusiasm that they bring to each lesson, which is key for engaging and effectively teaching younger students. So in short, our lessons are incredibly fun and rewarding.
5. Can you provide us with some feedback from educators here in the U.S.? How do they describe their experiences working with children in China?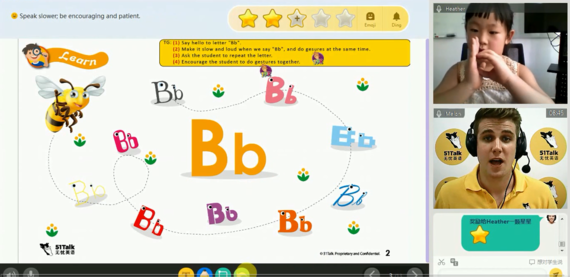 It's somewhat of an understatement to say that our teachers are ecstatic about teaching with 51Talk. Our teachers come from all different backgrounds and professional stages, but one thing they all share is their love of teaching.
One of the most common things we hear from teachers is that they're amazed at how engaged and interested their students are in actually learning and becoming proficient in English.
As many students continue to work with the same teachers, the teachers themselves become invested in the success of their students, and put their hearts into every lesson.
Typically our new students only speak Mandarin, and our teachers only speak English. At first, this creates a language barrier that has to be overcome, which can be challenging.
However, as students and teachers continue working together, this barrier is soon erased. They find themselves beginning to understand each other with less difficulty until eventually; they are both speaking the same language.
It is precisely this moment that our students and teachers work so hard to reach. Seeing the smile on their students' faces as they realize that they can speak and communicate in English is what all of our teachers strive for with each lesson.
Giving our teachers the platform and tools with which to achieve this unique and rewarding milestone is something that 51Talk prides itself on. It's what keeps our teachers coming back to teach lesson after lesson, because it affirms that they are positively impacting students' lives, and making these positive impacts validates the choice that our teachers made in choosing their profession in the first place.
6. What are two things U.S. teachers seem to enjoy the most?
Many teachers will describe the "aha" moment as one of the best parts about teaching with 51Talk, and this is the moment in which students will finally conquer a challenge - when they realize that through their own hard work and determination they've really achieved something. At this realization they light up, smile and celebrate, and it's this "aha" moment that gives our teachers such joy in what they do.
Another aspect that our teachers really enjoy is simply being able to teach whenever they want to. We have teachers from all walks and stages of life, and whether someone teaches in a physical classroom during the day, is retired, or even just needs to be at home to take care of the family, 51Talk gives everyone the ability to continue teaching.
Perhaps one of the best parts about this for our teachers is that they get to learn about a different culture with ease. Many teachers describe the fascinating experience of essentially being invited into the living room of another family and not only teaching, but also learning for themselves about a different way of life.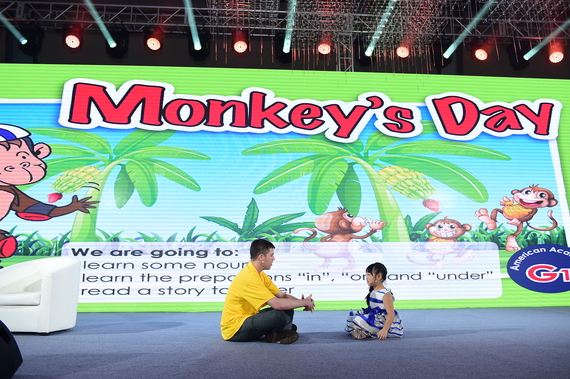 7. What is one thing that parents and students in China enjoy the most about working with U.S. teachers?

Having access to the highest quality western education with such ease is an incredible gift to these families. For many people in China, they lack the resources to effectively learn English, but as long as a Chinese family has Internet access, 51Talk can bring this education to them wherever they may be.
Today in China, it is imperative to learn English in order to be competitive in the professional world, and families take great care in ensuring that they provide their children with the best tools for a bright future.
The ability to have the highest quality education anytime, anywhere, is something that our parents and students truly appreciate and enjoy.
8. Let's talk about culture. How has this opportunity brought the American and Chinese cultures together?

Oftentimes China and the United States find themselves at odds geopolitically, and it can condition people to automatically assume that there is some type of animosity between the two cultures.
51Talk demonstrates that this couldn't be further from the truth. All students are supported in their English education not only by their families, but also by our teachers. This common goal brings together everyone involved in the process, and in a way erases the borders and cultural divides that exist between the two countries.
Oftentimes teachers will describe how they've become such close friends with their students that they even receive birthday cards or holiday greetings from them outside of lessons. Parents are equally grateful for the time and effort invested in each child's future, and this joy, shared by everyone involved, is a bond that builds bridges of understanding between people on opposite sides of the world.
9. What's on the horizon for 2017 at 51Talk?
In 2017, our goal is to continue reaching as many students as we can. By bringing English education to more people, 51Talk is doing its job of making the world a better place.
As we bring more students into the 51Talk family, we will also continue our outreach to teachers in North America. Overall, we hope to keep building bridges between these two cultures.
10. Finally, what is your favorite part of your job at 51Talk?
That's an easy one for me - it's helping people live better lives. By bringing more teachers on board, there are three immediate positive effects.
The first is that I'm giving millions of students in China a way to learn a language that will give them an incredible professional advantage.
Second, I'm providing countless teachers on this side of the world with a way to not only make more income to support their families, but a way to continue doing what they love.
Finally, I'm building positive cultural connections between different countries. Having spent a great deal of time in China myself, I've had the privilege of knowing many great people there; these experiences made me realize that despite some cultural differences, there are more things that should unite us rather than divide us.
Through 51Talk, I'm able to contribute, in my own way, to uniting these two countries, one lesson at a time.
11. Please let us know where we can find more information and where teachers in the U.S. can apply to teach for 51Talk.
Interested teachers can apply to teach with 51Talk by clicking here: Teach with 51Talk
About 51Talk:
51Talk is China's leading online English education platform. The company's mission is to make quality education accessible and affordable, and through our online platform, we enable millions of students across China to take live, one-on-one interactive English lessons with North American teachers.
Utilizing an "anytime, anywhere" approach, North American teachers who teach with 51Talk conduct our on demand, 25-minute lessons whenever their schedules allow. With such a flexible way for teachers to use their teaching degrees to earn money from home, 51Talk's family of North American educators is growing rapidly.
Beyond the additional income and exciting career development opportunities on offer, perhaps the greatest part of teaching with 51Talk is the chance to learn about a different culture firsthand.
About James Stewart:
James is 51Talk's head of marketing and business development in North America, and his goal is to continue optimizing teacher outreach and expanding visibility in the education sector.
About Robyn Shulman, M.Ed.
I am honored to be an official education and edtech thought-leader featured with Influencers on LinkedIn. With over 40,000 followers on LinkedIn, please reach out to me anytime.
I am the founder and Senior Editor of EdNews Daily. We interview and work with education startups, teachers, advocates, Shark Tank winners, entrepreneurs, innovators, nonprofits, and education game-changers.