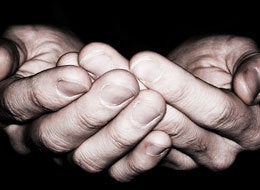 Three years after dropping out of Social Work School to enter the emerging new media field in the mid-90s, I was hardly surprised when the University told me they'd take me back. It was thrilling to be part of a new industry redefining my generation from one marked as "slackers" to the new "digerati". But I went to Social Work school for a reason, one far from being met through managing the web sites for Elle Magazine and Sotheby's. I was surprised, however, when the school told me I couldn't attend part time, as I had been led to expect. I would have to decide: my money (.com gold) or my life (.edu heart).
I had entered Social Work school to get training on how to address pressing social issues, to confront prejudice, both personal and institutional. My upbringing as a Jewish kid from Long Island prepared me to be sympathetic towards the marginalized and gave me a desire for justice. An experience in college kicked things up a notch, when I saw a campus protest turn ugly. The campus police violently arrested many of my peers. The campus-wide response, led largely by biased media reports, blamed the student protesters. The facts on the grounds said otherwise, as captured by over a dozen photographers, whose work I soon organized into a photo show in the student union. When I watched the head of campus security visit the display, I learned the power of independent media to speak truth to power.
Social Work seemed to offer me a path to form a career around such engagement. But then the Web happened. Magazines began to go online. One of the first Internet Cafes opened across my apartment in the East Village. Most important for me, my roommate told me I could make significant summer money coding HTML, the back-end of web pages, and he could help me get my first job. It's hard to overplay the rate of change driven by the urgent need of venture capitalist-funded .com start-ups to hire employees trained to excel at a medium that was fresh out of the crib. I learned HTML in one week and by the second week I was turning down five jobs a day, at pay rates I had never dreamed I could earn. Social Work could wait. This Web thing couldn't last more than a year, could it?
Why was I and so many like me able to adapt so quickly to succeed in what was locally known as Silicon Alley? I like to credit the Choose-Your-Own-Adventure books, first published when I was seven, that taught me about navigating complex narrative systems. I credit my gaming consoles, that developed gaming literacy. At 12 I learned how to program a computer, designing my own games, and in high school I was the first to insist in typing class I use a computer. My early experience with digital media did not teach me what I specifically needed to know to succeed in Silicon Alley. It did not teach me how to code HTML or to move files from my computer to the internet. What it did teach me, however, was much more important: a core competency with digital media and the confidence and ability to teach myself the latest tools.
The ability to teach myself how to master the new tools of my trade was possible because of my privileged background. We could afford a home computer in the early 80s. My parents valued the education I received learning to program in Pascal. I leveraged that privilege when I went into the for-profit web development world, learned a tremendous amount, and earned enough to feel that I had fully graduated into the workforce. But I never gave up my dream of making the world a better place. I began to teach Web design at local schools. And I kept waiting, never stopped expecting, that I would return back to my Social Work career path.
After three years, push came to shove. I could either leave the Web behind and go into Social Work or put the dream to rest and commit myself to the .com existence, decide between the social reformer or the tech geek. Why did they have to be mutually exlusive? I wondered. How could I combine the two? I decided that I would go back to Social Work school if I couldn't answer one last question: Can the Internet be used to form connections between people in the places where they have been separated by prejudice?
Long story short, I never went back to Social Work school. But I also quit and haven't worked at a for-profit since. Instead, I responded to a proposal from the Ford Foundation Funded Academy of Educational Development's New Vision Fellowship program, designed to support lateral moves from the for-profit to the non-profit to support new leaders creating human rights-oriented programs. I combined by passions for digital media and social change with my interests in education and supporting youth of color. Eight years later I now direct a program with an annual budget of a million dollars that uses the latest digital media to support urban youth to become global citizens and community leaders.
More specifically, I work in formal educational settings with disadvantaged youth to provide them with the same set of skills I once gained informally, skills necessary to learn how to master digital media and survive as students, workers, and citizens in the 21st Century. They are learning how to learn. I may have given up a personal fortune in the process, but what I gained is even more valuable. I'm living my dreams.
Popular in the Community