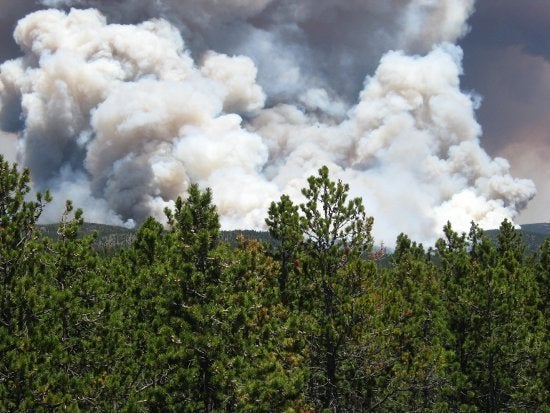 When the High Park Fire finally finished its rampage through the rural mountains of Larimer County, Colorado last summer, it left behind one person dead, over 87,000 acres of forest burned, 259 homes destroyed and thousands of lives and dreams shattered. But mountain people are tough, and more importantly they stick together and help their neighbors.
Just ask Dr. Pedro Boscan and his wife Dr. Kathryn Touran, who lost nearly everything but their lives to the fire. Both are volunteers for the Rist Canyon Volunteer Fire Department, and Boscan was on the fireline defending the iconic Stove Prairie School, a center of this remote community, while their home only five miles away burned to the ground. Only hours earlier, Touran had just 90 minutes to save most (but not all) of their beloved pets and livestock from the flames, throw some important documents and family photos into a bag and flee to the Red Cross evacuation center in town -- where she soon donned 45 pounds of wildland firefighting gear and drove right back up the mountain to fight the fire.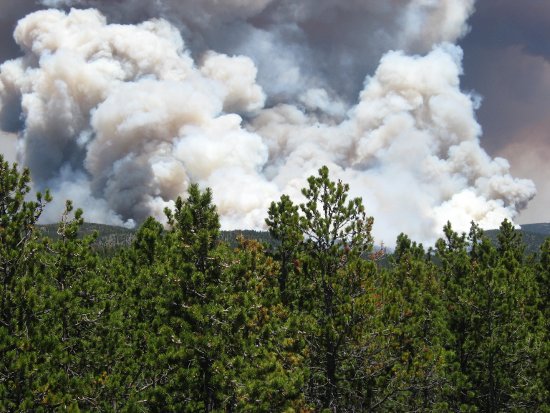 Photo courtesy of Ward Erickson
Boscan and Touran have decided to rebuild, but where to start? Colorado doesn't have a "valued policy" law for homeowners insurance, and without that they face numerous up-front costs and tight time deadlines to collect what may be only a fraction of the actual rebuilding costs they will incur. Add to that the brutal winter weather and difficulty building at their 7,200 foot elevation, the emotional shock of losing almost everything, and the limited time available thanks to holding full-time jobs.
"The government agencies don't seem to understand that for those of us who lost everything, the disaster is not over when the fire is out," Boscan told me. "It will only be over when we rebuild and move back into our new home."
Enter the Northern Colorado Rebuilding Network, a local non-profit founded just a year earlier in the aftermath of the Crystal Fire, which destroyed 13 homes in a different area of this same mountain community. I recently talked with NoCo Rebuilding President and co-founder Phil Benstein -- also a RCVFD firefighter -- about how communities can come together to help themselves and their neighbors after a disaster.
"Our goal is to help our neighbors rebuild safer, better and smarter," Benstein told me. "We have so much talent in this community. Contractors, carpenters, plumbers, timber framers, electricians, renewable energy specialists. When you multiply talent by talent, amazing things can happen."
Boscan and Touran were quite daunted by the challenges they faced after deciding to rebuild. "My wife and I are veterinarians," Boscan said. "We are not in the construction business. We have no idea what the latest advances in energy efficient home design are, which efficient windows we should choose, or how we could incorporate solar energy into our new home. It would take us so long to do such research while dealing with the emotional aspects of losing everything. But through NoCo Rebuilding we received a free education. We now think we can rebuild what we had, but do it better, and it will save us money on energy in the long run."
"I couldn't believe no network was in place to help residents after the Crystal Fire," Benstein said. "That's why we formed NoCo Rebuilding. Sure, you can have a fundraiser and cut people checks, but what does that really give them other than a few nights in a hotel room?"
"The are other models out there, but nothing quite like what we do here," Benstein continued. "The Greensburg Greentown project in Kansas after the tornado leveled their town, Brad Pitt's Make it Right project in New Orleans after Hurricane Katrina, these are both excellent examples. We are now thankfully able to stand on their shoulders and go up one level, with a multi-pronged approach to helping families recover and rebuild."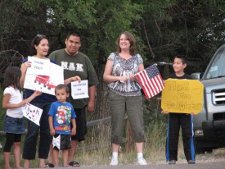 The huge outpouring of community support during and after the three-week-long fire was a heartwarming relief for both residents and firefighters, but there were bottlenecks. With donations and funding offers coming from thousands of sources all over the area and nationally, it was difficult to get resources to the people who needed them most, quickly. Kellie Falbo, Executive Director of the Sustainable Living Association in nearby Fort Collins and a firefighter for the Poudre Canyon Fire Protection District, had an idea while she was working the fire in 100-degree heat and 60 mph winds.
"I was able to call our board of directors, literally from the fire line," Falbo told me. "NoCo Rebuilding needed a fiscal agent, and fast, while national attention was still focused on the fire and its victims. We were in a perfect position to help, being a 501(3c) non-profit focused on sustainability education. There are always lots of scams out there during and after a disaster, so the funding side must be done right. We are able to funnel 100 percent of funds received directly to the fire victims through NoCo. They are a non-profit that makes sense."
I attended a recent NoCo Rebuilding "Dirt to Drapes" event to listen, observe and network. One contractor explained solar electric, yet another solar hot water. A local architect detailed passive homes, and a local utility representative covered thermal shells and their importance in saving energy. There was no sales pitch from anyone -- many local contractors lost everything in the fire, too. Fire victims could slap the blueprint of their latest rebuilding idea on the table, get it marked up by a variety of experts and trade specialists, and discuss costs versus benefits with everyone.
"It's easy to put up junk," Benstein said. "But it doesn't really cost any more to build sound, tight and sustainable homes that will save the owners a lot of money on energy over the long term. I know of at least three families here so far who have chosen to rebuild with new, passive homes, just because they were exposed to the information."
In addition to providing information and networking opportunities with experts, NoCo Rebuilding is able to direct donated building materials to those who urgently need them, and to provide small cash grants directly to fire victims. In one recent case, a homeowner was torn over installing a solar hot water system for the rebuild. The cost was just a bit too high, and the insurance company was paying the settlement in only small increments. A timely check in the mail from NoCo for only $4,000 -- with no strings attached on how it was to be spent -- made all the difference, and now all the domestic water in that new home will be heated by the sun. So far, NoCo has distributed $135,000 from 57 donors, directly to 37 families.
Home design and construction is not the only issue for those affected by the fire. Tax issues, insurance problems and much more can be just as daunting. Boscan certainly did not seem impressed by the aid provided from government agencies. "The feds, the state, the county, they did not help us much at all," Boscan said. "Almost zero. NoCo Rebuilding has taken over that place for us. It is our main point of contact, until this disaster is finally over for us."
Benstein is also pleased that the NoCo Network will be around for the next disaster, too. "Our community has come together more closely than it has ever been, and has built a tremendous amount of resilience and strength," he said. "We are all proud of that. The next time around, we'll be better prepared to help, and our community will have better defenses. We hope that will reduce the tragedy for as many people as possible."
Author Dan Fink has been a firefighter with the Rist Canyon Volunteer Fire Department for 14 years. Fire crews saved his home and office. RCVFD lost one fire station and large amounts of equipment to the fire, and receives no tax dollars -- it is supported entirely by donations. For more information about the fire, the department, or to make a tax-deductible donation, please visit the RCVFD website.
Support HuffPost
The Stakes Have Never Been Higher
Related
Popular in the Community