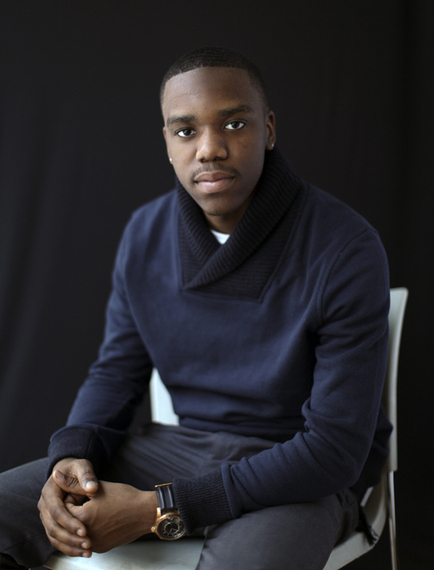 Nahtahniel Reel, photo courtesy of Julie Hassett-Sutton/Frantic Studio via Global Kids
I went to high school in the Bronx. My sophomore year, Global Kids arrived to conduct an after-school program. We would meet in the cafeteria and play games first, socialize, and then come together to talk about the issues we had discussed in the last meeting. We would try to come up with different techniques to address them. We would always be given a problem to solve.
We became the GK Crew. Basically, we were the leaders in the school when it came to things like trying to start a newspaper or initiating contact with our principals. I believe change starts with knowledge. You have to know about the situation you are confronting, and then you act on it. Global Kids stresses the importance of participation and coming up with action plans, that is, not only just talking about an issue, but actually getting active in the community.
Food injustice was a topic that we discussed heavily for about two years. We were unhappy about the food we were being served in the cafeteria. We didn't think it was healthy enough, and we began to analyze why certain communities -- especially ours -- weren't given access to healthier foods.
We came up with the idea to create a public service announcement. We recorded ourselves performing a skit about how to address our lack of access to healthy food. We also did the skit outside in the Fordham Plaza, where our school is located, and interviewed local community members about their ideas or opinions. We collected signatures and wrote local City Council members to ask what they were doing about problems like that in our community.
It showed me that young people have the power to address any issue we want and that we don't have to wait until we are adults to solve problems that affect us. There were many opportunities in Global Kids for us to become activists and fulfill leadership roles in our communities.
We were also given a lot of help getting ready for college and finding scholarships. I received the Gates Millennium Scholars scholarship. One of my mentors, Eris Johnson-Smith, at Global Kids wrote my recommendation for the program and helped me with the application process. He also helped me apply for financial aid.
Through Global Kids I was informed about a combined program in physics and engineering at Adelphi University [AU] and Columbia University. I went to AU for three years, and I studied physics. This year and next, I'm attending Columbia University majoring in civil engineering.
I wanted to study civil engineering so I can focus on sustainable structural development, especially in developing communities. I believe sustainable infrastructure improves our world and improves our communities. It makes our communities more environmentally friendly. That interest stemmed from my background in Global Kids.
Related
Popular in the Community