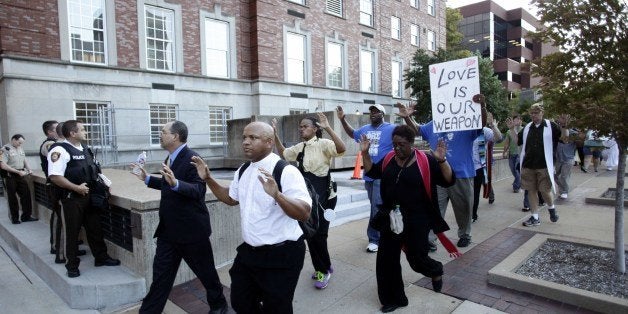 Wednesday afternoon, I had the chance to interview Wes Lathrop, the Department Directer of Power (Philadelphians Organized to Witness, Empower, and Rebuild), as he worked on the front lines of Ferguson. POWER is an affiliate of The PICO National Network, the largest faith-based community organizing organization in the country.
Wes is a long-time friend.
You are there on the scene in Ferguson. Have you observed the protesting from the last couple days and nights firsthand? Tell us what it is like to be there in person.
Wes: I flew into St. Louis on Saturday and have remained in the region since. During the day on Saturday I took part in a large, inspiring, peaceful march. It was difficult for me to hold back tears as I watched local residents chant and walk for justice. There were young people, old people, black people, white people -- all together demanding justice. On the evenings of Saturday and Sunday, I was present at ground zero in the heart of Ferguson.
I want to share specifically about Sunday since there was a lot of media attention as people tried to make sense of that violent evening. My colleagues and I arrived on the scene around 8:30 p.m.
There were probably 2,000 people present in the main drag -- half of the folks were conducting a peaceful march, chanting, carrying signs -- doing the things you do in a peaceful protest. As the march went forward, it crossed what was apparently a police line (though it was not clearly marked especially in compared to previous evenings). Armored police vehicles rolled up and cut off the march. Then sirens started, followed by police commands that we couldn't hear through the sirens. Within sixty seconds, police started firing off tear gas, and shortly after that, they began pushing their police line down the street.
After that point, it was complete chaos. Police moved their line down the street with armored vehicles leading the way -- shooting tear gas and rubber bullets. Some civilians responded by simply running away, others by throwing back tear gas canisters, and a small minority began smashing store windows. As my colleagues and I walked (or, in some moments, ran) in the opposite direction from the chaos, we eventually came to the police line that had been behind us. Approaching this line was one of the most frightening experiences of my life. We had been walking on the sidewalk when police yelled, "Walk in the street!" and they pointed assault rifles directly at me. I was able to relax only after getting about hundred feet away from this police line.
Wow. That is intense. And scary. Let's move to the nature of those protests you mentioned. As you've watched, how would you characterize the majority of the protestors?
Wes: Most of the protestors are peaceful, most are young and live in this region. There is a collective spirit of pain and immense anger; I've never been in a space of such shared outrage where folks felt so powerless in their pursuit of justice.
I witnessed some looting by young people on Sunday night. This occurred after protesters were provoked by police, not before.
Can you help me round out the picture by describing police activity too? How would you characterize the majority of the police who are responding to the protests?
Wes: My colleagues and I have had mixed experience with police. At some moments, some of the officers have been nice and have been in communication with clergy or community members to keep peace. Yet there have been other instances where we've witnessed disrespect and conflicting orders. And of course, my earlier comments provide a clear example of how I witnessed some officers inciting conflict.
Those of us who aren't on the scene there locally are hearing a lot of mixed accounts about the initial incident between Officer Wilson and Michael Brown. Have you been able to consider all the data coming out, and if so, what comments would you offer about that initial incident?
Wes: I'm trying to take these accounts into consideration just like everyone else. It is difficult to imagine what might justify a police officer shooting six shots into the body of Michael Brown. For me, I see this murder in the context of contemporary America. This incident didn't happen in a vacuum. When James Holmes gunned down 12 people and injured 70 others in an Aurora, CO, the police apprehended him, they did NOT shoot him six times. But in contrast, we've seen a different narrative in the stories of Jordan Davis and Eric Garner: that black life doesn't matter. In other words, this incident is about race first and foremost. Those who deny this dynamic and claim that we live in a colorblind society ignore the realities that communities of color face every day.
What are some of the most effective ways that people living near Ferguson, or those who have traveled there to protest, can affect change?
Wes: First, for people, especially clergy, it is helpful to assist in de-escalating tense situations as they arise. My colleagues have been successful at helping to keep peace during night-time protests by insisting on peaceful demonstrations amongst the crowds. Second, in this time when local residents are experiencing significant trauma, there is value in people counseling and encouraging them.
What about those of us observing all of this from a distance, as we sit at home in other parts of America? What are some of the best ways that citizens can support the need for progress regarding racial equality, both in this instance, and in general?
Wes: First, I would call every person of faith to be praying for healing and justice for the members of the Ferguson community. Second, I would call them to ask the Attorney General Eric Holder to assign a special prosecutor that would conduct proceedings related to the death of Michael Brown AND to investigate mass ongoing civil rights violations by Ferguson Police and the St. Louis Country Police. People can reach the Department Comment Line at 202-353-1555.
And please read the book The New Jim Crow by Michelle Alexander. Please take time to consider the points made from both of these readings, and be intentional about having a discussion with people you know, asking, "What does this mean for faith communities and how they respond to racial injustice?"
What advice might you give to those who are taking to social media to voice their opinions on this matter?
Wes: Keep in mind impact. As emotions run high, considering the topic, please be thoughtful about how your words might impact others.
Overall, my prayer is that the citizens of this country would consider how race impacts us all. We do not live in a post-racial society. In fact we live in a nation that is predominantly divided by race. As a country, we must face this head on. Continuing to deny that race matters will only fuel the current personal and institutional racism that exists. Dismantling this first and foremost means understanding how we've ALL been infected with a narrative that de-humanizes people of color. What is at stake is nothing less than the soul of the United States.
Calling all HuffPost superfans!
Sign up for membership to become a founding member and help shape HuffPost's next chapter