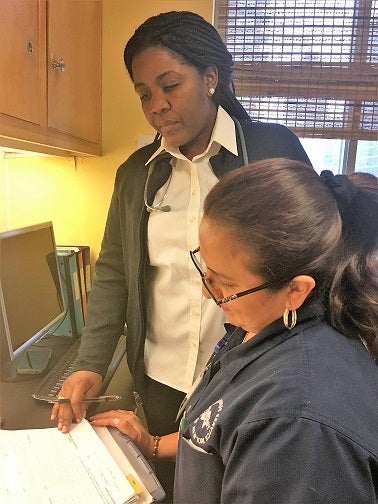 It was the late 1990s, and Claudia Paul was working as a home health aide for New Yorkers who were infected with HIV. Although retroviral medications were transforming their prognosis, Claudia found that many of her clients were so bothered by the drugs' side effects that they stopped taking their pills—putting their health at risk.
"If only someone would sit down with the patient for five minutes and explain the benefits of the medications, it would be so helpful," she says. "And if someone really listened to the patient's concerns, maybe they could find another regimen with fewer side effects."
So Claudia decided to become that person—a patient advocate, educator and listener-in-chief. She enrolled in the Helene Fuld College of Nursing, located in northern Manhattan in New York City. Specializing in geriatrics, she went to work in a nursing home then in home care, traveling across Brooklyn to teach her patients how to care for themselves, pre-pour medications, provide wound and general health care, and always, always, listen to their stories.
Now she is a hospice nurse for the Visiting Nurse Service of New York's Hospice and Palliative Care program. As the team manager at VNSNY's Shirley Goodman and Himan Brown Residence, a hospice residence on Manhattan's Upper East Side, she brings expert and compassionate care to those at the end of life and to the loved ones who support them. She watches and listens to symptoms of pain and discomfort—voiced and unspoken—so she can keep patients as comfortable as possible. Claudia recalls visiting an elderly man who had been agitated all day and whose family could not calm him. "When I came into the room, he saw a familiar face, a face that meant comfort," she says. "I listened to him, talked to him, and finally was able to get him to take his medication. His family was so relieved to see that he was safe, comfortable and getting the care that he needed."
Claudia also educates family members on what to expect in the final weeks and days—letting them know, for instance, that their loved one will need less food and water when they near the end. They are not hungry or thirsty, she assures the family; in fact, too much liquid will pool in the lungs and cause great discomfort. She puts the lovely Henry Van Dyke poem "Gone from My Sight" into their hands when breathing has turned shallow, so they understand the transition from life to death and feel a little less alone.
At the heart of all the care she provides is compassion, something she learned from her mother, a Haitian immigrant who also was a home health aide and then a certified nursing assistant. "From her I learned—in the field as well as at home—that no matter what life hits us with, we are going to embrace it with compassion and warmth," says Claudia. "I try to exhibit my compassion through my tone, conveying to patients, families, the care team, 'We're going to address the patient's needs from A to Z, and we're not going to panic. We're going to solve this together in a calming manner.'"
Hospice care, which focuses on bringing quality of life to the end of life, is a decidedly collaborative and interdisciplinary endeavor. Together, nurses, social workers, spiritual counselors, home health aides, nutritionists and others, working with hospice physicians, provide physical, emotional and logistical support to the patient and family members. The care is by nature holistic.
As part of her job, Claudia oversees a team of five licensed practical nurses and five specially trained home health aides at the Goodman Brown Residence. Having been in various roles herself—from home health aide to emergency medical technician (EMT) to field nurse to nurse manager—Claudia knows that insights on patient care can come from all members of the health care team.
"Our goal, everyone's goal, is the patient's comfort," says Claudia. "Input can come from anywhere. The home health aide often spends the most time with a patient, and may be the first to notice a change. We teach our aides what to be aware of, and to be in touch with the nurse right away to address any change. Even the person cleaning the room—they might hear a patient moaning in a way that indicates pain, and come tell the nurse."
Overcoming Cultural Biases
Because Claudia is such an inspiring and compassionate hospice nurse, I was surprised to learn that when she came to our hospice and palliative care program in 2012, she was filled with trepidation. As a Haitian-American, she grew up with a cultural bias against talking about death and end-of-life care. If you talk about death, the fear goes, you will hasten it. Hospice was viewed with suspicion, as a place you go to die rather than as a set of physical, emotional and social supports to ease the final months for patients and families.
"On that first day, I was so scared," she admitted. But upon meeting her first patient, and talking with the family about what to expect and about how she was prepared to help them, she fell in love with the work. "The family was so thankful for everything we did," she recalls. "Their loved one was peaceful and not in pain."
Claudia's experience within her Haitian-American family is all too common. Today, she, together with many of us in hospice care, is working to increase hospice access in minority communities where the benefits of end-of-life care are often misunderstood and underused. "Sometimes death is difficult for these families to talk about," she notes, "but the more conversations you have, the more opportunities you have to answer people's questions."
Our organization is currently developing partnerships and creating new models of care to increase the reach of hospice care within African-American, Hispanic-American and military-veteran communities, all of which are typically underrepresented in hospice care and could benefit greatly from its services.
Across the nation, though, hospice care is on the rise and, I hope and believe, myths and misunderstandings are on the decline. Claudia has seen this transformation in her own family, which years ago was resistant to hospice care as her father was dying. More recently, she says, she discussed hospice care with her half-sister, whose aunt (unrelated to Claudia) had been admitted to hospice in the final stages of breast cancer. "My sister called me on the day her aunt died and said, 'I didn't understand the work you do until now,'" Claudia recalls. "They thought her aunt was in so much pain, but once she was admitted to hospice, the nurses and doctors sat the family down and explained everything. My sister and her family were so grateful."
She hears similar words of gratitude from her own patients' families, and that, Claudia says, is one of the greatest rewards of the job. "When I tell people I work in hospice, they sometimes give me an, "Awwwww," and feel sorry for me," she says. "I love my job. I've cared for patients from 18 to one person who was a 103 years old, and from all different walks of life. From the patients' and families' stories to the thanks they give to the trust they put in us… the rewards are priceless."
Calling all HuffPost superfans!
Sign up for membership to become a founding member and help shape HuffPost's next chapter
This post was published on the now-closed HuffPost Contributor platform. Contributors control their own work and posted freely to our site. If you need to flag this entry as abusive,
send us an email
.