For approximately two months, Laura Reiley, the food critic of the Tampa Bay Times dove away to uncover some of Tampa's filthiest secrets, blatant lies, and deceit about the authenticity of food sourcing in that region of the country. In a four-part series covering restaurants, farmers' markets, abusing restaurant case studies, and a guide aimed at helping us be better informed consumers, much to the chagrin of abusers and consumers alike, a gauntlet was laid. It is clear that there is nothing unique about Tampa and that it is a systemic problem.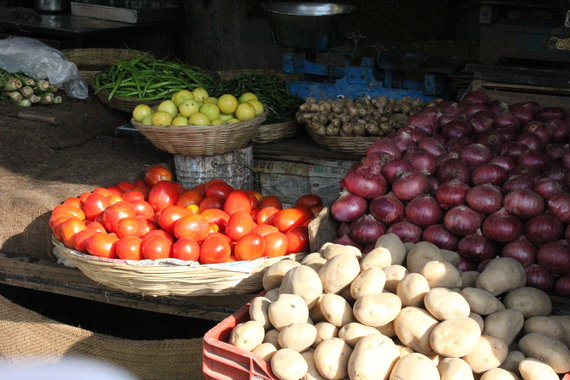 By my logs, about a month into her investigation, I received a call from Laura who was interested in getting opinions from my wife and me on the issue of greenwashing. I hadn't heard of that term before, but quickly understood that when applied to what we were talking about, it referred to the practice of disinformation disseminated by a food service organization so as to present an environmentally responsible public image. I recall our conversation on March 7th of this year, a little over a month prior to the series breaking publicly, where we chatted about a number of issues with restaurants and food stands at farmers' markets blatantly lying about the sources of their food. I couldn't help but be reminded of a vignette I had penned in May of last year on this very blog titled "It's Not All Farm to Table".
During our chat (as I paced on a lawn at Stetson University), Laura gave me an opportunity, perhaps, unintentionally, to name names. I was tempted because examples of abuse exist everywhere, but I didn't do so except to say that my wife and I were dismayed when a local restaurant claimed to serve wild salmon from Florida (WTF?). And we laughed. Perhaps the most poignant remark by Laura to me was towards the end of our conversation when she casually said and I paraphrase, "I don't really know that your restaurant Cress is as farm-to-table as you claim because I've never been." I was somewhat taken aback because, for perhaps the first time in our almost eight-year history, I felt as though my integrity was being questioned. I understood that wasn't at all Laura's intent, but really, how does someone really know? Well, here's the deal with at least some of the produce I procure. I've been shameless about turning on the GPS on my smartphone when I personally pick up produce directly from the two farms I frequent and one can see a long history of real-time social media posts of me picking up farm-fresh produce. I do it for two reasons: One is to mitigate precisely any questioning of claims on our menus at Cress of where some of the ingredients come from, but equally importantly to shed light on the existence and bounty of our neighborhood farms and farmers. It brings me supreme joy every time a guest tells me that since dining at Cress, they have been introduced to a local farm.
In all of this mess, even with well-known chefs scorning at the modern-day relevance of the term "farm-to-table", even with Laura herself suggesting that the term "is bordering on bankrupt", my sincere hope is that we don't devalue the most important tools in the food industry - the farmers. Restaurants and chefs can sustain by continuing to serve delicious food on the plate at a competitive value. After all, "that's what the future of farm-to-table should be: food that speaks for itself without having to tell you where it comes from." But the small and medium farmer, whose livelihood depends on seasonal demand, is at risk because of potential backlash stemming from a questioning of authenticity. Steve Crump of Vo-LaSalle Farms (one of the two farms I post live from frequently) recently told me that he has been around middle-men who buy his produce and claim it as their own and equally harmfully, mislabel his citrus. He has been quiet until now, but maybe he won't much longer. Bill Tomazin, the original Barefoot Farmer, a fourth generation farmer will be the first to tell you that his farm is probably the only true local farm on the annual Volusia County Tour.
At the end of the day, I will echo some of the frustration of the Tampa Chef Greg Baker who is mad at the dishonesty, and rightfully so, but I am also mad because I fear that the controversy will adversely affect the local farmers more than they will affect the restaurants claiming to be locally sourced. Until we determine an adequate (abuse-resistant) replacement for the term "farm-to-table," can we at least work towards becoming better informed consumers? The fact of the matter is everything produced in the world is local to someone, but nothing produced in the world is local to everyone. Continue to support your local farmers, but you must first take the time to find out who they are.