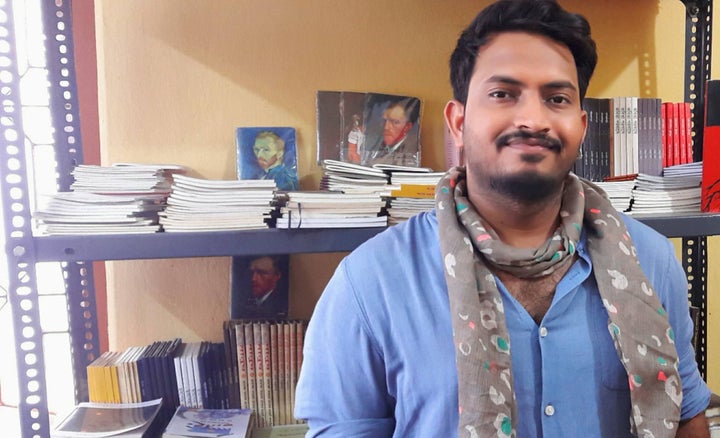 Raghavendra Madhu, founder of Poetry Couture, needs no introduction in India. He enjoys a definite international readership as well. I can remember in his debut book of poems, Make Me Some Love to Eat, Madhu has been introduced as: "A Tanjore-Maharashtrian with a Bengali bhadralok sensibility, blame it on his upbringing in Kolkata…" I got more than one chance to see him performing poetry in Oxford Bookstore, New Delhi; trust me, with every poem he enacted Madhu mesmerized the audience. Readers, without further do, I'll let you read his thoughts on the questions I raised lately.
KS: When it comes to buying a book of poetry how do you pick one? How often do you buy and whom do you prefer to read?
Madhu: I live on poetry. These days, the only thing I get excited about buying is a poetry collection. As Jorge Luis Borges puts it, poetry is not alien - poetry is, as we shall see, lurking round the corner. It may spring on us at any moment. I think the same of poetry books. Apart from the collections I buy from bookshops, or at readings and launches, some of the best ones I have are gifted. I gift, and suggest that people gift me books of poems. I also love walking around in second-hand book markets looking for poetry books like duburis look for coins; be it the Sunday Market near Dilli Gate, or College Street in Kolkata. I recently picked up an interesting poetry collection edited by Maxwell Nurnberg published in 1969.
I think, you don't choose poetry, poetry chooses you. Although, I try to read diversely from books and the internet, there are poets who speak to me more than others. The list is unending and ubiquitous. I am at peace with the haphazardness of my poetry reading and it ranges across- Thom Gunn, John Donne, Ezra Pound, Dylan Thomas, Walt Whitman, W H Auden, Pablo Neruda, Billy Collins, Alice Walker, Langston Huges, Shaharyar, Faiz Ahmed Faiz, Jaun Elia, the first generation of postcolonial English poets- Dom Moraes, Nizzim Ezikiel, A K Ramanujan, Adil Jussawalla, Arvind Krishna Mehrotra, Manohar Shetty, other contemporary, senior Indian English and Hindi poets, and most fellow-poets.
KS: I'm giving you a few verbs: Reading, Performing, Studying and Contemplating. When you think of poetry, say the verb you would love to approach.
Madhu: Reading, writing, and performing poetry constitutes of all I love and do. There is a colossal change in the way people have started engaging with poetry. The differences between page and stage poetry, according to me, is not too distinct, rather depends on the poet. Good poetry will survive and make it into literature via YouTube or books, does not matter, but they will. For the longest time poetry has come to us through songs and oral traditions. I have, in a few places, performed some Indian folk song, a Gwendolyn Brooks or a Sahir Ludhianvi poem intermixed with my own work, as part of my poetry performance. So it is totally up to the poet as to how they wish to make their poetry worth through the mediums they choose.
The burgeoning practice of performance poetry as a global phenomenon, especially among the youth, demonstrates that it provides a platform to discuss social issues at multiple levels through personal experiences. There is no exhaustive list of human right issues that gets voiced through the poems but they are inclusive of social inequity, gender based violence, LGBTQ rights, mental health, adolescent sexual health, ageing, education, environmental issues, refugees, immigrants and minorities, and global conflict zones.
As Salman Rushdie puts it, a poet's work is to name the unnamable, to point at frauds, to take sides, start arguments, shape the world and stop it from going to sleep. It is a good time for art and poetry in general because the borders of arts are fading, there are contemporary dancers, and musicians who are write beautiful poetry. There is a lot of experimentation in arts happening, which is making the scene all the more exciting.
KS: Do you think poetry can be made popular? Popularity and public sit on the same bench, you know!
Madhu: There is a bright rainbow that lies between 'yes' and 'no' of whether poetry can be made popular. One of the silly and unadventurous cycles is shaped by mainstream publishers:
Poetry does not sell <->What have we done to make it sell?
We live in an age of Instapoetry, Facebook, Pinterest and other kinds of online micro-poetry alongside contemporary poetry, and the raging fad of slams. A lustrum ago, poetry readings were mostly organized in academic circles, in undetectable closed-door gathering and unheard silos. Due to increased access to affordable internet and smartphones in urban spaces, students and the youths who were interested in poetry are sensitized to the American spoken word movement through YouTube. The need for spaces to gather, recite poetry or express the written word was increasingly felt. This is how Poetry Couture came into existence.
KS: Sixteen Amazon (India) reviews of your debut book, Make Me Some Love To Eat. How do you manage to walk the earth even now?
Madhu: Learning how much there is to get inspired, do, write, make art, and collaborate I'll choose walk the earth till I am consumed by its beauty. I'm happy that the first edition of Make Me Some Love To Eat sold out. All thanks to the fiercely independent publishing house, I Write Imprint, committed to print poetry. The second edition of the book will be brought out by Hawakaal Publishers, Kolkata, for which I am equally excited. I am thankful to many senior poets who gave blurbs, and found merit in the book. I think artists, writers and poets are always in an endless learning cycle.
KS: My limited understanding suggests that Poetry Couture is not merely an organization or group, it is a rather a movement. What are your future plans for the group you founded?
Madhu: Poetry Couture is one of India's largest voluntary initiatives across Delhi, Mumbai, Kolkata, Jaipur, Agra, Hyderabad, Itanagar, Guwahati, and Chennai. I have organized many significant events across India in Café, Colleges and public and private institutions in most languages –English, Hindi, Bengali, Tamil & Urdu. Some of the many include National Gallery of Modern Arts, Government of India, The Hon'ble President's Public Library, All India Radio, The American Consulate New Delhi, Chennai, Kolkata; The Italian Embassy Cultural Centre, Indian Institute of Technology (IIT)- Delhi, Oxford Book Store (Kolkata and Delhi) and Lady Shri Ram College for Women, Delhi, and Motilal Nehru College. The initiative collaborates with some leading literary festivals in India and has been awarded the Microsoft Create to Inspire Fellow Award, 2015.
Apart from writing poetry, I enjoy curating a lot of poetry events, mentoring people to conduct poetry events, judging poetry in colleges. My objective with Poetry Couture is simple – to create free art spaces in the city, engage more people to express themselves, and try to use poetry to advocate for human rights. Poetry Couture is here to stay and conduct all kinds of poetry events. Although there is scepticism around open-mics, the open-mic poetry sessions receive a warm response. In open-mic poetry sessions there are no expectations or judgements other than informal feedbacks on the content and performance. As Joseph Joubert said, "You will find poetry nowhere unless you bring some of it with you." It is not an easy task to bring poetry from the margins to the mainstream.
Related
Popular in the Community