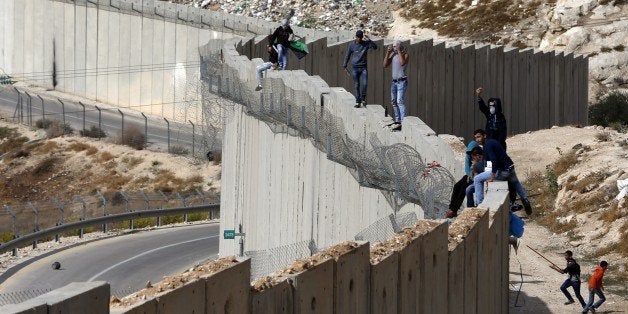 Every year, the University of Pennsylvania's chapter of Students for Justice in Palestine (SJP) stages two public events on campus: The first is a memorial for the Palestinians killed in Gaza at the hands of the Israeli Defense Forces. To commemorate them, we place a single black flag for each person in front of the main building on campus. The second event is a mock wall demonstration that symbolizes the actual 155-kilometer-long wall separating Israel and the West Bank. Posters cover the mock wall that explain the structure's illegality under international law and the ways in which it encroaches on the everyday lives of the Palestinians living behind it.
In honoring the lives of those lost in the Israeli occupation of Palestine, and in making our minority voice heard in a predominantly pro-Israel campus, our members and demonstrations have been subject to routine backlash. This has ranged from harassment and threats of physical harm to angry observers uprooting our memorial in protest.
One of the most recent assaults against our public events came in the form of an op-ed in our school newspaper, the Daily Pennsylvanian, in which the past president of the pro-Israel group on campus referred to our Gaza memorial as "noise" and "propaganda." He ended his article by asking the Penn community to "see past [this] noise."
In response, we, the Palestinian students involved in SJP wrote an op-ed detailing our experiences as Palestinians on campus, our experiences living within "the noise."
We were not alone in our frustration with this article, the Progressive Jewish Alliance (PJA) at Penn also chose to write a response addressing the claims made in the piece. Out of respect for our experiences as Palestinians, PJA insisted on having our article published first.
The Daily Pennsylvanian's op-ed team, however, ignored PJA's request, saying "we're either going to publish your column without SJP's, or not at all." They felt that PJA's article was "more of a response" even though the original article had been directly aimed at our group and its demonstrations.
The following is the op-ed that we originally submitted. We hope you read it and listen to our voice. Here are three stories from Palestinian students at our university:
Walking down Locust, I'm hit with so much noise. I try hard to fight through it and make it to the other side, politely refusing flyers and declining tickets to acapella shows. But one voice hits me too hard to ignore. "Do you want a free trip to Israel?"
I grew up hearing about Palestine although I have never been there. Palestine lives for me in the memories of my grandparents, memories that were passed down to me. There's something about memories -- through them I can live again. I live the pain of longing for home, a pain that my family has felt for generations, a pain that my grandmother felt for the first time in 1948.
The noise of Locust becomes the sounds of Irgun members torching houses in my grandma's neighborhood in Jaffa. My grandma's father is packing their belongings and getting ready to flee their home into neighboring Jordan. I hear families on the streets, carrying their homes on their backs, making their way into refugee status.
Pain for Palestinians is not exclusive to the diaspora, to those of us who cannot go back.

I remember being excited for field trips. When I was in the sixth grade, my school wanted to take us to the zoo. Landlocked in Ramallah, I always wanted to see the beach, but figured the zoo was the next best thing.
I remember filling my backpack the night before, wanting to be there so badly. I remember forgetting that I was Palestinian. The checkpoints made sure that I would never forget again. We waited eight hours at a checkpoint called Zaatara just to get to a city one hour away. We showed them our permits, our itinerary, our school IDs, but still I never got to see that zoo.
There is a unique humiliation that comes from being unable to move in your own country, being a child treated like a criminal. A child imprisoned within a concrete wall that snakes illegally through villages and separates farmer from land, brother from brother, and olive tree from water. This wall that stands outside of internationally recognized borders.
These restrictions remind me that I am a Palestinian in the West Bank. I will never hear the sound of waves hitting the shore, only the noise of soldiers shouting at checkpoints.
Pain for Palestinians is not exclusive to those behind the wall.

I remember touching down in Tel-Aviv. As I drove past beautiful olive trees and rolling hills, I did not let the soldiers with guns lining the road bother me. I felt relieved that I no longer had to live in Palestine through the memories of my parents because now I was free to make my own.
"They hate us," she said as we walked through a mall. They kept staring. "They hate us because those three settler boys were kidnapped and killed in the West Bank."
I had heard of the tragic death of these boys and knew that only four hours away, many were losing their lives in Gaza in retaliation. I didn't know what to do, I didn't know how to stop the stares. I could only communicate with my cousin in Arabic, which is why they wouldn't stop staring. So I stopped talking and let the noise of the mall fill my silence.
I am a Christian Palestinian citizen of Israel and I exist as an other in my ancestral homeland.
Events from that summer worked to stain the relief I felt when I landed. The memories I made of dabke at weddings, hummus and falafel at my uncle's house, and of seeing my teta (grandma) for the first time in over a decade will be tarnished with stares in malls, reminders of how small I look before soldiers -- before heavy black machine guns.
Reminders of birthright posters on Locust, reminders of torched houses, of places I cannot return to and of places I can never see outside of my memories. I respond, "Yes, of course I want a free trip to Israel."
I am the Palestinian students of Penn Students for Justice in Palestine. The students that planned the memorial called noise. That pushed flags into tough earth while tougher words were flung at us. Our stories are not exceptional. We tell our stories for the ones who cannot tell theirs. Their stories are more than just noise -- their stories are why we make the noise.
Do not look past it. Listen to it, because we live in it.