Love. If there is a single word that best describes what I witnessed during my visit to the Philippines last week, then that's it. Love of family. Love of community. Love of people. Love of life.
So what better day than Valentine's Day to celebrate the dedication, perseverance and, of course, love between the communities, families and children in the parts of the country that were devastated by Typhoon Haiyan? I would also like to mention a specific passion that came up over and over again in my and my staff's conversations with children: love of learning.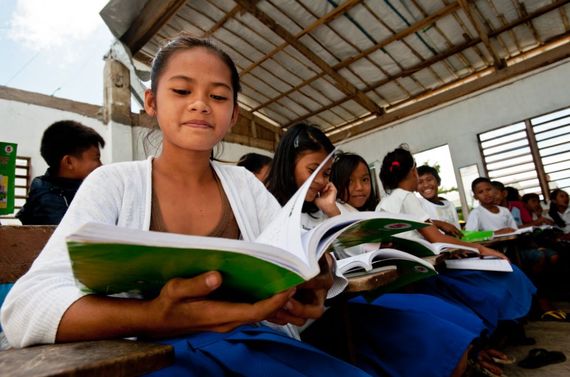 Fifth-graders from Panay Island in the Philippines studying math in a classroom damaged by Typhoon Haiyan. Photo credit: Susan Warner for Save the Children.
"I like to learn about science and different parts of the body," sixth-grader and biology fan Jayfritz, 12, told my team. Meanwhile, his classmate Reylan, 12, likes any kind of story he can learn from. Fifth-grader Angel, 11, loves to read because she imagines herself as the characters in books (her favorite at the moment being Cinderella). And first-grader Divine Grace simply loves school. Period. "I am never absent in school. I am really smart," the self-assured six-year-old told us. Could not agree more!
You get the idea. These kids love to learn and see school and education as a path to a bright and successful future. But as Haiyan lashed the shores of their country, leaving unprecedented destruction in its wake and affecting nearly 6 million children, it robbed many of them of opportunities to learn. In fact, children have born much of the brunt of this disaster, caring for siblings and parents, scrounging for food and missing out on school.
What's more, as I saw during my visit to Tacloban in early February, many schools are still only partly operational; classrooms damaged beyond repair; desks, books, manuals, visual aids, you name it, all destroyed. "I went to my school and saw that it was gone," too many children told our staff.
Learning under such difficult circumstances is at best challenging and at worst not possible. In some of the most devastated areas, children still cannot return to school due to irreparable damage to buildings or fear of being separated from their family. The lack of electricity makes it hard to study or play in the evenings.
"Since the typhoon, many parents are worried to send their children to school," said Ms. Miraluna Gonzales Luminario, 48, a teacher at an elementary school in a Panay Island community that was ravaged by the typhoon. "Many children are not going to school. They are afraid of roaming around the area because of the debris. They have no school clothes to wear, no books, no school materials to use."
Her classroom completely in ruins, Ms. Luminario now has to scramble before each class to find a suitable place to teach. If she is lucky, she can hold the class inside a tent. But more often than not, she has to teach under the open sky -- until the heat becomes unbearable or it starts to pour.
But like many teachers, Ms. Luminario is reaching out to the parents in her community to reassure them that sending their children to school is the best thing to do for their recovery. I saw schools operating out of tents, partial building remains and out in the open -- all of which, although not ideal, can still serve as places to teach and heal.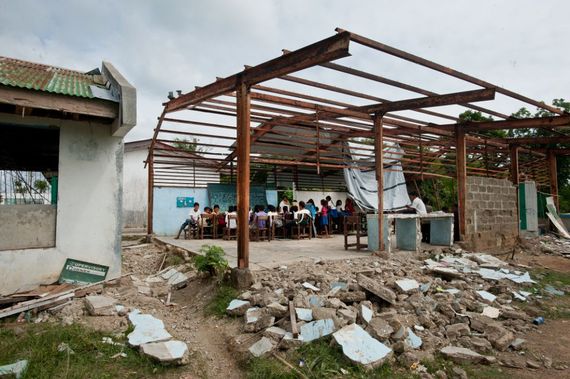 Ms. Miraluna Gonzales Luminario teaches grades four through six in this typhoon-ravaged classroom on Panay Island. Photo credit: Susan Warner for Save the Children.
Restoring education after a traumatic event such as Typhoon Haiyan, and integrating the lessons learned from the disaster into the curriculum, not only helps children return to normalcy but also benefits entire communities, according to another local teacher, Clint Apostol, 31. "We teach students how they can help," he said. "Everyone can contribute in a little way towards recovery. Even children."
According to a recent report by Save the Children, conducted in Leyte and Panay--where the Haiyan destruction was at its worst -- one of the things typhoon-affected children want the most is education. So let's give them what they want and love.
Progress has been made. Save the Children has already established 39 temporary learning spaces in school grounds to support over 3,000 children to continue with their education while their schools are repaired. In Tacloban, where I visited our emergency response programs, around 60 percent of children were back in school by early February. But we urge the Department of Education of the Philippines to ensure that all school-aged children in affected areas are able to get back to learning as soon as possible.
In Ms. Luminario's wise words: "We must look forward for the good of the children. And even in this difficult time, the classes must go on."
So with love from Save the Children's staff in the Philippines and beyond: Happy Valentine's Day!
Calling all HuffPost superfans!
Sign up for membership to become a founding member and help shape HuffPost's next chapter