Most of the parenting choices my husband and I make are discussed, considered and obsessed about for much longer than either of us would like to admit. If we feed her that "bad" food, will it hurt her chances of getting into a good college? If we let her cry it out, will she spend the rest of her life in therapy? Will she never grow up to be an independent woman because we let her play with princess toys?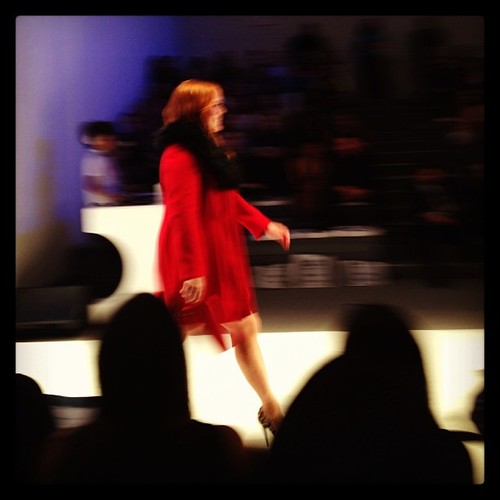 So, when I was asked to walk the runway at Strut: The Fashionable Mom Show, as a Whirlpool Ambassador, you would have thought that I would have contemplated the decision for years. But I didn't. I said yes in a matter of seconds.
I love clothes and in my early twenties pretended to be a college student majoring in fashion just so I could attend fashion week. As I organized the chairs and got the makeup tables ready, I always dreamed about how fabulous it would be to get invited to a fashion show, but never in my wildest dreams did I think that I would walk in a fashion show. So, when I was asked, I said yes without thinking.
When I arrived at Mercedes Benz Fashion week for hair and makeup, I was asked if how I felt about hair extensions. I said they sounded like fun. I joked around with the hairstylist while he turned my short bob into a mane that even Barbie herself would be jealous of.
Next, it was time for makeup. I was given smoky eyes with tons of eye shadow. I barely recognized myself and for a second, thought about the message all this primping was going to send to my 2-year-old daughter, but then I became distracted by how nice it felt to be the center of attention and oh, did I mention I got to put fake eyelashes on, too?
I wore a bright red dress, coat, purse and leopard shoes. I loved the ensemble, but would never wear it in my day-to-day life. I mean, I could barely even walk in the shoes. I peeked into the audience to look for my daughter and all the sudden I heard her scream, "Mommy!" The look on her face was one of excitement and pride. I waved to her and took my place in the line. For the first time, I became nervous. What if I fell? What if I fainted? What if the sight of me in extensions, fake eyelashes and high heels made my daughter insecure about her looks for the rest of her life?
By walking in a runway show, was I destroying the strong girl my husband and I had worked so hard to create?
But then the hairstylist made last minute touch-ups to my hair, I was told I was gorgeous, given the OK to walk, and the second I hit the runway, none of those previous thoughts mattered because I was having too much fun to care.
I walked the runway with a kind of joy and excitement in my heart I have never felt before. I spotted my daughter in the audience clapping for me. During the finale, I spotted her again and she was dancing in her grandparents' laps while holding her daddy's hand and that's when it hit me; all of the well thought out parenting choices won't make a difference if we aren't having fun.
Yes, we need to give our kids healthy foods. Yes, we need to think about the toys we buy for them and what they are exposed to on TV. Yes, we need to carefully consider how we discipline them. But we also need to show our kids that life should be enjoyed and what better way to do that than by having fun in front of our kids?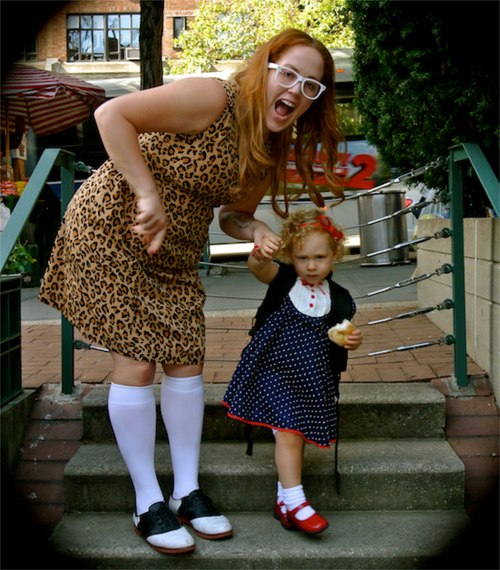 It's been a day since I walked the runway at fashion week and as I write this, my mind keeps wavering back and forth between different parenting decisions. Tomorrow is my daughter's first day of preschool and I am worried about how she will do with separating. If she does well is that because we never formed a close bond? If she cries when I leave, is it because I raised her to be insecure and unsure of herself?

Then my mind wanders back to how I felt when I walked the runway and my daughter's face lit up when she saw me having the time of my life and I decide that since I have no idea how she will react to her first day of school, there's no point in obsessing about it. It's out of my control. But I can get her excited about school. So, I help her with her brand new backpack, we hold hands and walk out the door like we are back at fashion week, because while I may have no idea what the day may bring, I can control how I react to it, so we may as well have fun!