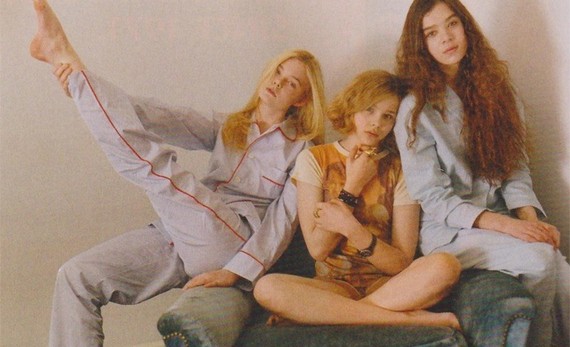 Every now and then, we all have one of those mornings when it's extra-impossible to get out of bed -- let alone put together a look. Luckily, the sleepwear-inspired trend was made just for mornings like these.
Pajama-inspired clothes may conjure up a full silk button-up shirt and pants ensemble designers send down the runway every now and then. Or you might picture a corset and sheer robe combo that only Rihanna could rock outside the boudoir. Au contraire. Here are some sleeper pieces that are perfect for lazy brunches, midweek hangovers -- even casual days at the office. That whole getting-out-of-bed thing just got a whole lot easier.
1. TOPSHOP has sweet cami-and-shorts sets that would look right at home at a summer music festival or urban street fair. Try pairing the top with tailored slacks for a cute work outfit.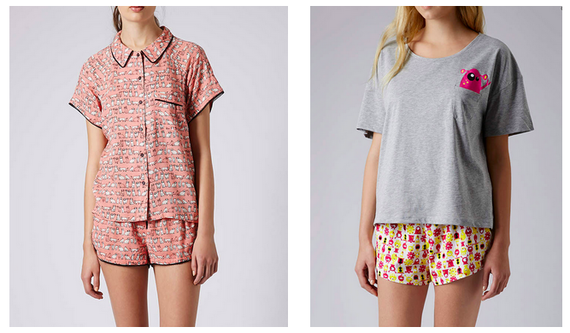 Cat Print PJ Shorts and Shirt, $50, Right: Alien Tee and Shorts PJ Set, $40
2. Always-accessible ZARA has a lot of great sweat/jogger pants that -- when styled the right way -- look just as snazzy in the boardroom as they do in the bedroom. These zippered jogging pants would pair well with bomb stiletto heels.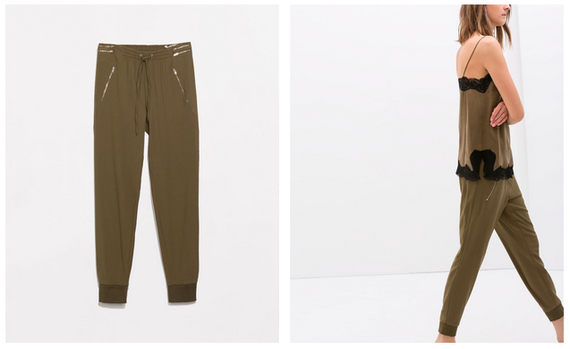 Above: Jogging Pants with Zips, $79.90
3. Wildfox's dreamy room-service fantasy lookbook (below, left) dropped last year and won many stylists over. But items like this fleur de lis printed set (below, right) is what keeps them coming back for more. This would look wild with a black or tan slim midi skirt and blazer.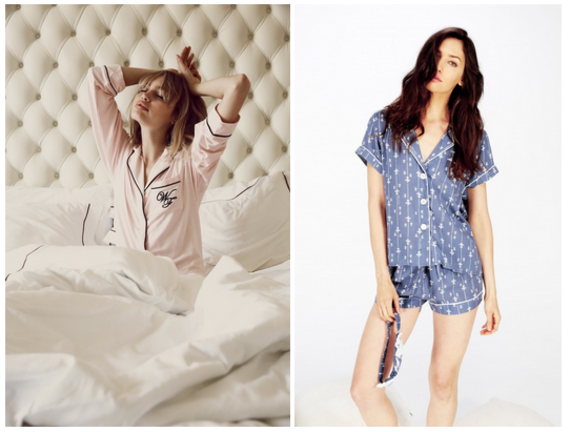 Left: from the Winter 2013 Lookbook. Right: Fleur de Lis Classic PJ Short Set, $136
4. The T by Alexander Wang line has some amazing french terry, cotton, and spandex basics that would look just as good in yoga class as they do on the dance floor. For the leather detailing alone, though, these sweatpants (below, left) are an obvious top pick.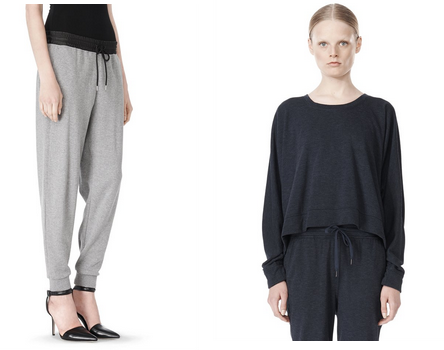 Left: Cotton Nylon Sweatpants with Leather Waistband, $250. Right: Lightweight French Terry Sweatshirt, $195
5. Kimonos as a summer beach/pool cover up are a necessity, and Nasty Gal is the go-to spot to snag one of these glorified bathrobes. Want some advice? Keep it (relatively) short and skip the fringe. You've got a new super-stylish way to keep from getting sunburnt -- or even a little defense against that too-chilly office A/C. Dress code? What dress code?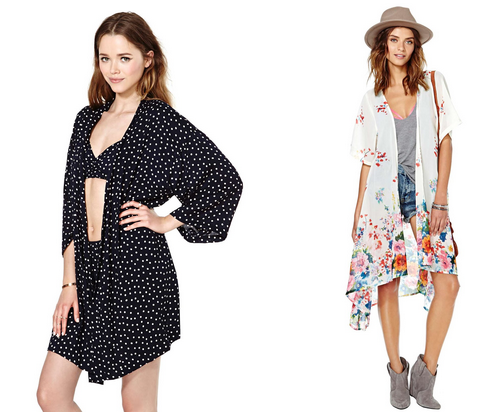 Related